Yoga, an option to reduce anxiety and stress in children
Its practice during childhood promotes concentration and self-confidence, body awareness, balance and health. It also helps children respond healthily to life's challenges. Conscious Television, with the help of Professor Cayetana Rodenas, proposes to practice yoga for children at home.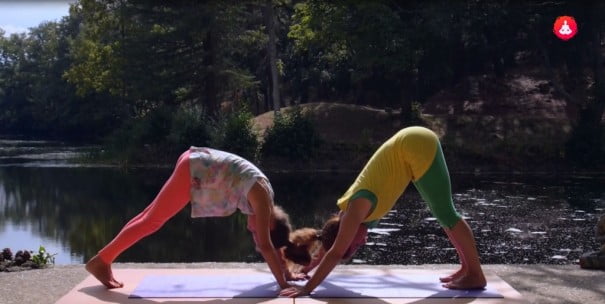 The intense pace of life of the society in which we live affects adults but also the smallest people in the house. Video games, overwork and after-school activities and overall day-to-day competitiveness can lead children to experience states of anxiety beneficial to your health, nor to your physical and mental development.
According to a study prepared by AEPNYA (Spanish Association of Child and Adolescent Psychiatry), cases of anxiety and stress in childhood and adolescence have increased becoming one of the most common psychiatric pathologies, estimating thatn Spain, between 10-20% of children suffers from some form of psychiatric pathology. In these cases, yoga is an ideal choice to reduce stress situations in childhood age, it provides in a space of bloating and play tools to cultivate body health, relaxation, concentration and awareness in personal needs. It also provides very simple techniques that can help with any unwieldy emotion, such as anger.
Children's yoga can be practiced as a family and the sessions are implementing the techniques of this millennial discipline adapted to each age. Many body postures that are practiced are called animals, insects and other life forms, easily recognizable and imitable.
"In this way, children's and family yoga sessions are a game, and as we have fun, the body strengthens and flexes, learning breathing techniques, focusing attention on the present, and learning to respond to emotions and feelings in a healthy way." That's what he points out. Martha Tena, yoga teacher and specialized in children's and family yoga Conscious Television, an online video channel about conscious content and personal development, which also offers online courses for the whole family on disciplines such as yoga or meditation, among others.
Benefits of yoga for children
There are many benefits that yoga can bring from the first years of life. At the physical level strengthens your muscles while developing greater flexibility. It also improves brain function by optimizing your coordination, reaction time and memory. This is joined by improving your ability to solve problems and acquire information, as well as foster imagination and creativity.
On the emotional level, yoga, through body work, breathing techniques and concentration cultivation and under the principles of peace, truth, cleanliness, respect and deep joy, stimulates calm and self-confidence, while helping to motivate restful sleep and profound, and even helps in cases of depression.
A children's yoga session is a space of enjoyment and fun that can be started from an early age and is open to the whole family, allowing further narrow the connection and links. Se puede practicar en centros especializados que ofrezcan clases dirigidas a la infancia o a familias, pero también desde casa. Al practicar esta disciplina en equipo, se fomenta el sentimiento de unión, que es lo que significa etimológicamente la palabra yoga, así como el compañerismo y la amistad, además de impulsar valores de respeto personal y hacia todo lo que nos rodea.
Desde Televisión Consciente y de la mano de la profesora Cayetana Rodenas proponen la siguiente clase con algunos ejercicios muy sencillos para practicar yoga en casa en familia y comenzar en unión un camino de desarrollo y crecimiento personal. La clase la puedes ver haciendo clic here.
Sobre Televisión Consciente
Televisión consciente (www.televisionconsciente.com) es una plataforma de vídeos online en español dedicados en exclusiva al cuidado personal y el desarrollo físico y consciente. Se trata de una plataforma autosostenible que cuenta con un catálogo de más de 5.000 vídeos y documentales que abordan temáticas tan diversas como el yoga, el tantra, la meditación, charlas de maestros y hábitos de alimentación saludable. Además se pueden encontrar películas conscientes así como documentales sobre ciencia, naturaleza y grandes personajes que han influido en la historia de la humanidad.
Ofrece bajo suscripción cursos completos online en vídeo de yoga, tantra y meditación impartidos por maestros que tienen como objetivo de difundir y facilitar el aprendizaje de estas disciplinas. Es la primera plataforma del mundo sobre esta temática que puede verse en todos los dispositivos digitales como Smart TV y que además permite una programación automática de la parrilla de contenidos que visualiza cada usuario.