The boom of yoga in Spain
Makes some days, the journalist Natalia Martin Cantero us asked some opinions for the Super blog Verne, of The country (see the link at the end), in which participates always with good articles. You are interested to make an assessment of the interest that the yoga in Spain, if there has been a growth and reasons why. And this was our complete response...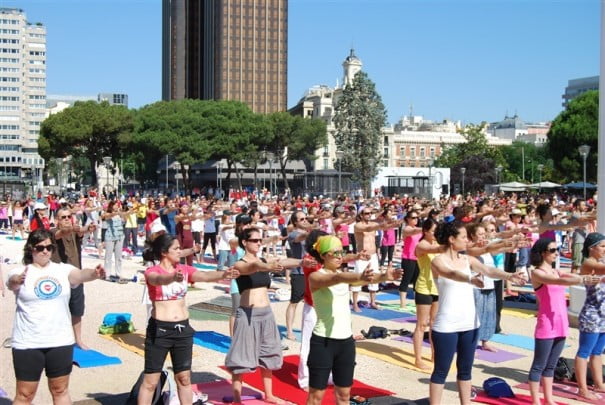 Today, the most widespread opinion is that the main motivation that leads to them people to the kinds of yoga is the health. Improve back pain and reduce anxiety are two goals that beginners often cite. Although most are promptly informed by their instructors that yoga techniques can go much further, since they involved subtly in the mind-body wellness through body or asanas, postures of breathing, meditation and other lesser-known practices.
While the associations of the sector do not have "official" figures, the widespread idea is that yoga has been in recent years a emerging phenomenon in Spain, how it was before in other neighbouring countries.
Have grown centres and schools offering practical classes and training of instructors and teachers; have grown these last and, of course, those practitioners, from them occasional of 1-2 days weekly that seek relief to the stress or to the pain of back, to them committed with the style of life and philosophy that the yoga traditional advocates.
Many well-known Spanish Yogis complain that this popularization of the yoga in Spain has to do with the proliferation of styles and practices offerings, abusing the word "yoga", they are not always friendly with this ancient tradition, although they are consumed with greed in the market of the cult of the body. Some voices warn even of that traditional yoga is also corrupting or adultery.
Other no less known Spanish Yogis moderate tone and remind us that in other countries is it's been out there and that, after the chaos, returns to sanity. Finally, they say, many people who have approached to yoga for more or less spurious reasons (simple method of relaxation and fitness), remain engaged and continue to cultivate it throughout his life.
What do think the Spaniards of yoga?
And Spaniards what still do not practice it, what do think of yoga? In our opinion, still many people heard of yoga without knowing very well what is going. But the same goes for many other things; It is a matter of culture, or interest, or level of information. However, we have the impression that prejudices related to the Indian origin of yoga (whose traditions permeate all his teachings) will weaken further, as that level of information will grow.
In parallel to the yoga, the popularization of practices such as meditation or its Western adaptation, mindfulness, present even in university studies, is further proof that these introspective practices they pursue happiness within oneself, are spreading like tide that seeks to return to relying on more spiritual values and humanistic.
In this respect it should be noted that more and more schools throughout Spain include teachings of yoga, not as an extracurricular activity, but as part of learning (relaxation, emotional control, cohabitation, introspection) of a holistic education.
Has the crisis had something to do with the rise of yoga? Perhaps, and not it is naive to think about it, the way of life that offers yoga is opening up increasingly more road as an alternative (ancient!) to a growing widespread desire of regeneration and return to the values that make us human beings.
To read the complete article by Natalia Martín Cantero in Verne / El País:
http://verne.elpais.com/verne/2015/06/19/articulo/1434726062_813920.html