Collection of acts of the DIY in Spain
Here you have the list of all the events (of which we have had news) that are organized for the celebration of the world day of Yoga in all Spain. Do not fail to consult either a page created for that purpose collecting events with all its bright posters.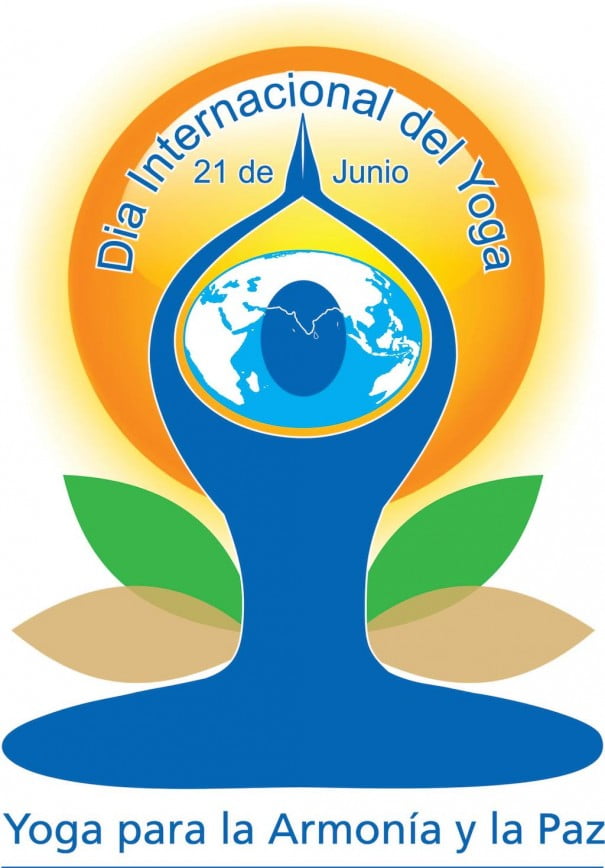 Barcelona
-Official acts:
In the modernist Sant Pau grounds held next Sunday the international Yoga Day celebration, organized by Casa Asia and the Embassy of India, in collaboration with a score of associations and schools of Yoga in Barcelona.
A few spaces for meditation and yoga practice, led by the associations and participating schools, and also a central stage for the celebration of a master class that will be borne by Jordi Canela, yoga teacher and founder of the Yoga One of DiR. Center will be set up inside the modernist Sant Pau
When finished, will begin the activities prepared by the associations and schools of Yoga, such as chants and mantras, meditations and dances of the India signs.
More information here
-Two events for the international day of Yoga:
1. greeting to the Sun at 5.30 in the morning, on the beach of Barceloneta, opposite the Hospital del Mar.
2 meditation of 40 minutes for the peace and prosperity of the world in the Parc de la Ciutadella, 16.00 h, which will take place at the same time in more than 30 countries.
The entire program of the two events, here: http://yogadaybcn.org/
-Isabel Casas gives free Hatha yoga session for adults:
In the Jardins de la Maternitat (Barcelona) from 11 to 12:30, 21 June,
Bring mat and zafu. Places are limited, essential to notify in advance. Small gift for all the participantes.isabelcasasv@gmail.com.
-Open day at Shri Vivek Yoga:
It is a good opportunity to know and deepen this art of living! It is a highly recommended practice for all those who want to be happy and enjoy life without stress.
1st class: from 9:00 h to 10:30 h
2nd class: from 11:00 h-12:30 h
More information here
-Casa Asia and the Embassy of India
with the collaboration of a score of associations and the chain of gyms DiR of Barcelona and Sant Pau, will be held this Sunday, June 21, in the enclosure modernist Sant Pau, from 9.30 am to 12.30 h, the international day of Yoga.
A few spaces for meditation will be enabled inside the modernist Sant Pau
and the practice of Yoga, led by associations and schools of yoga participants, and also a central stage for the celebration of a master class which will be in charge of the
teachers of Yoga One of DiR. master class will have a maximum duration of one
45 minutes from 9.30 pm to 10.15 h.
Zaragoza
From the 31 of May 2009, which will be held the day of yoga in the Park through the Aragonese Association of Yoga and Yogaterapia Transpersonal in Zaragoza.
In recent years he moved to June 21, and this year has coincided in the international day of Yoga declaradado by the UN.
This year through FEDEFY, State Federation of entities forming of Yoga, which follow the European yoga training program and are favoring the officiality of yoga and with the help of the Aragonese Association of Yoga and Yogaterapia Transpersonal has been made possible.
Be held in the Park Grande - José Antonio Labordeta.
And to be a Master Class, classes made by the Government of India for everyone. Practiced in different time zones, in Spain at 11 in the morning, in cities that celebrate it
Collaborate in this celebration 7 yoga associations.
Asociación Española de Yoga, I am delegate in Zaragoza
Spanish Association of Kundalini yoga
Sanatana Dharma Association
Viniyoga Association in Spain
Association of Yoga Naradeva
Spanish Yoga Federation Satsanga
International Association of teachers of Yoga
They will participate about 45 teachers of yoga more collaborators.
The sessions have the methodology of classical Yoga, Asana, Pranayama, meditation, relaxation and Mantras.
And for different audiences, from children at 3rd age and even Yoga adapted.
More information: https://www.youtube.com/watch?v=W37hrHZ8wSs
Malaga
-Pier one: Indra Yoga, Mindfulness:
Provisional agenda (subject to minor changes)
18.00 presentation group
18.15 restorative yoga: Paula Lara
19, 00-19, 45 Enyogate: María Jesús pink Gaspar
19, 45-20, 00 Hatha and Mindfulness Yoga Julia Rodríguez and Miguel Angel Milarepa
20, 00-20, 45 rose Parkinson Indra Yoga dynamic Yoga and Mindfulness Stidaiva
20.45-21.30 rafa & Maria José Acro Yoga
21, 30-22, 15 Kirtam: Alice Rdha Hemer and July Mateos Pedrosa played and sang mantras
22, 15-22, 45 common meditation and closing
-Yoga for niñ@s and families in the CIP:
The Andalusian Institute of Yoga, after such rewarding experiences and with such a good response as the "Yoga on the square", "Once upon a time a yoga", "Yoga to children on the feast of sport of the City Hall. Malaga", etc., want to celebrate it again with you. That is why, among other activities, he wants to give you another opportunity to practice yoga with a special session for niñ@s and families, to enjoy together the pleasure of movement, relaxation and creativity.
The activity will take place in the C.I.P., pedagogical innovation, Málaga Center.
More information here.
To participate, simply register at: familias@iayoga.org
-Premiere of the video Shambhala, personal development, social evolution:
Directed by Antonio Diestro Quijano, influence positive Yoga for solidarity, prosperity and harmony in societies.
Room Gades Superior Conservatory of dance, street striker, Malaga, Sunday, June 21 at 10: 30 will take place the premiere of Shambhala video, personal development and social evolution of the filmmaker and journalist malagueño Antonio Diestro Quijano. On the positive influence of the yoga for solidarity, prosperity and harmony in societies. Extension 0:11.
That same day, it will be also issued by the Yoga channel on Youtube network.
More information here.
Madrid
Detailed information on: http://www.yogaenred.com/2015/06/17/programa-del-diy-en-la-plaza-de-colon-de-madrid/
Mar Menor. The las Canteras beach. Los Narejos (Murcia)
1st Festival of Yoga Mar Menor. Participate in a day full of peace and harmony, with physical practices and spiritual that we support and enrich us on our way.
Santa Cruz de Tenerife
-In the Centre of Yoga Sadasiva de Tenerife, Sunday 21 June between 11.00 a.m. and 13.30 will celebrate the "day international de Yoga", with all those wishing to participate in the joy of sharing the practice of Yoga, being part of this network of spiritual energy that worldwide will expand the feeling of the unity, harmony and peace. Om Lokah Samastah Sukhino Bhavantu!
-Big event, for freejointly organized between the Excmo Ayuntamiento de Santa Cruz De Tenerife and the Consulate of India together with associations related to Yoga in Tenerife.
The Consul general of India, Mr. Gope Mahtani, who will open the event, has highlighted the value of yoga as a practice that is beneficial to people's health and personal growth. Santa Cruz, will host an event that aims to disseminate the importance of yoga, its usefulness and that can bring in the personal life of each one.
Schools of yoga and companies that are part of the Organization of the event are:
Yoga Center Atlantis
GFU network
Association Brahma Kumaris
Asociación Canaria de Yoga
Vegesan
Healthy life
Opening hours – From 10:00 until 13:30 tomorrow
Place - Palacio Municipal de Deportes, Calle Fernando Barajas Prat s/n.
For more information: 635 646 751 922 212672 T. Office of the Consulate 922 241416
STA. Maria d' Oló (Barcelona)
In the flat the Foundation, will be a festive day with activities that offer disinterested way students of the Yoga educates training along with other collaborators. The benefits of this journey will go to UNICEF to contribute to the work of support to children affected by the earthquake in Nepal.
Program
11:00 arrival.
11:30 opening of the festival.
12:00 session of Kundalini Yoga.
13:30 yoga family workshop.
14:30 lunch.
16:00 yoga Nidra.
17:00 workshop of acroyoga in family.
18:00 closing ceremony
Simultaneous workshop: "attention and concentration through the archery"
Prices
Adults: 25 euros.
Children up to 2 years: free.
Children 2 to 5 years old: 8 euros.
Children aged 6 to 12: 11 euros.
These prices include food, the use of the spaces of the House to do activities and contribution to UNICEF in its campaign of support children affected by the earthquake in the Nepal.
The meal will be-dairy-vegetarian diet and please communicate us in the comments section if you have any allergies or food intolerance.
Contributors: Maria Marin Queral, Vicenç Solera Sanchez, Encarna Sánchez Berrocal, Oscar Fernandez Cecilia, Pol Bertran, Angels Bolancé, Maria Jesus Santiago Qui, Jaquelina Quiroga, Ainara Martin Reed, Elena Lazarus.
To participate in the Festival it must register on the web and the payment will be made in cash directly at the arrival. Indicates the number of assistants and ages in the comments field.
More information: http://www.elyogaeduca.com/esdeveniments/?ee=33
Source Sta Magdalena de Verdú (Lleida)
"Celebration of the Solstice", from 17,00 to 01, 00 h.
Barbastro (Huesca)
Practice yoga at 10 in the morning, in the Park in front of the colegio Pedro I, calle Luis Buñuel. Part of the program of the town hall for the feast of San Ramon and will be preceded by a presentation at the Palais des Congrès for Friday 19 to 20 h.
All are invited for free, everyone interested in approaching or incorporate into your life this energy that gives us the practice of yoga to lead a full life of harmony and well-being.
Urkiola (Vizcaya)
In the Urkiola sanctuary. Will be several professors from different schools, different disciplines, teaching classes and lectures for the entire environment of the natural park of Urkiola, an area sacred to the Basques since time immemorial. It is a very special place, a large power amplifier and will be a fun day in which to share and enjoy.
There will be and there will be Yoga for children, kundalini yoga, acro-yoga, meditation, reiki, choral singing, txalapartaris, trikitixa... The benefit that is being removed from the event will go to the NGO friends of Nepal.
More information here.
Úbeda (Jaén)
They have the support of the City Council, which gives the historic Hospital of Santiago, for the celebration of the event. It will also collaborate with the printing of advertising and providing infusions.
Throughout the day it is planned to hold workshops of 1 h 15', simultaneous two at each time. For now, there are ten teachers who will participate, from different schools and lineages: Iyengar, Ashtanga, Hatha Yoga, Yoga Essene (FEYS), Taoist Yoga.
More information here.
Sant Feliu de Llobregat (Barcelona)
Sant Feliu de Llobregat
In Father Christmas, from 9.30 to 10.30 a.m.: Hatha Yoga in a group for adults, with Luke "isa Lozano (Ananda-Kanda), Ramon Muntanyola (Choral Union) and Hatha Yoga in a group for children, with Maruja Rabat (Choral Union), Manuel Baena (Parish Centre, House of Youth).
11 am to 12 pm: loga PEAR people in wheelchairs, with Luisa Lozano, Ramon Muntanyola, Maruja Rabat, Manuel Baena
12 to 13 h: Kundalini Yoga with live music (Ethnic Tree), with Daniel Gomis (the Complex, House of the woman), Sheila Kaur (House of the woman)
13 to 14 h: Kirtan (Chanting of Mantras) and live music with Ethnic Tree
With the collaboration of the Ayuntamiento of San Feliú de Llobregat, instituciones y otras empresas locales Kanday-Ananda.
Piera (Anoia) "Ioga Grup de Piera". It joins the celebration of the day of yoga.
Dos Hermanas (Seville)
Open day in the natural space of the dawn light Yoga school.
Come and share a day of coexistence and free yoga practice outdoors.
For any person, practicing or not. For teachers who want to share their teaching
Start: 11 am
Contact: info@mensajesdelcorazón.com 667 607 376 T
Torre del Mar (Malaga)
This initiative of the United Nations was born of the sincere desire to celebrate as humanitarian spirit of Yoga, expand this vital energy as light, loving, and full of kindness around the world, uniting tod@s in a multitude of places simultaneously.
This event will become a reality in Torre del Mar, thanks to the collaboration of: tenure of Mayor of Torre del Mar, Omkala Yoga, Ana Moreno de Centro Antares and Heidi Anahatha.
Alicante
After the great success of organization and participation thanks to the collaboration of the University of Alicante and the sports departments of the municipalities of Alicante and San Vicente de el Raspeig, the Yoga Festival of Alicante held again at the sports facilities of the Campus of San Vicente on 20 and 21 June 2015, on the occasion of the recent declaration by the UN of that date as international day of Yoga.
The edition of the 2015 Festival will try again an open and free event which will be accessible to all those citizens who wish to do so. The initiative comes after more than the Asociación de Profesores de Yoga Integral of Alicante, APYIA, partner FEDEFY (State Federation of Yoga-forming entities). The Organizing Committee is composed of five schools and Alicante yoga associations, and will feature numerous volunteers and karma-yoguis for the good development of the Festival.
It will be a total of 30 activities in five different areas. More than 40 teachers from various schools and associations of Alicante and province. Guest teachers from other parts of Spain. Practical classes, workshops, lectures, audiovisual presentations, demonstrations, Yoga and activities for children. Alternative market and informational tables, and much more...
Free entrance. Vicente Ferrer Foundation benefit. Collaboration with Ofuniversity of Alicante, Department deDeportes of the city of Alicante and patronage of sports of San Vicente de Raspieg.
More information: https://www.facebook.com/FESTIVALYOGAALICANTE
Ciudad Real
In the capital he will celebrate in the Gasset Park. For now, the proposal is as follows:
9 / 10 h meditation
10 / 11 h Sadhana joint
11 / 12 h Workshop Kundalini
11 / 12 h Javier (Baitap Yoga)
12 / 13 h Paul (Sivananda yoga)
12 / 13 h Dipawali (Vinyasa yoga)
13 / 14 h Break (infusion with "something")
14/16.30 h lunch in Serna Shangri-la the
16.30/17.30h Theatre
16.30/17.30h workshop kundalini
Montse (laughter Yoga) 17.30/18.30h
17.30/18.30h Prado (Yoga pregnancy)
M. 18.30/19.30h Jesus (Yoga of the sound)
Arul 18.30/19.30h and Kira (FEYS) (Yoga in pairs)
19.30/20.00h Kirtan "clasico", with 5 minutes of final OM
20.05 h is the step on the Solstice fire
Valdepeñas (Ciudad Real)
Teachers of Yoga in Valdepenas platform was created for the celebration of the event. For the first time, all teachers of the place have United to work together, living and expressing the spirit of union of Yoga.
This platform the following schools comprise: Ananta, school of Biodanza and Personal development, Asha Yoga (FEYS), school of Yoga Mandala-School of Yoga WITRYH-Ciudad Real (FEYS), Nosoloyoga, Centre of Serenity Center, Yoga, Yoga Center, Surya.
Among all will create and lead a one-hour session, completing the Dvd that will send the India Embassy, and will repeat 2 or 3 times in the morning, and one in the afternoon adapted to children, families...
He has requested the new square as a meeting place, and the collaboration of the Town Hall.
Olot (Girona)
It is to be a full day of activities. The day starts with a small meditation practice, followed by the presentation of the planned activities, and will give way to the Sadhana of the Dvd, complete with some pranayama and relaxation.
Completed the joint practice begin workshops and lectures until lunchtime, having simultaneous 2. There is a break to eat and rest, and in the afternoon followed by workshop/lectures, to finish with a kirtan from 18:00 to 20:00. In addition, there will be a children's area that will also offer a workshop. Meetings continue to sharpen and specify schedules, workshops...
As part of the Organization we have: Shanti Nilaya (FEYS), Omshanti Girona, Nilaya (Olot), Happy Yoga Girona, and two professors who teach classes on their own.
Pamplona
Set among some 15 people from 7 different schools: Naradeva Mahashakti, Sanatana Dharma, Sahaja, magic Yoga, Yoga 7 (FEYS), Witryh Yoga school (FEYS). And they have the collaboration of the City Hall, which for now has given us the bulwark Cultural Center for that day, covering the more than 2,000 euros which involves expenditure on technical team...
The planned organization is as follows:
During the week will be to give workshops every afternoon in squares, parks... by way of broadcasting. One of these consists of the practice of the table that is going to work on Saturday and Sunday in the sadhana. Saturday is going to make a joint sadhana in the morning and another in the afternoon, ending with a kirtan.
On Sunday it consists of several parts:
7.00 hours: Sadhana.
9.00 hours: opening the practice proposed by the Embassy.
9.30 to 14.30 and 16.30 to 20.00 hours: workshops, conferences... throughout the day there will be 4 spaces offering different activities related to Yoga: classes, lectures, meditations... the idea is to share with people of all ages, so we plan to include Yoga classes for kids, Yoga family, vegetarian cooking for children, Yoga for seniors... in addition to all the different styles of Yoga sessions.
12.00 hours: Theatre. Sanatana Dharma school offers his work "The Ramayana".
Concert: counted with the presence of Antonio j. Asiain, which will delight with their meditative concert: "Music to immerse themselves inside".
Kirtan: there will be moments of music, of singing all together... One of the groups that planned is Sarva. It will also have Yoga teachers have joined to share mantras and joy with the attendees.
Alava
They have called for all the teachers of the region, and a total of 25 people are collaborating. The municipality of Amurrio collaborates with 700 euros and paying material (public address equipment). And expected more collaborations: herbal remedies and health centres in the area, a retiree who is making wooden benches that are sold and handled, thereby helping to finance...
To date, it has been decided the following:
Saturday 20: Full day on the premises of the sports centre of Amurrio and spaces exterioresJornada of open doors, offering workshops and lectures on Yoga. 3 different spaces is enabled. Presentation of the day and event, activities, and possibly with a common sadhana (perhaps what the DVD mark). And end with a kirtan, yet realize.
Sunday 21 overnight: practice of the RV of the India Embassy, complemented with pranayama, meditation, mantras, dances... If the works have been completed, this practice could be used as opening of the Hermitage of San Antón square.
More information here.
Getxo (Vizcaya)
Friday 19: Theatre Ramayana, the Sana'a-Dhar of Sanatana Dharma of Cestona school group
Saturday 20: Conferences and simultaneous workshops throughout the day in three rooms of the sports 'Fadura' of Getxo Kirolak in Getxo-Bizkaia. Concert of mantras by the Pamplona SARVA group
Participating schools: Kundalini, Ashtanga, Sanatana Dharma, Witryh (FEYS), Samhata-Vizcaya, Kriya Yoga of Babaji, GFU, and professors of different formations in the city.
Sunday 21: Yoga session in the street. Participation of the 1st Edition of 2014: 400-500 people.
Palma de Mallorca
In Pramu, c / Pablo Iglesias, 2
Program
8:30 Pranayama
9: 00 Ayurvedic ritual to improve health
9:30 basic session of Hatha yoga (initiation)
10:30 meditation kundalini, according to the enezenazas of Yogi Bhajan
11: 30 Vinyasa Flow yoga (yoga dynamic)
13:00 closing ceremony
Montánchez (Caceres)
Meeting on Saturday 20 Saturday at the Hospederia Villa de Montánchez, Montánchez (Caceres)
Program:
9'30 11: reception of participants and delivery of identification.
11 to 11.30: presentation of the event in the Auditorium of the hospederia Villa de Montánchez.
11'30 to 13'30: different styles of Yoga classes.
13'30 to 16'30: food and rest.
16'30 at 18: presentation of a book of meditation.
18-19: Harmonic singing session.
19-20: collective meditation (not dimension).
20-21: link concert, group of Indian and African music.
The program is open to any changes. If you have something to contribute don't hesitate, and if you want to give class put a message on the page saying style that you want to impart, the profes@r name and contact telephone number.
It would be interesting to us registraramos to get an idea of the people who are going to come and prepare the meeting spaces and places to eat. You already know that registration is totally free but need to know how many will participate to prepare everything.
Contact: https://www.facebook.com/lucia.mera.16
Nerja (Málaga)
Yoga Workshop ¨Celebrando the life at 09.00 hours at the Cultural Center (theater) of Nerja. Content of the workshop of Yoga:
United in harmony, sharing our deep love for planet Earth, practitioners of Yoga in all countries of the world give thanks to the Sun, Surya, when it is at its highest point of the sky. We enjoy practicing together a few chains fluids of asanas, meditating on the light and creativity that awakens us the Sun within us; and so we celebrate life.
This workshop is part of the TDCA Forum; Festival of art, culture and spirituality, 19-21 June, 2015.
Ponferrada (León)
Around the theme "expressions of Yoga are endless and ever-changing. "Its essence is one and unchanging", has joined the Group of Yoga teachers of the Bierzo from different schools, working for the same purpose: improve the health and well-being.
More information: https://www.facebook.com/events/848903665180588/
El Escorial (Madrid)
The Yoga Art Studio Center communicate:
We want to join in the celebration of the international day of Yoga, this gift to humanity to facilitate our sensitivity towards life, welfare, toward the most sublime expression of our being.
We'll have a full Yoga session of 2, 30 h in our classic fishing park under the blue sky...
Children will have a practice tailored: Yoga, Acro Yoga, games and discoveries in another area of the Park... Bring your mat and the picnic to share! We started at 10, 30 pm. Upon registration.
Price: adults€ 10. 5 children. €10 discount each extra family (father, mother, brother... grandparents...)
Place: Park of the splice. El Escorial
Information and contact: www.yogaartstudio.com / 91 896 01 05 T / 645 58 43 95
Algorta (Vizcaya)
June 21st is celebrated the international day of Yoga. This day aims to establish a new era of peace in the world. In Anahata collaborate with other schools of yoga in a program open, different and options for all those interested, more information here.
In addition, open Association and service we want to celebrate it by opening our doors and selfless offering our activities in yoga and meditation all week from 15-19 June, where we engancharemos to the activities planned in Getxo
Come to our Center in Algorta, calle Iturgitxi nº 8 and enjoy with us.
Anahata Cultural Association. C / Iturgitxi nº 8. Under. Algorta. Bizkaia
asociacion.anahata@gmail.com http://yogaanahataalgorta.blogspot.com