The August retreats
August is a month filled with retreats, excellent occasions to cultivate our interior life through yoga, meditation, living together with like minded people and inspiring activities. Here are a number of proposals sorted by chronological order.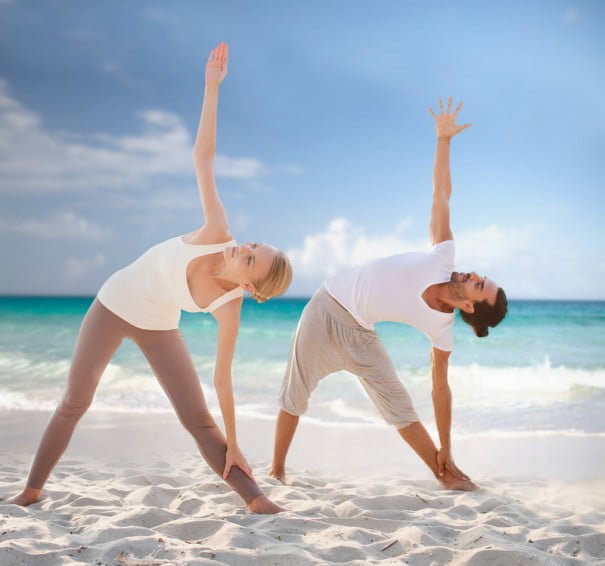 Sports holiday in Sierra-montana
From 7 to 14 August
Where: Piñuécar, Sierra de Gredos
Diet to raw with option to run fast. Nurturing of the four elements: Earth, water, air and fire. Raw diet: fruits, salads, seaweed, dried fruit and infusions...
Reconnection through: hiking, stretching, relaxation, Yoga, meditation, laughter therapy, poetry, Arte-Creatividad, aware game, storytelling, Mandalas, interactive thematic symposia, revitalize, advice from Integral health, CineForum, knowing, sharing with like minded people...
Where: New Earth. Living space surrounded by nature.
Contribution 399 €.
Information and reservations: 637 351 883 maytemaui@yahoo.es
Kundalini yoga retreat / vacation yogic
From 8 to 14 August
Where: Costa Brava
A relaxing holiday to do yoga and meditation without haste, to enjoy this privileged setting of the Baix Empordà nature and meet our internal peace and our balance. We will practice a kind of Kundalini yoga and meditation every morning to balance and harmonize the body and the mind. In the evening you can choose between: visit the coves of the Costa Brava, do yoga and meditation at sunset on the beach, visit the natural parks of the area, walk or simply enjoy the garden of the House. The food served is a diet
vegetarian balanced ecological and proximity.
Facilitator for removal: Lisa Howe (Harlal Kaur) of yoga a l'escola.
Registration: yogacuentos@gmail.com (Lisa Howe)
More information: www.iogaalescola.com and www.yogacuentos.com
Yoga vacation
From 9 to August 15
Where: "Garden of the pump", Rafelguaraf (Valencia)
Six days of vacation for a profound encounter through the practice of Yoga and coexistence with others. A proposal perfect in very favourable and suitable for self inquiry, practice without time or hurry, exploration, lifting through the vital and conscious presence, and growth through mind-body with meditation, Hatha Yoga, Mantras and workshops varied with breaks during the day, art and fun.
It organizes: International School of Yoga
They offer:
Swami Krishnananda - trainer's philosophy of the school international Yoga
Joaquín Castaño - Coordinator of the international school in Galicia
Clara González - Coordinator of the international school in Galicia
Price: For bookings made before July 26 €580. For reservations after July 26 €610 (reservation: €100, to deduct from the total)
Registration: T 965 446 674 or email info@espigol.es
More information: http://espigol.es/vacaciones-de-yoga/
Yoga & human values
From 9 to August 23, to choose stay
Where: The Hill of the Gualchos (Granada)
Teacher: Carmen Viejo (Ahimsa), degree in information science and yoga teacher entitled by the Yoga Vedanta Academy (School of Sivananda) and by the Spanish Association of practitioners of Yoga (AEPY).
We propose stays this summer in an ideal space for relaxation and serenity. Daily yoga and meditation sessions. Circles of reflection. Choose your days from 9 to 23 August. It is essential to book in advance.
Price: 35 euros/day.
Information and reservations: T 620549192 ahimsayogandalucia@yahoo.es
Intensive training of teachers of Yoga-Zen retreat
From August 10 to September 20
Where: Monastery Buddhist Samye Dechi Ling in Santa Coloma de Farners (Girona)
400 hours of study and practice. Intensive training offers experience in the Buddhist monastery Samye Dechi Ling with Swamini Danda, 40 days to live, live, learn, study and integrate the ancient teachings of yoga.
Almost two months of cohabitation with Swamini Danda, allows a very deep practice. It follows a natural rhythm of learning, without distractions and lots of contact with nature.
You learn to be a friend of the time, which reaches for the study, practice, training and living together with the companions of sadhana (spiritual path). It is an experience that marks a before and an after, a gift that nourishes you for the rest of your life.
To study the formation must be started to Kriya Yoga or participate in the introductory course offered in the early days of the program.
Address: Swamini Danda
To study the formation must be started to Kriya Yoga or participate in the introductory course offered in the early days of the program.
More information: http://www.yoga-ashram.es/hariom/que-es-un-retiro-yoga-zen
Holiday with yoga in nature
From 11 to 16 August. From 18 to 23 August
Where: Sierra de Huelva, P. Aracena and Picos de Aroche Natural
Discover a different, magical, fun, holiday where you can relax and connect with nature and you. Leaving your stress behind and charging batteries for your day to day. They are organised with great enthusiasm and love to be unforgettable for you. With many activities so choose at every moment that you most want.
All included € 390.
Different types of yoga,
Different techniques of meditation.
Techniques, relaxation for the day to day.
Bathrooms in the swimming pool and the Lake.
Excursions and nature walks.
Games and dance workshops.
Workshops on healthy eating and natural medicine.
A marsh kayak ride.
Workshop of massages and individual massages.
Night of stars, fun and more.
Contact: 654 695 226 / 955-227-015 / vidayogaparatodos@gmail.com.
More information: www.yogaparavivir.es
Integral yoga retreat II
From 11 to 16 August
Where: Sierra de Ujué. Navarra
For 6 days we offer, in a simple and accessible way a full working system, both for your personal practice and the Yoga of life. The Integral Yoga combines an effective and balanced manner the physical Yoga (Hatha Yoga) with the Yoga of meditation (Raja Yoga) that makes it possible to discover and experience the latent power that is within you and that we call "Interior teacher".
To attend this workshop is not necessary to have previous knowledge of the Integral Yoga, you only need to be willing to find the light that you carry in your interior and open yourself to an authentic, deep and direct experience of your being.
Places are limited to 24 people.
Cost: €290 all included. Accommodation in double room and special feeding for this removal.
Contact: 948 05 07 650 06 00 65 info@escuelamahashakti.com 05‐ Tlnos
It organizes: School Mahashakti
More information: http://escuelamahashakti.com/
Retreat with Swami Satyananda Saraswati: ' the light of the Dharma. The inspiration of the contemporary masters of Hinduism '
12-23 August
Where: Can Fellines Sans (Girona)
The great support of the hindu tradition over thousands of years have always been the mahatmas, scholars and teachers who have transmitted the light of revelation Vedic expressing it according to the conditions and the language of each moment. In this retreat approach to education and the lives of some of the most important masters of contemporary Hinduism: Dayananda Saraswati, Swami Rama Tirtha, Sri Ramakrishna, Swami Vivekananda, Sri Ramana Maharshi, Sri Aurobindo, Swami Ramdas, Swami Sivananda, Srila Prabhupada, Anandamayi Ma, Nisargadatta Maharaj, Chandrashekarendra Saraswati, Mataji Krishnabai, Bhagavan Nityananda, Swami Muktananda.
With the guidance of Swamiji, we discuss our education of these teachers, with the desire to receive all new inspiration for our practice and understanding of the dharma.
The focus of the retreat will be experiential. Along with the teachings of Swamiji, videos and images of the mahatmas, meditation, kirtan, hatha sessions there will be yoga, karma yoga, contemplation and silence.
Registration: inscripcions.advaitavidya@gmail.com / 619-261-773 (Yogeshvari)
More information: www.advaitavidya.org
Yoga Retreat, meditative walking and our place in the universe
15-21 August
Where: House Cuadrau, in Saw, Pyrenees
Incorporated into every aspect of your life at the same time simple and beautiful gifts of yoga. learn simple tools that allow you to be connected with the cycles of nature wherever you live. A deep experience of Yoga, meditation, walking meditation, and a series of special workshops on the wonders of the universe, stars, our place in the Cosmos and our relationship with it, all this will facilitate our understanding and connection with our true nature.
Workshops on the stars, the universe, and our place in it, as well as the observations of the stars and the moon will be provided by Juan Carlos Escanciano, a scientific rigor and technical effort to present easily and striking astronomical observations.
It is a gift to have the direct observation of the sky in one of the more pure and Virgin in the Aragonese Pyrenees, where clear nights are a fascination and evoke a beautiful variety of feelings to contemplate the universe.
We offer a program designed so each soak in the experience of interior removal, beyond the mind and emotions. Our greatest guru (master) is the nature. Cultivate silence helps to enrich this experience.
Walking into a paradise of natural beauty and calm, practice yoga and meditation daily and develops consciousness of the here and now in all action and all times. Learn about the stars, the cosmos and how we interact with it. In the middle of the activities, you will have time to rest and enjoy the present, alone or in company. A comprehensive experience of the practice of Yoga, connecting with our true nature.
Facilitators of Yoga and hiking: Daniel Benito Po and Katya rivers.
More information: http://www.casacuadrau.org/retiro-de-yoga-senderismo-meditativo-y-las-estrellas/
Removal of Integral yoga and self-realization
From 16 to 21 August
Where: Santa Maria d' Oló (Barcelona)
"Recognizing the real serenity". Yoga is a way of self-realization; self-realization is the full awareness of the reality; the see is what is always constant and unchanging, that can never stop being... and that can manifest itself in existence as serenity.
A full retreat consisting of varied practices and the study of the mind, structures and formation of the ego and the possibilities for transcendence through the integral yoga and oneness (T.U.) therapy for self-realization.
They also were moments and spaces of inner silence and contemplation.
Live a few days in an intensive environment of yoga, meditation and research, is a good opportunity to go more awakening to our real essence, love, inner peace, which is the desire of all beings in the background.
It addresses: Jordi Febrer, Professor of integral yoga (APAYI, AEPY).
Contact: Jordi Febrer. Tel: 938415012 / 658351986 / email: jordifebrer@apayi.com
More information: http://www.apayi.com/
Space and time for you. Here, now, ayurveda
17-August 23
Where: National Park Cadí-Moixeró in Cerc (Lleida)
A retreat of 7 nights in the intimacy of Cal Macia, a 17TH-century House, situated within the National Park Cadí-Moixeró, Cerc (Lleida). In the magnificent setting of the Green Valley, immersed in the silence will accompany the delicate flutter of birds and the murmur of the waters of the river...
The price of withdrawal include:
Individual consultation with Dr. Vijay, m.d. Ayurveda from Kerala (India).
Lectures on Ayurveda led by Dr. Vijay, who will provide us with guidelines for a healthy, balanced and long life.
Ayurvedic treatment custom of 7 days which includes 1 massage per day.
Every day, sessions of yoga and meditations guided by Bea Vidal, teacher of yoga for over 15 years.
Breakfast, lunch and dinner, prepared according to the principles of the diet Ayurvedic products 100% ecological, Earth and season.
Free time to enjoy exclusive spaces for you.
Price: €989 / person all included.
Removals will take place the first and the third week of August.
Info and reservations: helenayurveda@yahoo.es T 63 56 59 506 / 973 34 71 38
Advanced removal of integral yoga hatha
17-August 23
Where: Sierra de Ujué. Navarra
We offer a 7 day immersion, taught by Mataji in the part Hathayoguica and by Saranagatidas in the field of philosophical and meditative.
Removal teorico‐practico general indications for Yoga teachers and practitioners with experience, who want to delve into this field, also for teachers who wish to recycle no matter the style with which to practice.
The teachings will be offered from a point of technical demands with a spiritual philosophical stand that gives sense to the preparation of the work with the physical instrument. Ten hours of practice a day, of which six will be Hathayoga Integral supported with extensive documentation that, among
other things contains thirty full sheets of asanas. We will also intensively work in theory and practice Pranayama and Kriya, also in theory and practice the bases of the Integral meditation.
Supplied manual of brought and certificate of attendance for 70 hours.
Places are limited to 24 people. Cost: €350 all included. Accommodation in double room and special feeding for removal.
It organizes: School Mahashakti
Contact: 948 05 07 650 06 00 65 info@escuelamahashakti.com 05‐ Tlnos
More information: http://escuelamahashakti.com
Journey of yoga in Morocco
From 18 to 25 August
Where: Morocco. Essaouria and Agadir
Yoga in Morocco trip will take place in the Atlantic between Essaouria and Agadir, the group is part of a caravan where we carry with us a local guide and a Berber chef, luggage will be transported by camels and we will sleep in tents also will have a haima where we can stay the entire group during the day except for the first night and last where we overnight in riads in the medinas of the cities of Marrakech and Essaouira. Every day at dawn and at dusk, we will have classes of Hatha yoga, enjoy the Atlantic beaches, visit small fishing villages, walk on camel and much more...
Price: €580
Includes:
Transfers in Morocco in private vehicles.
Accommodation in Hotel tourist class double rooms in bed and breakfast.
Accommodation in tents for two people (includes mattresses to sleep) on full Board during the stay in the Atlantic, camels or mules to carry luggage and all the infrastructure during the stay in the Atlantic.
Collective material (or haima dining tent, toilet, kitchen utensils, dishes, covered...
Professor of practical Yoga, meditation and relaxation.
Spanish companion guide.
Local Berber Guide.
(Flight international, personal extras, tips, travel assistance insurance not included)
Contact: T 635034322
More information: https://ahimsayogaimes.wordpress.com/viajes/?preview=true&preview_id=87&preview_nonce=5572b356a6
The shamanic journey
From 18 to 23 August
Where: Sant Feliu de Guíxols. Costa Brava - Girona
A shamanic through Holotropic breathwork experience and the teacher plants. Workshop residence integrating deep practice of Holotropic breathwork with interesting theoretical presentations.
This 6-day workshop combines Holotropic breathwork with work shamanic, where it is possible to make a (volunteer) intake of the potion Llullo Caaspi in the spirit of "Amazon diet".
"This workshop is not part of the training of Grof Transpersonal Training" Holotropic Spain
They impart: Jean Farrell, Josep Vila, Sitara Blasco, Juanjo Segura, Esperanza Lopez
Place: Hotel EOC Roc - Sant Feliu de Guíxols. Costa Brava - Girona
Information & reservations: breathing Holotrópica. Juanjo Segura: 607 302 727. It sitara Blasco: 607 400 820 info@holotropica.org
More information: www.holotropica.org
Yoga vacations, nature and healthy leisure
From 23 to 28 August
Where: Finca "The sky of la Vera", in Gredos
Padmasana has prepared a program of 5 days containing yoga daily high quality (practice of hatha, meditation, mantra, Nidra), breathtaking excursions in nature (the Devil's throat, blasting the landlady, nearby towns), dynamic group, Massage Studio, kind of vegetarian cuisine in charge of the cooks of the "heaven of la Vera"), walks under the stars and some other surprise to take care of yourself and relax in a unique natural beauty not to mention fun and meeting new people.
The programme of activities and classes (more than 30 hours) begins the evening of Sunday, August 23 and ends on Friday 28 at noon, and includes in addition to classes, workshops and excursions, accommodation for 5 days, 5 nights in a flirty type hostel shared room (there are from 2 to 8 beds rooms), full Board with a wonderful buffet delicious organic vegetarian prepared by the cooks of 'Heaven' every day.
Price: all inclusive € 325. There is also availability of individual accommodation for a cost of € 395.
He directs the removal violet Arribas. Teacher of Hatha Yoga and meditation with more than 10 years of experience in the teaching of the authentic Yoga. Director of Padmasana Center. Ayurveda therapist, great connoisseur of the mountain and nature lover.
Reservations write to info@padmasanacenter.com or T 620325071. (Important: book before July 30 as Padmasana closed in August)
More information: http://www.padmasanacenter.com/
Yoga vacation
From 24 to 29 August
Where: in the Tejeda Almijara Natural Park (Málaga)
For the tenth consecutive year we have the pleasure to introduce Yoga vacations. This year in the sierra de Malaga, 13 km from the beaches of Nerja.
We stay in the cottages of the Acebuchal a place prepared with loving care for the guests.
Yoga classes by the morning of 3 hours and afternoons free
Price: 430 euros (includes classes, 5 nights accommodation, breakfast and meals, not including dinner)
Reserve 200 euros. Very limited places will be allocated in order of registration
Teacher: Grace Igor
Contact: igordegrc@yahoo.es
More information: http://akasayoga.com/
Nayana Yoga Retreat summer with Harmony
From 25 to 30 August
Where: Sierra de Gredos
Every year we share a few days together to delve into the personal work of drop, from silence and union with nature. Physical purification, we do a detox diet. We exercise the body with yoga, dance and rides by nature.
For the purification of the mind we maintain silence. We practice mindfulness throughout the course and meditate daily.
Harmony is teacher, therapist and together with Cristina (healer, massage therapist) will be available to assist participants with their personal process during the retreat.
According to the number of registrations we will be in a place or another of La Sierra de Gredos. Both sites are natural places privileged views, pool and shared room.
More information: http://nayanayoga.com/retiro-de-verano/
Integral meditation retreat
From 25 to 30 August
Where: Sierra de Ujué. Navarra
For 6 days (from 25 to 30 August) we propose an intensive meditation integral, a profound work freed from religious aspects, which then allows the use of this technique in everyday life. This retreat may be indicated for those who want to integrate a foundation of effective meditative work or if you got it to extend it. The main objectives of this removal are:
Acquire the bases to meditate effectively.
Facilitating the encounter with our inner teacher.
Acquire the tools that make it possible for us to bring meditation into everyday life.
The retreat features:
Every meditator will be available, upon request, personalized that will be staffed observing capabilities and difficulties.
The meditative work is accompanied by practice with Pranayama and Kriya (work of handling and awareness of our potential pranic). ‐ an accessible Hatha Yoga practice will also be held daily.
‐ Activities performed them both in the practice room and at the sites in the forest or on the banks of the Creek.
Cost: 290 euros.
Accommodation in double room and vegan food.
Contact: 948 05 07 650 06 00 65 info@escuelamahashakti.com 05‐ Tlnos
It organizes: School Mahashakti
More information: http://escuelamahashakti.com/
Weeklong retreats / Asthanga yoga
Where: Cerecedas n. Piloña (Asturias)
Our goal is to offer an unforgettable week with Yoga and meditation, beach and mountain activities. Asthanga yoga practice cleanses us and purifies, it gives us strength and vitality. Discover Asturias from its nature, its most authentic corners, beaches and mountains. Live a week in contact with ourselves, feed us a healthy and natural local products and delicious vegetarian cuisine. We want to give you the opportunity to test a form of different life consciously and responsibly with the environment and with oneself.
Contact: Elena Alvarez Laso T 691409899 / contact@yogaandnatureasturias.com
Our retreat is located in Cereceda, a small village in the heart of Asturias, at the foot of the Natural Park of the Picos de Europa. From our forest we can see the Picos de Europa and the Sierra del Sueve. The highest peak of the Sierra del Sueve, the Picu Pienzo, overlooks the Bay of Biscay which is just 15 km from the village of Cereceda.
Here is the greatest charm of this area, we are under the highest mountains all the Cantabrian mountain and just 15 km from the coast. This landscape is unique in Europe, and we are aware of it.
We have a native forest of Oaks, beeches and chestnut with copies of more than 300 years, an extensive understory or mount of ferns, Heather and gorse, with native fauna of the Asturian forest, roe deer and wild boar, which in winter are often see as they go down in search of food to heat the houses in the village. It is a type of forest that requires lots of light and humidity in this region. In addition to fruit trees and the organic garden at our home.
We are aware of the value that we have for this reason we have a great commitment to nature. We take care of and maintain the forest, respecting indigenous species, because we think that the forest is life and they have tremendous importance for biodiversity on the planet. Taking care of it we can contribute to improve the quality of air and water in the Earth and slow down global warming.
The accommodation has a garden organic varieties in the area. In addition to laying hens freedom that naturally feed on. Held weekly street markets with organic products and local crafts. During that week we autoabasteceremos with Orchard products, eggs from our chickens, and fruits of our trees as piescos, peaches and apricots.
On arrival at the forest will be the program of the week, always remain flexible depending on the expected time. Asturias is unpredictable and always looking for different options depending on the time. But the scheme that we are going to follow is as follows:
Morning: Yoga practice, breakfast, personal hygiene.
Noon: Output to programmed activities. Lunch or picnic.
Afternoon: Swimming pool and activities: hiking, surfing and canoeing. Back to the Woods and talk, meditation or Pranayama.
Evening: Dinner and rest.
Yoga sessions will be made in the morning, starting at 8:30 the students more advanced and at 9:00 beginners. So that all will end at 10:30. It is a good opportunity to start and learn about this magical practice that much wisdom can bring us in everyday life.
Ashtanga Vinyasa Yoga is a form of dynamic yoga. It differs from hatha yoga by the vinyasa practice. Vinyasa means literally synchronized movements and respiration system. And these movements are those who strung one stance with the other. Each posture is meticulously designed with a certain number of movements. The sequence of postures will always be the same and the student will be adding positions as your practice progresses.
Ashtanga Yoga practiced with correct breathing purifies the body physical, mental and emotional. Through the body we access our emotional blocks becoming aware of them and also to become aware of our mental processes learning to observe them from the detachment, without identifying with them.
More information: www.yogastudiogijon.com