We go back to the place from whence we came
El equipo de redacción de la web española del Maestro Zen Thich Nhat Hanh nos envía esta información con las últimas noticias.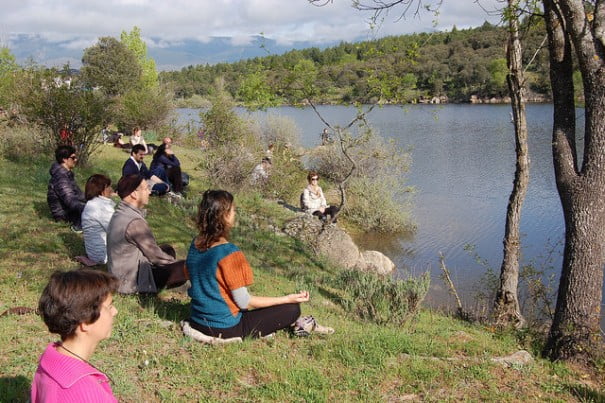 Hay que sentir, para ser escuchado,
hay que amar para ser amado,
hay que estar despierto para apreciar la vida
Alguien preguntó a Thay…
¿Cuánto tiempo más deberé seguir buscando?
Llevo muchas meditaciones andadas y sentadas, llevo muchas charlas oídas y retiros practicados… y todavía no he encontrado la paz. ¿Cuándo llegaré?
El sentido de una plegaria no radica en la petición, sino en el sentimiento que se deposita en ella, dice el maestro.
El gran sentido de nuestro camino lo debemos hallar en cada paso y no en el maravilloso destino.
Aunque resulta inevitable pedir, desear y querer que algo suceda como nuestra mente ha imaginado, no es menos posible, aceptar, compartir y sentir aquello que tiene valor para nosotros. Aquello que se manifiesta. Y cómo se manifiesta.
Crear las condiciones a cada paso,
vivir nuestra vida con intensidad.
y aprender a disfrutar de las frutas de temporada.
Una rosa o un cardo,
una col o una fresa,
una nube o un te.
La profundidad está en nuestra apreciación,
en nuestra capacidad de observar y sentir,
en aprovechar la energía que se manifieste.
Disfrutamos en Buitrago con el retiro.
Caminamos en Madrid con la marcha por la paz de Wake Up
y seguiremos el camino, apreciando todo lo que nos traiga.
Hoy es posible disfrutar de fotografías, vídeos y audios de los últimos eventos.
Os los ofrecemos con mucho cariño, pero, por favor usadlos con moderación.
Consumo moderado, consumo consciente:
– Charlas, meditaciones y canciones del retiro de Madrid/Buitrago mayo 2015
– Recuerdos del Flashmob con Thay en 2014
– La marcha por la paz en Madrid
Amorosamente desde la nube,
El equipo de redacción
P.D. Si vives en o cerca de Barcelona, la sangha quiere anunciar su nueva página en Facebook
Foto: CC Elina Pen