Yoga training for children with special educational needs
Jo Manuel is the best-known trainer of the United Kingdom in yoga therapy for children with special educational needs. It will come to Madrid for sharing his training ' Special Yoga for Special Children'. City yoga, from June 28 to July 3.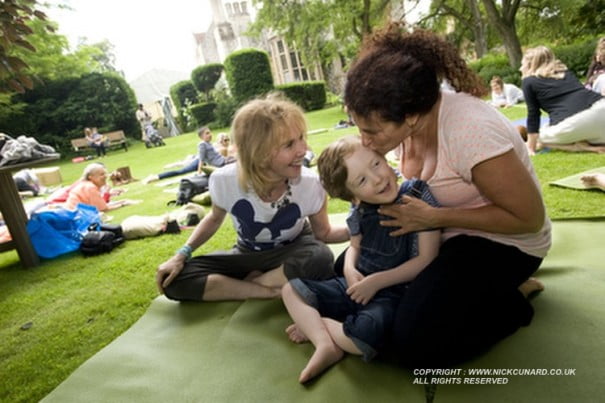 This course, aimed at parents, yoga teachers, school teachers and pediatricians Professional (with or without experience in yoga) provides the Tools necessary to enable them to benefit from the yoga therapy for children with special educational needs, so that they can achieve their full potential.
In the course much importance is given to the learning of how to approach and contact the children with love, respect and wisdom. The contents of the course are accompanied by demonstrations with children of different ages and abilities.
Jo ManuelHe teaches the first module of the course, practice yoga for more than 30 years. He first studied with the famous Dharma Mittra in New York, then with Faustomaria, Jon Stirk, Mary Stewart and others in London. He teaches yoga to children for 10 years, specializing in yoga for special children. In 2003 completed the basic course The Yoga for the Special Child® with Sonia Sumar in the United Kingdom.
Jo is the founder and Director of Special Yoga, a non-profit organization dedicated to bringing yoga to families and schools who have children with special needs.
Yoga network It has asked Jo Manuel which children are considered to be 'special' and what main attentions required: "I believe that we are all special!" Howeverthe children we work with have different conditions and physical challenges, from cerebral palsy, Down syndrome, autism and other learning difficulties. "I guess we can say that we work with children whose nervous systems are unbalanced, and there is therefore a challenge physical, neurological, or both, often not even there is a diagnosis".
And what brings / teaches yoga, specifically, in comparison with other methods or systems? "Our intention in Special Yoga is take the kids to a place of calm and balance, because we believe that this is where healing takes place and where can reach their full potential. To help them find or achieve their full potential we need to harmonize and balance your nervous system. In fact, we never know the potential of children until they are in that place of calm".
The full course

This course provides tools for yoga teachers, physical therapists, Pediatric occupational therapists, speech and language pathologists, teachers of school and teachers specializing in special needs, as well as other pediatric professionals.

City Yoga and the Yoga school kids Om Shree Om, founded by Christine MacArdle, they present it for the first time in Spain this training in order to better serve the children of all. This training consists of three modules.

Module 1: special Yoga for special children

Sunday 28 June and Friday 3 July. Taught by Jo Manuel.

Syllabus:

The principles of yoga and its relationship in children.
How to adapt and develop the postures of yoga for different conditions.
Manage the challenges of the behavior.
Assess children and create a specific practice for them.
Encourage, stimulate and regulate breathing.
Help the child to relax and renew.
Balance and calm the nervous system.
How to work with groups of children with special needs.

Module 2: sensory integration in yoga for kids
Saturday and Sunday 18 and 19 July. By Celia Vazquez Perez, occupational therapist, specialist in sensory integration and attention early, founder of Ananda, therapy and child development in Estepona, Málaga Center.

Sensory integration is a process neurobiological directly influencing the behavior of every human being. It is the ability of the Central nervous system to organize and interpret the information captured by the various sensory systems (visual, auditory, gustatory, olfactory, tactile, proprioceptive and vestibular) and thus to respond adequately to the environment that surrounds us. 90% of children with educational needs special up to 15% of children in the general population have sensory integration problems. Learn about this aspect of child development is an essential tool to understand rhythm, learning and each child's behaviour. In addition to understand sensory integration and how to detect the skills in your child, you will learn asanas and attitudes that you can use in your classes to improve the challenges with our children with deficiencies in sensory integration.

Module 3: integrating all... The spirit and art neuroscience teaching yoga to children with special educational needs.

Saturday and Sunday 25th and 26 July. Taught Manuel Perez Exposito, Neuropsychologist and Yogi, founder of grow naturally, Centre for children with special needs in Alcalá la Real, Jaén, is our expert in the field of neuroscience and meditation/mindfulness. And Arantxa Bermejo bust, Bachelor in environmental sciences, psychotherapist of Gestalt, an expert on various alternative therapies used in their work with children and adults. Formed in Yoga for the Special Child, takes sharing the yoga therapy with children in Spain during the past four years.

Manuel syllabus:

Fundamentals and recent discoveries of science and neuroscience of autism, down syndrome, dyslexia and attention deficit hyperactivity.
Neurodevelopment. Basic concepts. Cerebral laterality.
Neuroplasticity. Concept and applications.
Theory of mind and mirror neurons.

Arantxa will address the issue of disability from a systemic point of view, in order to understand that we are all part of a whole and that we are United (basic principle of yoga). Thus, that everything is expressed at the individual and internal level in the body, as a unit, and externally as an interconnected system of which we are all part (social Yoga)

Coordinator: Christine McArdle Oquendo, educator, author, founder of OM Shree Om Yoga. He collaborates in this training with passion and commitment to make every child in the world access to the blessings of yoga.

All the information here