' Yoga high ' to banks of the sacred Ganges
When I travelled to Rishikesh in the spring of last year, during a yoga session came me the idea of organizing a retreat where could also share my passion for the Yoga air There itself, on the banks of the sacred Ganges, in the city where the yoga we breathe in every corner. Montse Lominchar writes.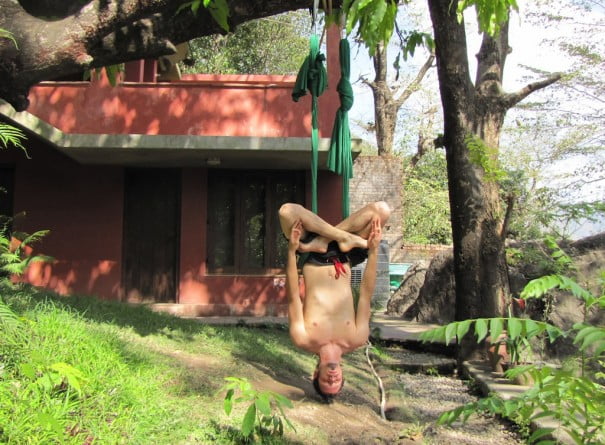 And the best way to share is to give, show, fellow yoga teacher teach my passions, the India and the practice of aerial yoga Unnata.
For those who don't know yet what Unnata aerial yoga the explanation is very simple: It's yoga with the support of a fabric hammock. This time in your sadhana, as well as resorting to a carpet, a brick, a belt, the wall, a teacher or your own inner wisdom you help a cloth hung from a tree or the roof of a room. Is only one tool, but a very effective tool! In fact, opens to you such a variety of possibilities that it is sometimes easy to get lost in the pleasure of experimenting.
When I refer to aerial yoga always talk about Unnata style, which is that I know. Although it is not an acrobatic game, it offers all possibilities to deploy the playful self. It is not a fitness gym, although as any other practice of yoga can contribute decisively to stay in "fitness" while maintaining a yogic attitude.
Unnata is the Sanskrit term for "high"both physically, spiritually, and in sessions of yoga Unnata cultivate and respect the 8 steps of yoga: Yamas, Niyamas, Asanas, Pranayama, Pratyahara, Dharana, Dhyana and, like all yogis, with the hope of achieving Samadhi.
On a more practical level, meetings of asanas, assisted by fabric, serve sometimes to prepare, others to understand the principles of the asana, others to facilitate an inverted posture, especially when there are students who can not keep them by their physical conditions, injuries, etc. And also for allow the spine is uncompress with absolute freedom. With the total body or partially in suspension, supported in fabric, our relationship with gravity changes drastically and us open new windows to the perception our own vehicle body and its possibilities.
The practice of yoga in suspension is not even new. Although it was Michelle Dortignac My teacher, the first to create a style based on his expertise as a practitioner and teacher of yoga and its expertise in aerial acrobatics. But we know that the ancient Yogis were already hung in trees to practice inverted postures and it is not strange even today in day view any sadhu practicing this type of stretching.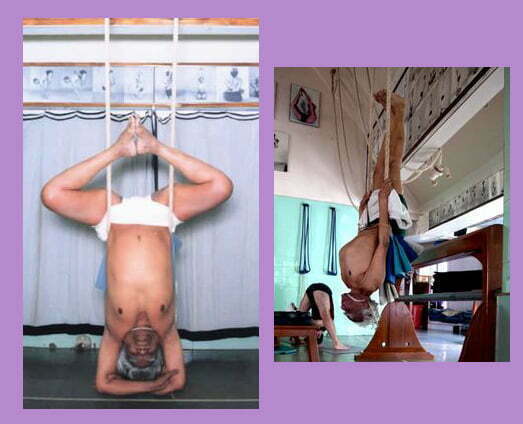 Special mention deserves the master B.K.S. Iyengar, one of the most open minds in the world of yoga, which opened the Orthodox practice of yoga with the use of different auxiliary tools, sidewalks, brick, belts and ropes. Imagination and creativity are our only limitations for the use of physical elements that allow us to better or different exploitations of the asana, without entertaining the mind in idle discussion of whether this is more or less yoga than the other.
From my humble point of view, I think that yoga is an inner journey. Environment, the paraphernalia and the company does not cease to be interesting, but accessories. Even so, when we access some or all of these grants, the important thing is the own experience in harmony with the universal everything to which we are definitely United, still convinced otherwise on this Mirage we call real world.
So, dear fellow travelers in this exciting task of disseminating and sharing yoga, I propose you to join us from 4 to 12 July 2015 in Rishikesh, in a beautiful hotel in the middle of the jungle, literally on the banks of the sacred Ganges, in the foothills of the Himalayas, forming us and learning to integrate in our yoga classes this not so new technique of the asana suspended or supported in fabric "Aerial yoga Unnata".
And as we love and respect this ancient science and philosophy in our training courses They are only allowed to qualified yoga teachers. Accommodation, half-board and your own hammock is included in the course price.
And you have until May 31 to take advantage of the special price!
Montse Lominchar. Director of the Yogasadhana Center in Ciudad Real. Aerial Yoga teacher training Unnata from 2012

Next courses:
-Rishikesh, from 14 to July 12
Price: €1800 / €1600 before 31 May
http://www.yogasadhana.es/formacion-de-profesores-de-yoga-aereo-unnata/

-Happyyoga Palafrugell (Girona), 9-16 August
Price: 1200€ €1000 registrations before June 30
http://www.happyyoga.com/clases-yoga-baix-emporda/#como-llegar