Interview with Gustavo Ponce: "To teach yoga is needed compassion and respect"
67 years old, is one of the few professors in the world that has directly studied in India since 1972 with Shri Yogendra, B. K. S. Iyengar, K. Pattabhi Jois and T. K. V. Desikachar. His biography is exciting. Again returns to Madrid to deliver the 8th, 9th and 10th of may, a workshop at the Yoga School of Las Tablas.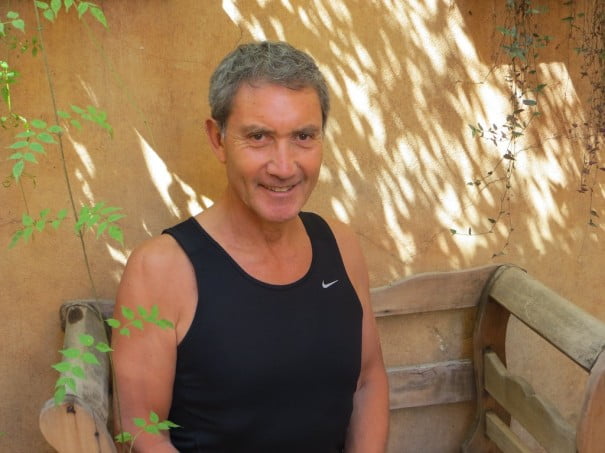 He was born in Santiago in 1947. It is one of the pioneers of yoga in Chile and founder of Yogashala. In 1996 he introduced the country styles Iyengar, Ashtanga Vinyasa and Viniyoga, who studied in India directly with its creators, teachers B. K. S. Iyengar, K. Pattabhi Jois and T. K. V. Desikacharrespectively. It has also created three styles of Yoga: Dynamic, Sattva and Prana Shakti. He is author of 11 books, speaks five languages, has trained hundreds of teachers in Chile and abroad, and continues his studies and endeavors with renewed vigour. He recently opened a second headquarters of Yogashala in Santiago de Chile.
Gustavo Ponce lived 32 years out of Chile, 20 of which spent in Japan and the rest between United States, Europe and the India. He early began to practice yoga with the help of a book and study with immigrant Japanese arts martial as Judo, Aikido and Kobudo, disciplines practiced until age 35, when due to a fall he suffered competing in Japan almost was invalid.
From that moment, Yoga became her true and great passion.
In 1972 he made his first trip to the India for a period of six months. In addition to the mentioned Indian teachers, Gustavo Ponce studied with other notable as Shri J. Yogendra and his wife Hansaji in Mumbai, Sharath Rangaswami (grandson of Pattabhi Jois, who recently changed her last name to Jois), Kausthub Desikachar son of T. K. V. Desikachar, Ramanand Patel, Dona Holleman of Holland, Donna Farhi, Shiva Rea, Angela Farmer, Sarah Powers, and Eric Schiffmann USA, Swami Ekananda of Chile, Swami Digambar of Spain and Per Winther of Norway, among many others.
Gustavo Ponce was Ambassador of Chile in Japan until 1990. He then was in charge of a multinational company in Belgium until 1995. Returned briefly to Chile in 1996 and in 1997 founded Yogashala, cradle of the majority of the schools of Hatha Yoga that currently exist in the country.
In 2003, Gustavo Ponce was diagnosed with cancer of the immune system, a non-Hodgkin Lymphoma, that prognosis of life between 7 and 8 years. He underwent an intense treatment that successfully overcame. During his illness he created Sattva Yoga and Prana Shakti thinking about both methods-therapeutic effects, because it had resolved to challenge the statistics by applying his knowledge to stay as long as possible in this world doing what better know-how: teach and propagate yoga both in Chile and abroad.
Interview
At what supports your teaching base, what is the main source which nourishes them?
On two things: what I learned from all my teachers through the last four decades and in my own discoveries.
What they most want to convey in your workshops?
Since childhood had a strong connection with my body through gymnastics and then the Japanese martial arts. That connection allowed me to understand that it is not possible to separate the body from the mind and the emotions, and when I discovered yoga I realized that the practice of yoga, even at its most elementary - postures and breathing, could not only purify the body but allow us a greater connection with ourselves. In other words, through yoga we can know each other better and therefore to enjoy life more. That's what I try to convey in my classes.
What you advise teachers of yoga, new and not so new, to raise and teach their classes?
I think the most important thing is put in the place of the students, as each is a universe. I think compassion and respect are the key words. Motivate to the students is essential.
What are the qualities of a good teacher and what may be his major failures?
In my opinion the best teachers of Asanas are those who have worked and is still difficult to do the postures. It is also important to explain what and why the positions that the teacher wants is to become. All positions have specific benefits. I think that the teacher should not be required more of what a student can do. Many times the teacher tends to believe the story when his students begin it to "endiosar". We must take care not to fall on any egocentric journey.
How to be guided to choose the practitioner when it comes to further expand its training, between the varied range of schools, teachers, styles and activities?
This is difficult, today, yoga is an article of consumption where sometimes the supply exceeds the demand. I think that there is anything "window shopping". While one attends classes with different professors, the smell will be naturally sharpness. It is also a matter of instinct and empathy.
Would you like to achieve in your upcoming workshops in may in Madrid?
Just having the opportunity of share what you've learned with anyone who wants to attend my classes. I think that's the essence of being a teacher.
The styles that you created
-Axis: Its main feature is the "alignment muscle-skeletal", through which the practitioner awake the consciousness body and, through it, the emotional and mental. It is a method that leaves out quickly our physical limitations in flexibility and resistance. To help stay in postures and to achieve a better opening of a certain area of the body its commonly used accessories such as a Chair, a belt, a wood brick, a blanket, etc. This method is taught in two levels: beginners (level 1) and experienced (level 2).
-Dynamic: The key to is fluency in the execution of the postures, which are repeated over and over again to go acquire mastery and achieve so practice without the guidance of the teacher. This is called "personal practice". In each class the positions are different, but what does not vary is the structure of the method which has three parts: the first is relatively passive where muscles and ligaments become hot gradually (Yin); the second is active and where it usually become positions of foot (Yang); the third is a combination of both, and whose purpose is to balance the energies. The thread conductor of Dynamic yoga is the greeting to the Sun. This method is also offered at two levels: beginners (level 1) and experienced (level 2). Although the student may begin at level 1 without having never practiced yoga, it is advisable to practice before three months Axis yoga.
-Sattva: The whole practice is directed to the health of the column, to create space between the vertebrae, making more flexible the spine and strengthen the muscles that support it and of course also strengthen main body muscle chains. Practice in two ways: with the wall (Sattva Chikitsa) and without (Sattva Vinyasa) wall. In this last form teaching is offered at two levels: 1 and 2. The objective of level 2 is that students get to memorize all mother of postures sequence.
-Pranashakti: Its main feature is the work energy, visualization and application of them hands (Prana Mudra) in them Chakras (centres of energy), the practice of technical of breathing (Pranayama), relaxation guided, meditation and recitation of them Bija Mantras, (vibration primordial). Each movement is synchronized with an inspiration or exhalation while leaving space for the air with lungs empty or full retention either.
This method can be practiced by everyone regardless of their age, sex or physical condition. An excellent tool to strengthen the muscles that support the spine and abdominal muscles.
The Workshop of Gustavo Ponce

Days and times: May 8 (presentation, 19 to 21, free entrance), 9 (from 10.00 to 14.00) and from 16.00 to 20.00 and may 10 (10.00 to 14.00)

Price: €160

Where: School of Yoga in the tables. C / Isabel Colbrand 10-12 (Las Tablas) 5th floor, local 131, access by Alfa III - A1, Madrid

Phone: 810101082

More information: http://www.escueladeyoga.org