Interview with Carlos Kamal: "The Acroyoga improves the relationship between parents and children"
It focuses on yoga for 10 years. It is currently very dump Acroyoga workshops for parents and children, because it ensures that they help overcome fears and patterns of behaviour towards children which can be very toxic. It is a Yoga network interview.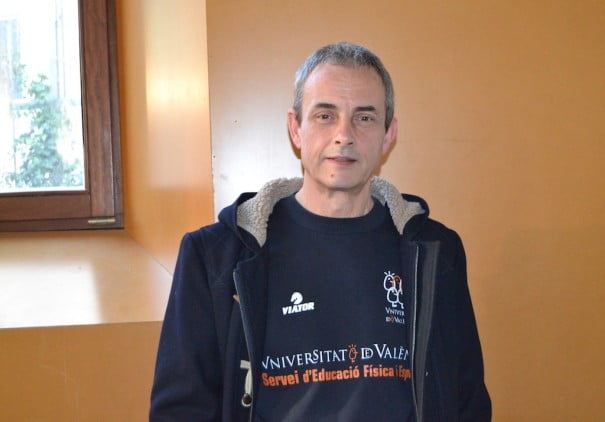 Carlos Kamal It is a household name in the world of the Acroyoga and Thai massage, above all in the Valencian Community and the Balearic Islands. (See here his) page and its Facebook). Those who know now can not imagine that it was a successful businessman 14 years ago. Successful economically and infarction personally. I had a service company with many employees, "of those who twist you intestines", says. One day he fell ill with anxiety. Someone advised you to do yoga, and thought that this was a thing of hippies, and that theirs was to make money. But he did it. It turned into yoga and this radically changed his life.
Yoga, you discovered, you...
I have a lot that always thanking the universe what I spend, such as leaving the company at the right time, before the economic crisis, and find a new life. Yoga I certainly has changed. There are friends of mine who see me on the street and I have them to stop to greet and say: Hey, I am. And do not recognize me because I lost a lot of kilos and rejuvenecí.
Das Integral Yoga, Thai massage and Acroyoga courses... It is unusual, because we tend to pigeonhole us enough in a school or in a style...
I research on Iyengar, Ashtanga Yoga therapy... All these years they have given to do many things. I liked the line carrying my school, Dharma Ananda, because it was not a dogmatic yoga, but they offered you the possibility of investigating other types of yoga, get to know them and practice them. When you finish a training, you have very little knowledge to work on this. Then you find people who can not do what they asked, and others who come to experience what is yoga. They go to have a nice experience, and at the end can be traumatic because they cannot have it. Therefore, you have to adapt. I like the yoga adapt.
Now I also do many workshops of fathers and sons of Acroyoga, pedagogical and therapeutic background that has this practice as regards modification of behavior patterns. There are many things; I'm working this line very much lately.
What is it that catches your attention, with respect to yoga, in the relationship parents and children?
Gives us the opportunity to deal with certain things: how to call the attention of our son, how we get to play with it... At the beginning the greatest beneficiary is the father, who can play as if the two were children, because if you don't play like a child with your child, he will not want to play with you. But soon went into those patterns: "I anger if I do not pay attention...". This type of workshops give us the opportunity to clear those stories and realize how we are working, that that is not the way, or in relation to cognitive fears.
Many times children I say, referring to the father or the mother: "Is that it has fear". Then I wake up the child and asked: "What do you think?", and I replied: "Shat of fear". And there they realize how parents teach things, we want to help, and are actually sending fears and We should teach our children to overcome fears and do not block them. The beauty of this type of workshops is that you get to work a little to yourself. It heals your fears, and that will be a nice gift that you will do your children.
Are we parents too protective with respect to our children, too conservative in their education?
In these workshops of Acroyoga are other patterns of conduct of the parents, of the type "If I am not aware of my son, is that I don't want it". We transmit to our children things that are very toxic. Each workshop is a learning process, so that you learn from them. Long ago I realized that we have to change the chip, that children have much information that we don't have and our role is not really the teaching, that role is now very outdated;our role is the learning and give them things, because in the end, you realize that they already know much.
What more I observe in these workshops is that we, with our nonsense, don't let our children grow up. When I called to mediate a conflict between parents and children, is always the same: you work it, you, Dad, not the child
Where will you now?
Where to take me trip. Before I was dedicated to the theme of how to plan time, how to create goals, and how to set those goals with my team. Now, whenever I put a goal I conduct it, and whenever I let myself be carried away by the situations, life is giving me. Maybe because you do it with love, and When you do things with love, everything flows. I'm here thanks to the people that I met along the way and told me: try this, and I thought that it was a thing of hippies and that not you could teach me anything...