Rainbow Kids Yoga: how to transmit yoga to children
Yoga at home, in family. Yoga at the College, in education. Yoga health and cultural centers. If children have access to yoga since childhood, the human being, family, living, health and society will improve dramatically tomorrow. We talked about this with Cayetana Ródenas, very skillful Rainbow Kids Yoga teacher.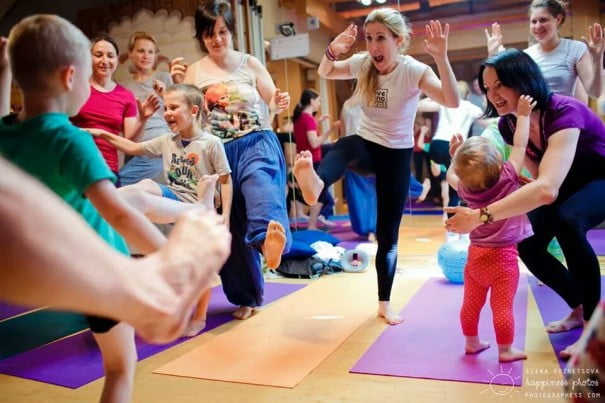 See Cayetana Rodenas at the head of a training course Rainbow Kids Yoga for adults who work with children, it is a spectacle, it conveys all the energy and the intrinsic joy of yoga, directed to the objectives that this successful method promotes. We discussed this with Cayetana:
How does yoga which is learned in the formation of Rainbow Kids Yoga benefit children?
The benefits are numerous:
It improves the strength and flexibility
Increases emotional strength
It feeds creativity
It helps to balance the body and mind
It teaches self-acceptance and love towards yourself and towards others
It strengthens the coordination, balance and concentration
It develops self-discipline and self-control
It increases our awareness of breathing
It is non-competitive
It expands the awareness of nature, animals and the environment
It helps build your inner strength and encourages cooperation and teamwork
It teaches to relax and reduce stress
It promotes compassion, generosity, and respect
It teaches to find inner peace
And above all... . We also do fun yoga, we danced, we act, we sing, we laugh, focusing in a playful manner that children connect all your senses and emotions through the laughter and play.
What are the applications of the Rainbow Kids yoga in practice: in schools, at home...?
At the College we introduce yoga as one part of the class and add it to the agenda or activity that children are doing. This is precisely one of the advantages of yoga we teach, that it can adapt to any circumstance or scenario. And for the College is a very beneficial activity, since children they stretch, strengthen your body, encourage their creativity and ability to listen, play turn into animals and traveling to remote countries through yoga postures, they are learning and creating awareness about your breathing and how through it they can relax and focus more.... All within the school environment and respecting curriculum and materials that work in class.
At home can practice with parents, thus fostering a stronger link one with the other, playing and laughing together, practicing the postures of yoga as a couple or in a group with family, creating a relaxed and stress-free atmosphere in which We can enjoy and relax together parents and children making a break in the daily routine.
How it is evolving and spreading this way of applying yoga to children?
There is growing interest by collective children, school or medical, to integrate yoga into the child's life. Especially in other countries, like USA, where yoga for children takes much more time, and they have studied and observed the benefits associated with its practice with children. Every time we have more students from around the world participating in our courses with the aim to introduce yoga in childhood, some are yoga teachers, many others are college professors but also a large percentage of participants who have stressful or very demanding professions and see this opportunity as a major change in their lives to start with a new profession as a teacher of yoga for children and families.
I know that little by little and to pass the time, yoga is will also become part of the school curriculum.
How does it improve the relationship between parents and children?
Yoga is the union in all ways, and not least also in the parent/child relationship. We currently live in a frenetic society where the word time practically does not exist, unless it is marked by a full schedule of activities and commitments, and, sadly, in the majority of cases the children are also affected by this "lack of" time"that prevails in the 21st century.
Through the practice of yoga together, help to recover that quality time You can enjoy together parents and children and forget for a few minutes of daily reality to spend a weather in coexistence, learning, playing, pampering you, and knowing more. Undoubtedly, We build the parent/child relationship, thus strengthening the self-esteem of children. And simply with a few minutes a day of yoga together can get immeasurable benefits that will determine a much more healthy, conscious and full parent-child relationship type.
What promised critics that yoga is taken for a game?
Well... First of all would answer you that it makes me sad... Personally I think not only yoga, if not life in general, can be taken as a game, and not wanting that to say that it is more or less serious. The game is a social activity that is inherent in the human being Since the most remote times, and it seems that we will grow it implies that we allow play to go making "serious" people.
Through our course, we intend to recover this playful capacity we have each of us, because a through connecting with the game will also connect with other parts of our personality, beyond limits, barriers, prejudices and sense of the ridiculous, etc., that all they do is move us from our essence to submit to a lifestyle established by our society as valid and correct style.
When we retrieve this game capacity, automatically our personality opens, becomes more receptive, expansive and comprehensive and learn to communicate in a different way with people that surround us and are also part of this "game".
Through the game we learn much faster and with much more interest and in fact alternative educational currents promote this aspect in teaching, as They encourage emotional intelligence, more than any other, and is amply proven to work.
Children are happier, much care more for the environment and for themselves and it generates a status of "not competitiveness" very healthy not feel inferior or superior by winning or losing, because in our game we are all winners from the beginning until the end.
And you know who are those who enjoy most of the games in the course? Adults. We need it and it's up to therapeutic. Several adult at the end of the class students come with tears in the eyes and tell me: "thank you, because I did not know what was to play this way and now I feel much more connected @ my child part that I have not had the opportunity to enjoy when I went".
And like this there are so many cases of adults who were never children and begin to recover that part of themselves after the course and spend three days laughing and playing non-stop; In short, being happy without being judged, that is what we intend to with the kids too, since the beginning of their lives.
And people who question or criticize that yoga is taken as a game, would tell them to play more and judge less, and who then have it me!!
What personal benefits and career opportunities does form in RKY?
Personally I would say that the course is very transformative in many respects. Not only I, but the students themselves, that say it come out with energy and an openness of mind to begin a new way of looking at life and focus as well when it comes to teaching, but also applying it in their own lives.
This is not only a training course, it is also a new vision of teaching; It is a new vision understand us and love us to so love our environment; It is a new door that opens to show us a world of wonderful things to learn front and others not so wonderful that also learn to make us more honest, strong, conscious and consistent; It is to learn to be in harmony thinking, feeling and behaviour.
In short, helps us to understand and find happiness from inside to outside to be able to transmit it both to children and adults. Us in the course we plant that seed but every students is which will flourish in their own way and at your own pace, but at least now with wide open eyes and the heart.
At the professional level, our course is certified by three international yoga organizations: Yoga Alliance USA, Yoga Alliance UK and Yoga Alliance Australia, that therefore guarantees that it is a recognized title of yoga to teach anywhere in the world. To be a tan international company and give courses in many different countries, the Rainbow Kids Yoga method is very well valued and he is wanted by many schools and yoga centers. Therefore, it is usually very easy to find work or start as a teacher of yoga for children and families from the newly completed the training.