Libros/ El Yoga de la Meditación, de Stephen Sturgess
Una guía práctica para un yoga genuinamente meditativo, con consejos prácticos para ejercitarnos diariamente a partir de 15 minutos, y profusa y bellamente ilustrada. El autor, Stephen Sturgess, es un maestro muy reconocido de la tradición de Paramahamsa Yogananda. Edita: Kairós. Precio: 18 €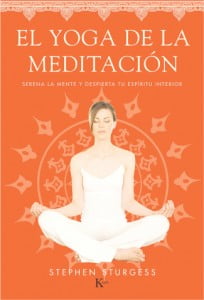 Los ejercicios de yoga son el prefacio para lograr concentrar la mente durante la meditación, práctica que nos permite encontrar nuestra identidad real y nuestro espíritu interior, divino y radiante. Este libro nos muestra cómo emplear multitud de prácticas del yoga de la meditación como portal para llegar a una mayor consciencia.
Para ello, el reputado profesor de yoga y meditación Stephen Sturgess nos introduce primero en el Yoga de los ocho pasos (un esquema ya clásico sobre las diferentes etapas del yoga) y en la fisiología sutil del cuerpo, para guiarnos después por las posturas clave de la meditación sentada, las mudras (gestos con las manos), prácticas de purificación, ejercicios de respiración y, finalmente, las técnicas de meditación, muy efectivas para serenar la mente y despertar el espíritu interior.
The author
Stephen Sturgess es profesor de yoga y meditación en Londres, donde imparte clases basadas en la tradición del Kriya Yoga. Es autor de los libros The Book of Chakras & Subtle Bodies and The Yoga Book.