Interview with Cosmin lancu: "what counts is to practice"
On the occasion of the III Congress Mediterranean of Yoga, which was held in Valencia in early February, interviewed Cosmin lancu, Professor of yoga and Yogi clean of heart that left everything, including his profession as architect, by Yoga.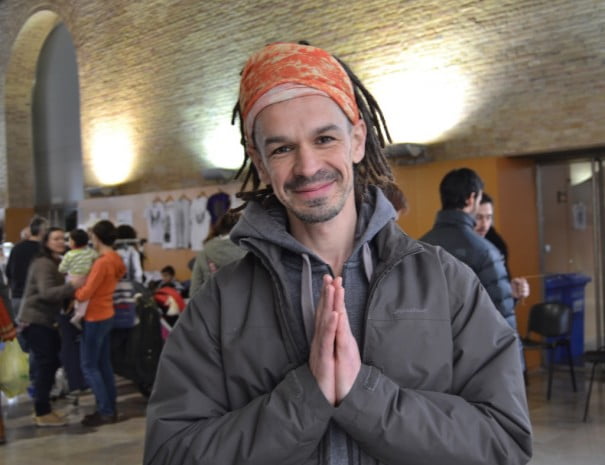 Romanian by birth, Canadian adoption, Cosmin He had his first contact with yoga over 20 years ago, in a country and a time in which everything about spirituality was forbidden. During his youth he practiced martial arts and meditation, looking his way, his dharma. During the past five years has dedicated completely to your daily yoga practice, leaving his profession as architect in favor of personal growth.
She studied various styles of yoga with renowned professors and found his master, in 2011 Bhooma Chaitanya in Dharamsala, India. He has participated in the Barcelona Yoga Conference 2012 and 2013 as Bhooma Assistant and in the first and the second Mediterranean Congress of Yoga in 2013 and 2014. Self-taught and passionate about the practice of Ashtanga Vinyasa, Cosmin had the opportunity of studying and training with Sri Manju Pattabhi Jois the son of Sri K. Pattabhi Jois delving deep into the practice.
So far, Cosmin is dedicated to the teaching of the classical styles of Yoga, Hatha Raja or Ashtanga Vinyasa, sharing workshops and organizing sadhanas and offering all their efforts for the benefit of all beings.
What is your style of yoga, the practice that most interests you?
For me there is no yoga styles; the styles are something related to mental styles. There is a yoga practice, and practice is devotion to God. Once we began to practice yoga, the mind is going toward the divine, that is Yoga. I practice Ashtanga yoga, Hatha yoga, but this is to differentiate the physical practice. What gives me practice is the union with God.
How have you found yoga, or how you found yoga to you?
Before I had problems with drugs and alcohol, and by chance came across the Yoga. The truth is that I contributed much this dark in my life time as a result I could find a connection with something that is beyond what we can see, touch or feel. In addition, was lucky to have my family a Yogi, a person that I feel great respect and that has helped me to find a way out of the darkness.
Did you like Spain and Valencia?
I have lived in Canada for many years and wanted to live somewhere that would make heat, such as Spain. Valencia I like the climate, the sea and the Sun, in a Word, the Mediterranean. I have already been here five years.
.What do you think the teaching of yoga today?
Nowadays there is much criticism relating to Yoga. I don't want to make any criticism, just say that What counts is to practice.
There is a yoga for everyone, a few more physicists and other more esoteric, and everyone understands it as you can. I think it is very important to seek communion with the universe, with that, with God or as we like to call it. Once you have the intention of finding something in yoga, you're on the right track.
An inspiring Yogi

He says Cosmin itself in your web Living Yoga (which we recommend visit):

"The first contact I had with the Yoga was during my childhood, when I receto a doctor Asana and Pranayama as an aid for my asthma problems. My parents borrowed a book clandestinely under a regime in which any spiritual practice was considered a crime. This was the way in which I started my spiritual journey.

I trained in India, in the tradition Sivananda and after years of practice and various formations found my inner balance during the practice of Ashtanga Vinyasa. Influenced by the teachings of Mircea Eliade, Ramana Maharshi and Jiddu KrishanmurtiI am deepening my understanding of Yoga every day, studying various styles with different teachers and practicing my Sadhana daily until you find the Releasethe Supreme self-realization. I like to explore the depths of the mind and the limits of the body, using Yoga as a practical tool that helps us transcend our egos and rediscover our identity real, our true I.

I find inspiration in the intensity of martial arts; in the words of the sages; in the austerity of the Sadhus; in the concentration and determination of the Yogis; on the complexity of nature and the unpredictability of our daily lives.

I like to inspire people that I find that they are aware of your true potential and go more beyond their boundaries physical or mental, so they realize that Yoga is not only suitable for special people with special skills and understanding that Yoga begins on the mat but extends more than to permeate every moment of our existence.

Embark on the journey".