Self-management for the practice of Hatha Yoga
This course will teach you to manage by yourself your own sadhana or practice of Hatha Yoga. It is a very special opportunity because it offers in addition to free price, to make it accessible to any person who really has an interest to develop a personal practice deeper and secure. In Aushadhi, of Madrid, from March 15 to May 24.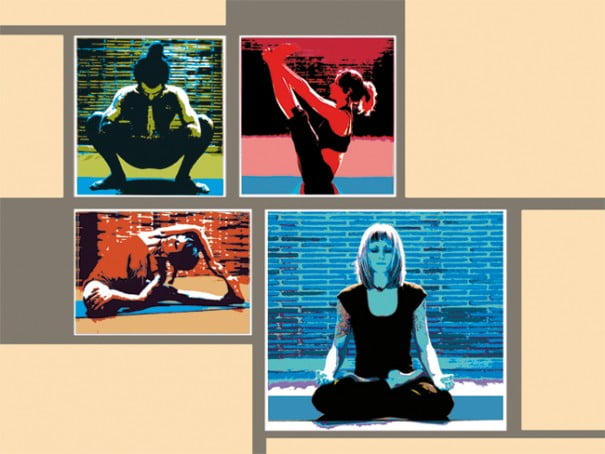 Hatha Yoga is a tool of unparalleled scope for the harmonization of all aspects that make up the life experience (physical, emotional and mental) and, therefore, one of the more precious than human beings has developed to achieve health and fulfillment, as well as to refine and his attention towards the awakening and development of consciousness in the form of freedom and happiness (ānanda).
Know and set of ancient techniques, Hatha Yoga has been, especially in the West, a massive popularization (occasionally through skewed versions that have little or nothing to do with its original sense) over the past decades. This popularization has been wonderful in the sense of expanding the potential of such knowledge and even to enrich it with modern (such as biomechanics, Anatomy, etc.) contributions that make yoga a living tradition evolving.
However, is not less true the fact of this popularization has resulted occasionally in economic abuse that deprive people of the possibility of awakening the wonderful potential that allows the practice of Yoga, as well as vile actions as the attempt of legally take ownership of part of this traditional heritage that, in our opinion, like the many others sane, are and must be necessarily taken and shared as common knowledge, free of all mankind heritage.
Consistent with this, since Aushadhi We feel the need, to the extent that viable within our possibilities, spread the wisdom of Yoga in the most inclusive way possible. The conception of the course is located in the Centre of our efforts in this direction"Self-management for the practice of Hatha Yoga", a seminar (in its second edition) to provide the necessary tools to all those wishing to become actively involved in the improvement of their life through a self-managed and personal practice of the ancient science of Hatha Yoga.
With the idea of promoting the self-responsibility personl (one of the crucial aspects of a healthy and harmonious self-management of our lives) and avoid the possibility that anyone who really wants to practice Yoga can create excluded, we have designed the course in such a way that their remuneration will be through a system of free price (see section below).
Programme of the course
It will consist of a detailed and comprehensive exhibition of the fundamentals that form the basis for starting to self-manage a personal practice safe, conscious and fruitful Hatha Yoga, as well as tutored track of the development of the personal practice (sadhana) of the practitioners throughout the course. The specific content of the course will be developed around the following aspects:
-General introduction to Yoga: origin and evolution, content, direction, objectives and (dense and subtle) effects of practice on human beings (at individual and collective levels).
-Development and expansion of consciousness and attitude "yogic" as practice driver and felt thread: proprioception (self-awareness, self-knowledge), care, honesty, harmony, intuition, release des-cubrimiento of the inner master.
-Key elements in the practice of Hatha Yoga:
Conscious breathing. Breathing exercises (Pranayama): natural, full, Ujjayi.
Posture (Asana): definition, principles (component, Sthira and ND), the four movements of the spine, internal actions, compensations.
Movement (Vinyasa): movement and breathing, change and dynamic stillness (Parinamavada).
Sequence (Krama): three variants (Suryanamaskara) Sun salutation sequence, sequence how basic session from the constituent elements of the asanas.
Hygiene and diet.
Meditation: Theory, phases, posture, some techniques.
Personal practice (self-management): space and time (where, how much and how practice), constancy and perseverance (Abhyasa), the meditative pose (not expectation, attention, alert, witness consciousness), the meaning of the ritual.
Dates: Sunday...
March 15, 2015
March 29, 2015
12 of April 2015
April 26, 2015
10 may 2015
May 24, 2015
Duration: 27 hours
Opening hours: Two Sundays a month, from 9:30 to 13:30.
Structure of sessions
9:30 / 11:30 practice of Hatha Yoga
11:30 / 12:00 lunch break
12:00 / 13:30 theory, questions and answers
13:30 / 14:00 Final practice
Who is
-Any person who, without the need for previous knowledge want to discover, to experience and to incorporate into your life, from the base, the theory and practice of Hatha Yoga.
-Practitioners as initiates in Hatha Yoga, who need or wish to delve explicitly into the basis and foundations of this wisdom, thereby gaining the confidence to begin to manage his personal practice.
We propose a Sadhana, which involves developing a personal daily practice, following the indications during the sessions, which are given all the necessary explanations and clarification of doubts, next to the own guided sessions to they serve as reference.
An extensive orientation will be a weekly Saturday morning, but the rest of the time the practitioner will have to practice being your own guide, which embodies the spirit of "learn to recognize our inner master" Yoga.
There are several questions that you can ask yourself:
-If you're willing @ to commit with you mism @ and adopt the discipline of practicing every day at least 30 minutes to 1 hour.
– Si estás dispuest@ a asistir a todas las sesiones del curso, procurando no faltar a ninguna de ellas para no perder la formación imprescindible para una práctica correcta.
-If you're willing @ to consider the immersion in this course as a step further on your path of personal evolution.
Si es así, te esperamos.
Aportación: Precio libre
El precio libre It is a system of alternative economy whereby each person decides, from freedom and honesty, how can and want to pay for a good or service that enjoys, not so much in terms of "commercial" bound and value exclusive (price), but as one conscious autoimplicacion, a voluntary contribution to the project in question to that of what has enjoyed can continue to exist in the future (in this case, the huge study and dedication of three persons that we teach the course, as well as the use and) Aushadhi space costs). Free means free, each decide from freedom and honesty.
The responsible practice of the free price sin embargo sí implica, en este caso, ciertos elementos para poder desarrollarse de la forma más óptima posible (libertad e irresponsabilidad no son sinónimos):
Implicación y responsabilidad: ten en cuenta que, por motivos de espacio, las plazas en este curso son muy limitadas (18), así pues si consigues una plaza habrás de comprometerte con la asistencia a la totalidad de las sesiones y con el pago (la cantidad que tú determines libremente). Dado que el curso tiene un desarrollo evolutivo y un sentido, nadie podrá incorporarse a él una vez iniciado, así que si ocuparas una plaza y luego dejaras de asistir le habrías negado absurdamente a otra persona la posibilidad de disfrutarlo.

Libertad y transparencia: Decide libremente tu aportación, disfrutando con consciencia del ejercicio de dicha libertad. Ten en cuenta que con este sistema se produce una redistribución espontánea: si tienes poco dinero no serás excluid@; si tienes más podrás pagar un precio que consideres justo e, incluso, compensar (a modo de "donativo") por las personas que no pueden permitirse pagar mucho, apoyando así la pervivencia de este tipo de iniciativas (cuya existencia depende, en gran medida, de cómo se responda al uso responsable del precio libre). Asimismo, también puedes proponer retribuciones directas no-monetarias (trueque de algún bien o servicio que tú puedas aportarnos como forma de agradecimiento por tu aprendizaje). Cuando hayas decidido (en función de tus posibilidades y deseos teniendo en cuenta todo esto), háznoslo saber y, por favor, sé consecuente con tu decisión.

Methods of payment. Once you decide the free price that you want to contribute by the course and indicate that you agree to attend and contribute that amount, choose one of the following ways (again, according to your possibilities):
Full payment in advance.
Installment payment by specifying deadlines.
Payment by monthly installments (a flat fee determined freely for you to pay each session, responsible you of that your no-asistencia sessions you does not exempt the payment).
More information and reservations: contacto@aushadhiyoga.com 915 391 669 T /http://www.aushadhiyoga.com/
The teaching staff

Eva Espeita (Swamini Radhananda Saraswati) is dedicated to the teaching of the Integral Yoga from the year 2003 in kinds regular, seminars and retreats inside and outside Spain. Founder of Aushadhi Yoga school in Madrid and co-organizing together with Marta Espeita and Víctor G. Cruz. Forms with masters of the tradition of the Integral Yoga (direct disciples of Swami Satyananda Saraswati) as Danilo Hernández (SW. Digambarananda), SW. Nishchalananda (which began it as a Sannyasin) and SW. Gyandharma in numerous seminars, experiences and withdrawals (in several of them also attends as speaker). For the exploration of the body work also investigates other schools of Yoga and relevant systems (Iyengar, Pattabhi Jois, John Friend, Gustavo Ponce, Feldenkrais). It was also formed in breathing and movement prenatal (Omma Prenatal with Montse Cob). Likewise, it is dedicated to the learning of the classical music of India (style Dhrupad) through the voice with Amelia Cuni, Ramakant Gundecha Pandit and Pandit Umakant Gundecha, and is a co-founder and member of Sunyata, a project of ecstatic music, trance and mantras Víctor G. Cruz and Jorge Lozano Cabrero. Scholar of the literary tradition of the Yoga, Tantra and the philosophies of the Shaivism and the Vedanta, as well as other systems of meditation that have arisen throughout the history of both in the East as in the West, it also participated in several courses of doctorate of Sciences of religions at the University Institute of Sciences of the religions of the Complutense University of Madrid.

Victor G. Cruz (Mrtiunjaya) It starts in the Yoga in 2009 after a Bachelor's degree and a master's degree in philosophy (Spain and France). He studied at the Universidad Popular de Permaculture in France. He is the co-organizer of Aushadhi School of Yoga from 2012 and runs regular classes, seminars and retreats. He began his training of Integral Yoga with Eva Espeita (Swni. Radhananda Saraswati) and later with other masters of the direct lineage of Swami Satyananda Saraswati as Danilo Hernández (SW. Digambarananda), SW. Nishchalananda and SW. Gyandharma. It also explores other visions and relevant schools, particularly in working with the body (Iyengar, Pattabhi Jois, John Friend, Gustavo Ponce, Feldenkrais). As a musician, he is co-founder and one of the members of the project Sunyata. He has also composed, performed and produced under the pseudonym The Aporia the music for the meditations-reiki "All love" of the Willow Foundation. It currently devotes most of his time to the study of singing Dhrupad (the oldest singing tradition in classical music hindustanica) with their teachers Amelia Cuni, Ramakant Gundecha Pandit and Pandit Umakant Gundecha)The Gundecha Brothers).

Marta Espeita se inicia en Yoga en el año 2004. Desde entonces se forma con maestros de la tradición de Yoga Integral de Swami Satyananda (Sw. Digambar, Sw. Nishchalananda, Sw. Gyandharma, Swi. Radhananda) en numerosos seminarios y retiros. Explora también otras visiones y escuelas relevantes, especialmente en el trabajo con el cuerpo (Iyengar, Pattabhi Jois, Leslie Kaminoff, John Friend, Godfrey Devereux, Gustavo Ponce, Feldenkrais), así como la versión secularizada de meditación budista conocida como Mindfulness. Actualmente realiza su tesis en el programa de Doctorado de Ciencias de las Religiones en el Instituto Universitario de Ciencias de las Religiones de la Universidad Complutense de Madrid, donde investiga sobre historia, arte y pensamiento en el hinduismo y en el budismo y sobre el diálogo intercultural Oriente-Occidente. Se interesa y sigue las investigaciones y descubrimientos que abordan las recién nacidas neurociencias contemplativas.