A weekend with many proposals
Don't miss everything that we offer this weekend. Very attractive activities in Elche, Madrid, Barcelona, Seville, Bilbao... Like every Thursday, Yoga network informs you and yours. Enjoy these formations, courses, workshops, retreat, celebration, Conference, and much more... as the IV Festival of Mantras in Madrid!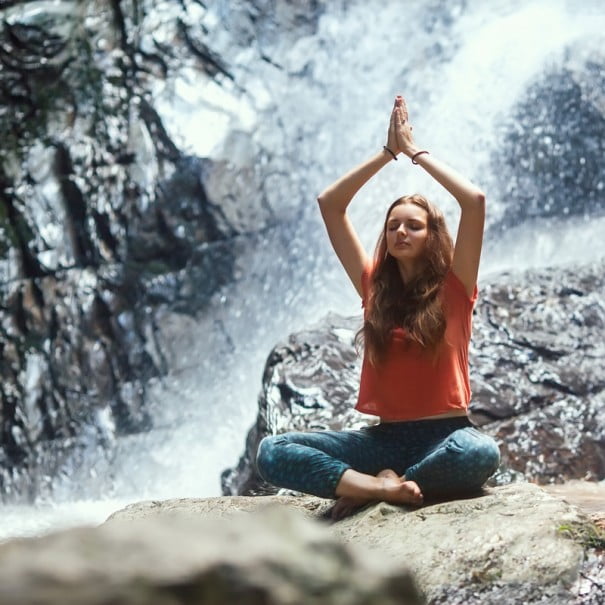 Friday, February 20
Yoga Therapy Training Academy
En la formación tratamos más de 50 patologías, lesiones y alteraciones biomecánicas. Enseñamos cómo abordarlas todas con la práctica de Yoga Terapéutico de una manera práctica y eficaz. Yoga Terapéutico Academy imparte una formación de anatomía, fisiología y patología aplicadas al yoga con un enfoque científico y práctico que además otorga unas ofrece claras que sirven, entre otras cosas, para poder colaborar con profesionales de sanidad (hospitales y centros de rehabilitación). 5 fines de semana: Columna Lumbopélvica, Columna Cervicotorácica, Extremidad Inferior, Extremidad Superior, Sistema Miofascial.
Where: Sala Elsa, Calle Marina 132. Barcelona
More information: http://www.yoga-terapeutico.com/
Session of Yoga Nidra
Meditation technique that produces a feeling deep relaxation, is lying on the ground, following the indications of the Facilitator, which introduces participants to state of Yoga Nidra. Recommended for people who suffer from insomnia, physical pain, anxiety, concentration problems...
Opening hours: 20:30 h and 21:45 h
Reservations: 635 04 78 34 t / info@espaciosatpad.com
Price: €15 (€12 for alumn@s current Center)
Where: Space Sat Pad, Paseo de la Esperanza 23. Madrid
More information: http://www.espaciosatpad.com/#!/
Removal Inyou smiles to your heart
From 20 to 22 February. A retreat where there is no time... He wakes and returns to smile to your heart through yoga, kryias, meditation, conscious movements and songs of healing. A magical place to treat yourself to well-being and joy.
It teaches: Laetitia Goffard
Contact: psfyoga@yahoo.com Facebook: Yoga Center Laetitia Goffard
Where: The Hospedería del Silencio. Robledillo de la Vera (Cáceres)
Theoretical-practical workshop of meditation
"Learning to meditate is the best gift that you can get in this life," said Sogyal Rinponche meditation is an age-old practice used since the beginning of time by different traditions and schools of thought. It is not based on no dogma, faith or ritual. As well as science tries to reveal the secrets of nature, meditation is to discover the true nature of man. Their tools, instead of microscopes, are concentration and intuition. In this workshop you will learn the main walking paths and meditation techniques. We will practice pranayama and begin this great indoor adventure.
It teaches: Lola Cerdá, teacher of Yoga of the international school of Yoga
Price: €30
Registration: 965 446 674 t / info@espigol.es
Where: Room Espígol in Elche (Alicante)
More information: http://espigol.es/curso-taller-meditacion-elche-alicante.html
Celebration of Mahashivaratri (the great night of Shiva)
From 21 to 22 February. Come celebrate the big night dedicated to Shiva with Swami Satyananda Sararswati. A night propicia for fasting and sadhana. 8 hours of singing (recitation of hymns and mantras to Shiva) with satsang and meditation.
Opening hours: 20.00-5.00 h
Contact: advaitavidya@gmail.com / T 646408664 (Shivani)
Where: Room Vaikuntha, Barcelona (Barcelona)
More information: http://advaitavidya.org/WordPress3/es/
Saturday, February 21
Family Yoga
Through different techniques: asanas (postures), breathing exercises and relaxation, yoga in pairs, acroyoga practices, songs, stories, dances... to establish ties of love and joy and will share with our sons and daughters the sweet taste of know us accompanied, growing junt@s on what matters most: consciousness, freedom, happiness.
Children: 4 to 7 years. Parents: feel like children. Maximum 7 children.
Opening hours: 10:30 to 11:45 and 12:15 to 13:30
Where: Aushadhi School of Yoga, Paseo las Delicias 47 / 51 Madrid
More information: http://www.aushadhiyoga.com/
Practical session on the Enneagram
The Enneagram is an experience that will allow you to delve into you, in a serene, cosy and warm atmosphere and discover the value of "accepting the acceptance". Delve into the knowledge of the Enneagram is to go taking steps towards the inner discovery. It is the source of our vital energy, discovering and revealing obstacles, resistances that we emerge from this energy that springs from us itself. In the time that we let it flow, we are allowing us to live more fully and authentically.
It teaches: Maite Melendo
Contribution: voluntary donation
Contact: T 647512278-915044429
Where: C / Alcalá 68, 1st right. Madrid
More information: http://www.retiroanandamaya.com/enneagrama/
Family Yoga class
Special class for parents and children. A fun and dynamic way of being family, enjoy with your children, nephews or grandchildren! Consciousness of the body and the breath we take through the game, releasing emotions, focus our attention and encauzamos power to relax together.
We offer you a space for young and old to share an inclusive experience.
Opening hours: 11:00 to 12:15 pm
Registration: 676 031 642 t / tadaespaciodeyoga@gmail.com
Price: €7 per person.
Where: TADA Yoga space, C / General Aranaz, 21. 28027 Madrid
More information: http://www.tadaespaciodeyoga.blogspot.com.es/
Therapeutic course: shoulders and neck
Mobility and placement of the shoulder joint. Practice of opening of shoulders. Contractures, and dorsal pains. How to create opening, decrease neck pain in simple positions. As focus practice in cases of protrusion or herniated disc. Elongation Cervica postures.
Teacher: Grace Igor. igordegrc@yahoo.es price: € 40 open to all though most recommended for teachers
Limited places. Essential reservation
Where: Yogasuite. C/parcel 11, 1º izda. Madrid
More information: http://akasayoga.com/
Yoga Flow antenatal and postnatal training
21 and 22 February. The program, with a duration of 48 hours spread over three weekends, will deepen in the Prenatal and Postnatal Yoga (philosophy, Anatomy, and teaching methodology) and will study the factors associated with the different stages of pregnancy, childbirth and the future maternity. The formation of SansYoga Prenatal Yoga has been the first in Barcelona based Hatha-Vinyasa tradition.
The bases of the formation are a yoga dynamic-flow oriented to the pregnant woman, to keep it agile, flexible and strong both physically and mentally. The course follows the 21-22 and 28-29 of March 2015.
Contact: info@sansyoga.com / 0034 666564302 T
Where: Empty space. Yoga with grace. Tortosa
More information: http://www.sansyoga.com/es/formacion-yoga-prenatal/
Home training Yoga instructors in Madrid
21 and 22 February. The beginning of a new group of training of instructors of Yoga-Primer level in the Central Headquarters of the international school of Yoga.
Contact: International School of Yoga, headquarters 68 81-648 078 824 416 91 T - 91 309 36 07.
Where: C / Fuencarral 134, entrance from Albuquerque. Madrid
More information: http://www.escueladeyoga.com/
Postural stretching seminar
21 and 22 February. The body human "has" body that the human being 'is'. You can attend and experience yoga in each seminar without the requirement that you're doing the training.
Schedules:
Saturday from 08:00 to 13:00: verticality, straightness, strength and determination. And from 16:00 to 19:00: the determination to let do.
08:00 to 13:00 Sunday: column, symbolism of evolution inside.
Price: 140 euros (Saturday Sunday, €80 €60)
Where: Yoga Center Yoguiniyoga, C / Antoni Torrella, 1, Entlo 1st, Tarrasa (Barcelona)
More information: http://www.antonigrau.cat/
Teachings of the India philosophy and notions of Sanskrit
With Professor Montse Simon, a degree in philosophy, specializing in the philosophies and religions of the India and diploma in Sanskrit from Banaras Hindu University. Extend studies vedanta and texts of the tradition with pandits and svamis of the vedantina tradition. Teacher of yoga, Sanskrit and Indian philosophy.
Also on Saturday 21 March.
Opening hours: 10.00 h. to 19.30 h
Registration: T 606568772 / info@escueladeyoga.org
Where: Escuela de Yoga de las Tablas. C/ Isabel Colbrand 10-12 (Las Tablas) 5ª planta, local 131, Acceso por Alfa III – A1. Madrid
More information: http://www.escueladeyoga.org/
Taller de Cantos Armónicos
Practicar Canto de Armónicos es mucho mas que aprender una técnica. Es la expresión del alma a través de la voz, que toca el corazón, abriéndolo al agradecimiento y a alegría de vivir.
It teaches: Asier García
Contribution: 85€
Contact: T 650 481 845 / hariatma5@gmail.com
Where: Espacio Gobinde Kundalini Yoga Bilbao. C/ Bidebarrieta,12-1ºB Casco Viejo. Bilbao
More information: http://www.enlazaconciencia.net/espacio-gobinde
Curso Meditación, trabajo Interior y autodesarrollo
Imparte Ramiro Calle e incluye, charlas, coloquios, ejercicios de meditación, concentración y visualización, firma de libros y certificados.
Opening hours: de 17 a 22 hrs
Contribution: 45 €
Contact: Librería Anatma. T 954 22 85 97 / anatma@anatmalibros.com
Where: Colegio Portaceli. Sevilla
More information: http://www.anatmalibros.com/portal/index.php
Shìvaratrì, ven a celebrar la noche de Shiva
Únete al grupo de Amma en Madrid en una fecha tan señalada y siente la fuerza de una noche de práctica colectiva. La recepción en la Escuela de Las Tablas será a partir de las 21.00 horas del sábado 21 de febrero y terminaremos a las 9 del domingo 22 con un reparador desayuno.
Contact: T 810101082
Where: Escuela de Yoga de Las Tablas. C/ Isabel Colbrand 10-12. Madrid
More information: http://www.escueladeyoga.org
Domingo 22 de febrero
Estudio y práctica de las Sendas del Yoga
Eva Espeita (Swamini Radhananda Saraswati) y Víctor G. Cruz (Mrtiunjaya) ofrecen, desde la máxima honestidad, rigor y cuidado, los tesoros del Yoga Integral.
El objetivo de este curso es, justamente, introducir al alumnado en la potencia de la perspectiva holista del yoga integral, tal y como fue planteada esta disciplina desde sus orígenes y desarrollada desde entonces. Proponemos un curso con un sentido cíclico-evolutivo, trabajando en cada apartado la conexión yóguica a través de un ángulo concreto y, al mismo tiempo, creando un desarrollo lineal a través del cual cada paso se apoya en el anterior.
•1ª session. Hatha Yoga: the balance of powers.
•2ª session. Raja Yoga: the exploration of the mind.
•3ª session. Jnana Yoga: inquiry and discernment.
•4ª session. Bhakti Yoga: love and devotion.
•5ª session. Karma Yoga: the conscious action.
Where: Aushadhi School of Yoga, Paseo las Delicias 47 / 51 Madrid
More information: http://www.aushadhiyoga.com/
Curso Básico de Yoga
Imprescindible para aprender conceptos básicos que te ayudarán a avanzar y profundizar mucho más tu práctica (alargar, ensanchar, enraizar, bascular). Un curso para aprender a usar tu cuerpo, y generar desde este armonía en mente y emociones. Un curso para tener una visión mucho más amplia y enriquecida de la ciencia del Yoga. También el domingo 1 de marzo.
Opening hours: de 11 a 12,45 hs
Contact: T 91 896 01 05 – 645 58 43 95 / info@yogaartstudio.com
Where: Yoga Art Studio. C / Juan de Toledo 64. San Lorenzo de El Escorial (Madrid)
More information: http://www.yogaartstudio.com/
Formación Profesores de Yoga en Cádiz
21 and 22 February. Tercer fin de semana de Formación de Profesores de Yoga en la Sede de Cádiz de la Escuela Internacional de Yoga.
Contact: Escuela Internacional de Yoga, Sede Central. T 91 416 68 81 – 648 078 824 – 91 309 36 07
Where: C / Fuencarral 134, entrance from Albuquerque. Madrid
More information: http://escueladeyoga.com/sede-cadiz.html