Book / meditation and action
With the sub-title of

Cambiarse a sí mismo para cambiar el mundo,
Christophe André, Jon Kabat-Zinn, Pierre Rabhi y Matthieu Ricard han escrito un libro que incorpora activismo, introspección, ecología y espiritualidad. Precio, 16 €.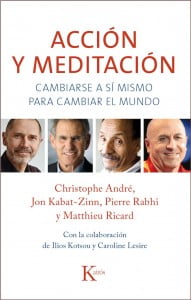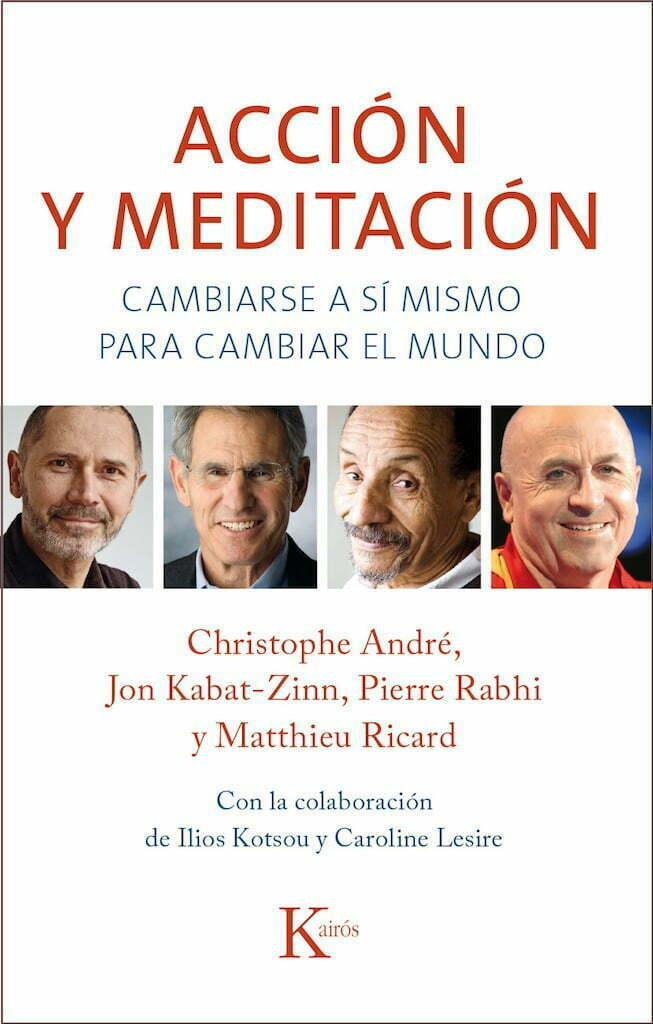 André and Kabat-Zinn son los autores más populares del movimiento mindfulness. Junto con Rabhi and Ricard son cuatro hombres de sabiduría reunidos por primera vez: un monje budista, un psiquiatra, un agricultor filósofo y un profesor de medicina.
Frente al malestar contemporáneo, ante la crisis de sentido y a los desastres ecológicos, ellos proponen remedios. Y todos coinciden en que el mundo se cambia cambiándose a sí mismo. Tras haber hablado, dialogado y compartido entre ellos, cada uno ha escrito un capítulo, fruto de su amplia experiencia, ofreciendo al lector consejos prácticos y pistas para pasar a la acción transformadora.
The authors
Christophe André es médico psiquiatra y psicoterapeuta. Profesor universitario y psiquiatra en el hospital Sainte-Anne, en una unidad especializada en el tratamiento de trastornos emocionales, ansiosos y depresivos, practica la meditación desde hace años y también la utiliza para ayudar a sus pacientes a liberarse del sufrimiento y a saborear su existencia.
Jon Kabat-Zinn es fundador y director de la Stress Reduction Clinic y del Center for Mindfulness in Medicine, Health Care and Society de la Universidad de Massachusets y profesor emérito de medicina en la misma Universidad. También es vicerrector del Mind and Life Institute. Su obra ha contribuido a la creciente inclusión de la atención plena en la medicina, la psicología, las escuelas, las organizaciones, las prisiones y el deporte profesional. Dirige talleres de reducción del estrés y atención plena para profesionales de la salud, líderes del mundo empresarial y otros profesionales del mundo entero. Kairós ha publicado sus principales obras, Vivir con plenitud las crisis, La práctica de la atención plena, Llamando a tu propia puerta and El poder de la atención.
Agricultor, escritor y pensador francés de origen argelino, Pierre Rabhi se siente indignado, desde pequeño, con el estado del mundo. Pionero de la agricultura biológica, defiende un tipo de sociedad más respetuosa con los seres humanos y con la Tierra, y apoya el desarrollo de prácticas agrícolas accesibles para todos, y en especial para los más desprotegidos, preservando al mismo tiempo los patrimonios alimentarios. Experto reconocido en materia de seguridad alimentaria, ha participado en la convención de Naciones Unidas para la lucha contra la desertización.
En 1967, con motivo de un primer viaje a la India, Matthieu Ricard conoció a inspiradores maestros espirituales, como Kangyur Rimponché. Tras finalizar su tesis en Genética Celular en el Instituto Pasteur, bajo la dirección del premio noble François Jacob, decidió establecerse en el Himalaya. Estudió budismo y fotografió la vida en los monasterios, así como el arte y los paisajes del Tíbet, Bután y Nepal. Ordenado monje en 1978, es, desde 1989, el intérprete francés del Dalái Lama. Participa en las investigaciones del Instituto Mind & Life y ha fundado la asociación humanitaria Karuna-Shechen. Vive en el monasterio de Shechen, en Nepal.