The gradual path to mental Liberation
Occidente ha tenido un dudoso privilegio para adulterar, desdibujar, falsear o desnaturalizar las verdaderas enseñanzas de Oriente. Lo que se ha hecho en nombre del hatha yoga, creando todo tipo de pseudoyogas, es esperpéntico; lo que se ha hecho en nombre del Vipassana o Satipatthana es lamentable a todas luces. Escribe Ramiro Calle. (En la foto, Li Gotami, Lama Govinda y Nyanaponika Thera)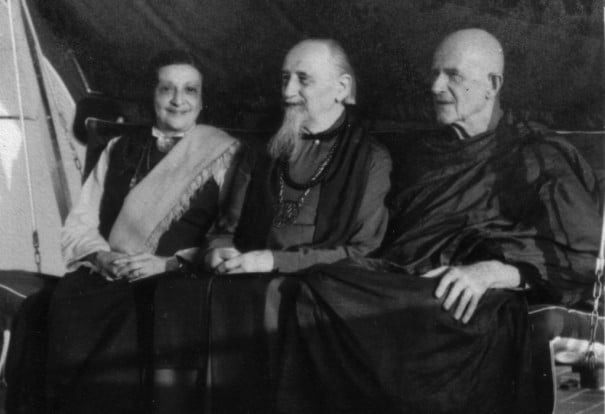 Estados Unidos está a la cabeza, dado su afán por comercializar y mercantilizar estas enseñanzas, por superficializarlas y banalizarlas, convirtiéndolas a menudo en una grotesca caricatura. ¿A qué viene en países de lengua castellana servirse del término Mindfulness Instead of "atención plena"?
Con ése término unos cuantos desaprensivos pontífices del mindfulness han tratado de reducir impúdicamente las enseñanzas del Buddha y otros grandes yoguis a una práctica licuada para combatir el estrés, ser más eficiente en el trabajo o un medio para superar la ansiedad.
Es cierto que el cultivo metódico de la atención lo va consiguiendo, pero su finalidad no es crear más apego y aferramiento, más compulsión consumista ni más afán competitivo, sino liberar la mente de sus raíces insanas de ofuscación, avaricia y odio. Los más indecorosamente osados incluso se presentan como si ellos hubieran inventado la actitud necesaria para live the present (en lo que han insistido los monjes zen desde hace siglos) o hubieran creado ejercicios para estar más atento, cuando ya los yoguis los han venido trabajando desde la noche de los tiempos.
No queda más remedio, para velar por las auténticas enseñanzas, que desenmascarar todo tipo de neo-yogas que no son yoga, neo-tantras que no son tantra, neo-vedantas que no son vedanta y neo-vipassanas que no son vipassana. Quien quiera de verdad ir a la esencia o néctar del edulcorado mindfulness que lea por favor a ese genio que como nadie profundizó en la atención mental y que es Nyanaponika Thera.
Leyendo sus obras El poder de la atención and El camino de la atención uno se se ahorrará leer bisutería al respecto en lugar de joyería. Y en cualquier caso, el entrenamiento de la atención no es para empañar más los ojos, sino para desempañarlos y vivir con una mente clara y un corazón tierno. Una vida de atención es para conseguir tambien una vida de pureza, donde la compasión se convierte en la orquídea más hermosa.
Calle Ramiro

More than 50 years has been Calle Ramiro teaching yoga. He began teaching at home and created an Academy of yoga correspondence for all Spain and Latin America. In January of l971 opened its Yoga Center Shadak, that have already passed more than half a million people. His 250 published works include more than fifty devoted to yoga and related disciplines. He has made Yoga the purpose and sense of his life, having traveled a hundred times to India, the homeland of yoga.

Watch the Calle Ramiro Facebook:
https://www.facebook.com/pages/Ramiro-ACalle/118531418198874