Yoga OnLine 9 classes: greet the Sun with variants
We are pleased to present the ninth class of Yoga OnLine produced by the international school of Yoga that Yoga network It offers like exclusive gift to his readers. It's a kind of Hatha Yoga, guided by the teacher Rocío López.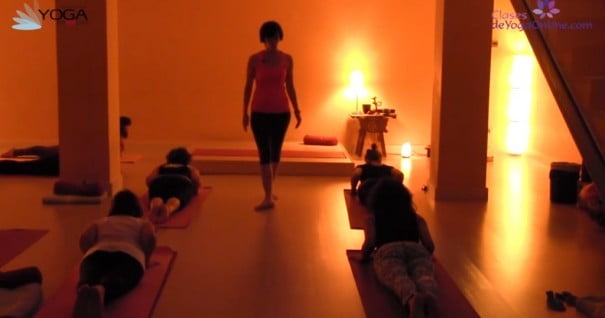 We will see a practice of greeting to the Sun with variants of bending and torsion, and Rishikesh series also, but without standing poses.
Rocio Lopez

She is Professor of Yoga in the international school of Yoga; training certified by Yoga Alliance, the European Yoga Federation and the Spanish Federation of Yoga professional.
He studied law and worked for seven years at a financial institution. Currently, he is dedicated to Yoga teaching in different centers and continues his training with the master of dynamic Yoga in the international school of Yoga.
He is a practitioner of Hatha Yoga, dynamic Yoga and meditation. It believed that the practice of Yoga, both on the mat and in everyday life, is a space for inner listening; learning through observation of the body, the mind and the heart, always paying a special attention to breathing, which makes it easy for us to be present.
This kinds of Yoga platform has been created recently by the international school of Yoga to get the learning and practice of the Yoga wherever you are.
Each week it incorporates classes of different styles with different objectives, so that you can move into your practice.
You can choose practices short of 30 minutes and complete more than one hour classes, as well as several levels that adapt to your practice. Also you can practice meditation and Mantras.
Sign up for free to get access to complete various kinds of welcome. Click on: Free registration