The meaning of meditation 4
Julián Peragón Arjuna writes in his book Meditation synthesis (Ed. acanthus) about the meaning of this journey of personal transformation that is meditation. We continue this series of reflections for going by drawing a map that bring us closer to it (see deliveries First, second and third).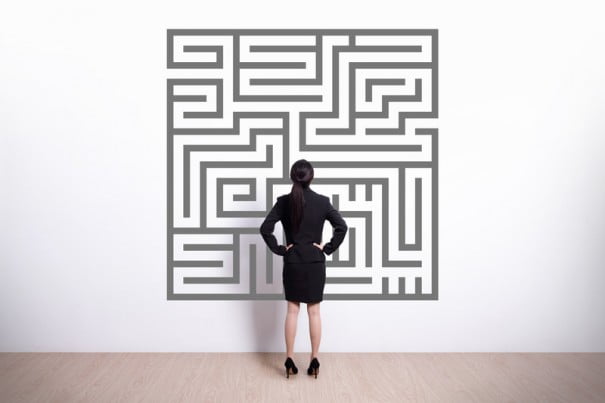 I
And it is here where the real Riddle of meditation. The maze is our mind, but the monster, that Monster contranatura beast half human half, are we. I is our has to realise that is pure entanglement and that, in itself, has no lifting capacity.
We have a psychic life and live within it. The interior is not uniform: there are many voices that live - or live - at the foot of the self. However many areas of that psychical life were arrested at the time, so today they are underdeveloped, and somehow want to continue growing.
These psychological complexes remain dormant until something triggers them, and then manifested through slip, error, or dreams. Will I not can easily with them because they appear when the control lapses or when we reach a limit situation. Our neurosis tries to negotiate with them, but the dessert is enslaved. Complexes advance, paralyze us, divide us, make us lose objectivity, us cornering in misconduct. We try to repress the psychic contents that seem inappropriate and harvest an obsessive thought. Let's the superiority of the manic to the depressive, of the excess to the defect, inferiority keeping a State of contradiction with ourselves.
We believe that we cannot accept everything you need us because if we did we would be stigmatized, sections of our relations, marginalized in the storeroom of the social life. We feel things that we can not confess, we want ignoble situations, we fantasize a lives of others that we cannot live. In short, we reject outside what we want inside and, thus, our existence is divided.
In meditation, we have the great opportunity of Recognizing the repressed, incorporate the shadow that we plan to expand our vital horizon. It is true that perhaps we are not so perfect, so defined, so attractive or so "good" people as we would like, but no doubt will be more honest, more honest, more connected to what we are, and you may be more happy.
When in our meditation is a complex, we are troubled, we inflamamos us pride, or turn us on anger, and that embarrassment is an indicator of where are our demons. Perhaps our phobias do not speak of the fence to which we are subjected by these non-recognized areas of life that we inhabit? Not are symptoms a form of language of the soul, anguished voices that want to express themselves and can not? It is possible that the shadow in us wants to become light and that psychological distress is an invitation to expand.
Is the I and is also the other in us. But another invades the borders that the self regulatory set. Uncertainty, ambiguity, impermanence horrifies me. He feels threatened by the differences, atosigado by crises, frayed by the chaos. Normality is a respite, but small, because who you are does not fit into a shoe box. There will always be some element that clash in us; any word out of tone, some antisocial act, any suspicious confession will always escape. I live in the illusion of control that, sooner or later, have to arouse.
No podemos vivir impunemente traicionándonos a nosotros mismos, y eso mismo es la normalidad: un intento de ser como los demás pero sin serlo en el fondo, porque lo que somos no es del todo definible, nuestro proceso personal es tan peculiar que somos realmente únicos.
Aunque sería necesario aclarar que el yo no es a ciencia cierta un enemigo. Evolutivamente cumple una función de ajuste entre realidades: es resolutivo en las decisiones y establece un orden en los procesos de vida. El problema lo encontramos cuando el ego dirige nuestra vida, cuando usurpa el lugar del Ser, cuando confunde lo importante con lo urgente, cuando se polariza en la defensa y en el ataque. No lo olvidemos: el ego es miedo enquistado, y por lo tanto teme su disolución.
Uno de sus síntomas es la sorda culpabilidad, al sentirse separado de lo otro que nos habita, de los demás y de todo lo que nos sostiene. Nuestra vida psíquica está disociada, y en consecuencia eso es lo que vamos a encontrarnos en la meditación.
Be
Well, but if we are not the self, that our mind stable complex; If we are the agent of our mental contents, who are we? If we investigate, we realize that what we call character is a collage of impressions that have accumulated throughout our lives and with which we have identified. Therefore, if we take the personality which is built around a social image, what us remains?
Me viene a la mente una imagen astrológica: en la primera casa del zodiaco, allí donde tenemos el ascendente, el cielo aparece. Nace el sol, la luna y las estrellas, pero curiosamente en el horizonte se ven mucho más grandes que cuando están en el cenit, a pesar de que la distancia no varía sustancialmente. Si bien se trata de un fenómeno óptico, cabe preguntarse qué nos está indicando esto a nivel simbólico. Parecería que pretenden llamar nuestra la atención. De la misma manera, también el carácter parece comportarse como una llamada de atención, como un amplificador de lo que somos. Las máscaras en el teatro antiguo realzaban el rictus del actor y, a la vez, amplificaban su voz.
Mask and face are United, but let us not make sin to confuse them. What we really are is a pulse of life which takes a form to be able to express themselves. We embody in this body and in this life to express something that comes from another place, from the depths of being. Somehow, he discovered the cosmic dance. The spirit is a viewer that entrance to the amazing dance of nature, the most exquisite dancers, who are our bodies and our minds. The Fund infinity we dazzle, for a time, in the game of shapes that change constantly, in the stream of existence which is poured moment-to-moment to be then transformed. We are a flow that is poured into a jug, which will age or be broken, and that flow, always fluid, will take another form, and then another.
La forma no es más que el sueño del espíritu, y nosotros, tarde o temprano, tenemos que despertar de ese sueño, de esa ilusión. Cada momento tiene una forma definible; cada situación presenta una cara que poco a poco se transforma. La ley de la forma es la impermanencia, la fugacidad, la transitoriedad, pero el Ser, el ser que somos, está más allá de la forma, es puro sujeto.
Cuando miramos el cielo nocturno lo encontramos profundo y oscuro, casi tenebroso; sin embargo, está repleto de luz. El universo se desborda por sus hechuras de tanta luz que alberga. La luz, al igual que el Ser, es invisible. Sólo vemos la luz cuando ésta choca contra algo, contra la forma. Vemos el vestido rojo porque la luz choca en el tejido y desprende aquella frecuencia de colores que descarta. Sólo refulge el vestido y su rojez, pero la luz primaria permanece oculta.
De la misma manera, el Ser no puede ser visto: no tiene altura ni tamaño, no tiene cualidades ni sabor, es pura luz, luz de la conciencia. Percibimos al Ser en su choque con el alma, con la mente, con el cuerpo. La amapola que brilla al amanecer es amapola pero también es el Ser que la hace brillar. Si pudieras apagar el Ser, desaparecería la amapola; pero si retiras la amapola, el Ser vuelve a su invisibilidad. La vida es un baile entre la forma y la esencia, la bailarina y el espectador.
Travel
Cuando empezamos con la disciplina de la meditación, estamos comprando un billete de viaje. Ya hemos intuido que la meditación nos acerca al Ser, a la fuente de la que provenimos, y que nos permite morar en nuestra propia naturaleza. Pero para ello hemos de hacer un largo viaje. Es un viaje iniciático porque supone una prueba de valor, una confianza inquebrantable para superar resistencias y obstáculos que nos encontraremos en el camino.
As is done when entering a maze, we have let our fears in the first bend of the road and cultivate our courage, drop our doubts and strengthen us in our confidence. In the esoteric tradition of the Tarot, the arcane number has to make a trip. You have to transform your madness in wisdom, and so will have to overcome innumerable tests that bring you the destination. The arcane of the fool represents a tramp, a jester or a gift anyone, from a foreign perspective, but it is also a Walker, a search engine or an initiate, from an esoteric point of view.
Desde la perspectiva de la normalidad, aquel que se aleja del centro del cauce donde habita lo convencional es un excéntrico, un marginado. El que camina en el margen de lo aceptado lleva un estigma, provoca rechazo o admiración, pero también ira o miedo. Aquel que busca más allá de lo consensuado, cuestiona, y puede ser considerado un visionario, un genio o un chiflado. Sin embargo, está claro que, dado el exceso de cordura al que nos somete la normalidad, un cierto grado de locura es signo de salud mental. Meditar desbarata la visión chata del mundo, pone en jaque el pensamiento único y nos aleja de lo excesivamente literal. Todos soñamos con la libertad del Loco porque, aunque precipitado y soñador, tiene el coraje de recorrer nuevos caminos en busca de su plenitud.
Este viaje iniciático que recorre el Loco pasa por tres etapas. Las comentamos porque son pertinentes para entender un poco más el proceso meditativo en el que nos hallamos.
La primera pasa por resolver el mundo, es decir, por saber manejarlo con soltura. No podemos ir a lo transpersonal si en lo personal, en el ámbito más inmediato de nuestra vida, tenemos problemas de autonomía o independencia. Si no nos sostenemos sobre nuestros propios pies, si no sabemos subir cumbres para luego bajarlas, es decir, empujar proyectos y darles cuerpo, difícilmente podamos traspasar el umbral de la espiritualidad. Cuando el mundo nos acorrala contra las cuerdas, es tentador buscar refugio en cualquier templo.
La segunda etapa consiste en reconocer que el mundo se vive desde el interior, que todo es una proyección de nuestros deseos y esperanzas, de nuestros miedos y confusiones. Aquí, no se trata tanto de ajustarse al mundo como de dar un sentido a la propia experiencia. Aprender a despojarse de todo lo superfluo hasta quedarse con lo esencial es el camino de la sabiduría. Vivir desde uno, y no desde los mandatos externos, culturales o sociales.
La tercera etapa es un camino de trascendencia. Hemos viajado del mundo al interior de nosotros mismos, ahora se trata de comprender que más allá de lo que somos está la infinitud que nos espera. Es el momento de revisar nuestra sombra, de dejar caer la torre de seguridades de nuestras filosofías, de depurar nuestras vanas esperanzas y de, por fin, plenamente transformados, danzar con la vida, en la plenitud del presente, en la libertad del Ser.
Como decía San Agustín, hemos de ir de fuera hacia dentro, y de dentro hacia arriba. En cierta manera, la meditación pasa por etapas parecidas. Peleamos con la postura y con el cuerpo -que es una representación del mundo-, nos encontramos con la mente y sus laberintos, para después abrirnos a la experiencia sin límite que llamamos libertad.
Esta es una cuarta entrega de
The sense of meditation,
first chapter of the book
Meditation synthesis
,
Julian Peragón Arjuna.
Meditation synthesis It is on sale at bookstores. But you can order the book at:http://www.editorialacanto.com/
And to purchase the book to the Publisher:
http://www.editorialacanto.com/203/1/Novedades/Meditacion_Sintesis.html
Who is

Julian Peragón, Arjuna, Trainer of teachers, directs the Yoga synthesis school in Barcelona.