Book / Yogasutra. Els aforismes of the yoga of Patanjali
Álvaro Enterría writes to tell us about the publication of this book edited by Pagès Editors and directly translated from the Sanskrit by Oscar Pujol. Price: €20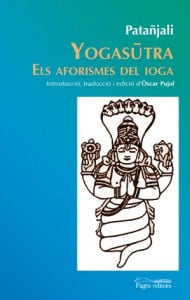 Yogasutra of Patanjali o The aphorisms of the yoga It is the founding text of one of the six canonical schools of Indian philosophy and, therefore, the fundamental work to understand this ancient way of thinking which has today resulted in a physical discipline practiced throughout the world.
It is, therefore, a universal text, translated for the first time into catalan, which goes beyond the religious and cultural budgets of the India and offering an exhaustive analysis of the mind and its relationship to the body. The aphorisms of yoga is a short work, philosophical and inspiring nature, composed of 196 aphorisms of a progressive textual and philosophical complexity that describe the path of consciousness to the ultimate aim of the liberation, a classic that we now have the lucky to have translated and commented directly from Sanskrit.
Probably, Patanjali, author of the compilation of aphorisms on yoga known as the Yogasutra, lived during the 2nd century d. C. Yoga was already a concept present in the Indian classics before Patanjali, but it systematizes it concentrating a whole set of thoughts and turning it into a coherent system which became a fundamental pillar of the Indian way of understanding the world.
The translation is made directly from Sanskrit. The Spanish version of this book is expected to come out in September 2015, edited by Kairos.
Oscar Pujol It is without doubt the most Spanish sanscritista. It is known for its Diccionari Sanscrit-Català in the Spanish version he is working hard these days.
More information: http://www.pageseditors.cat/CAT/llibre_milenio2.asp?idf=25&id=43&id_llibre=2022