The United Nations designates June 21 as the international day of Yoga
"¡Los Reyes ya nos han traído el regalo del 2014!", nos comenta Pilar Luna, profesora de yoga y colaboradora de Yoga en Red, al tiempo que nos manda esta buena noticia.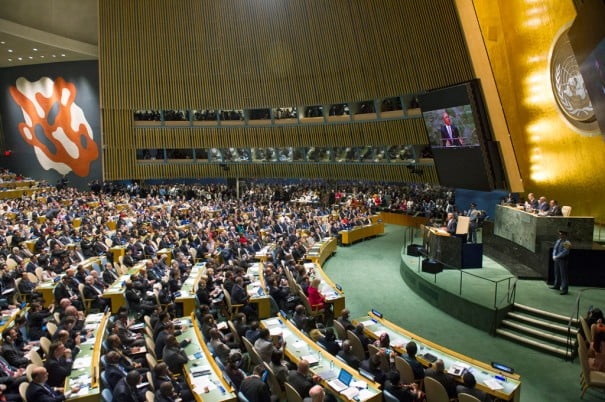 A partir de 2015, cada 21 de junio será el Día Internacional del Yoga, según dispuso el 11 de diciembre la Asamblea General de la ONU en una resolución promovida por más de 170 Estados miembros.
En palabras de Álvaro Mendonça e Moura, quien presidió la sesión del máximo órgano de debate de Naciones Unidas, el apoyo abrumador al texto hace patentes los beneficios tangibles e intangibles del yoga que atraen a tanta gente en todo el mundo.
Mendonça e Moura recordó que durante siglos, millones de personas de las más diversas procedencias han practicado esa disciplina india, reconociendo su valor único de unidad entre el cuerpo y la mente.
"El yoga une el pensamiento y la acción armónicamente, encarnando un enfoque holístico de salud y bienestar", apuntó.
Finalmente, Mendonça e Moura felicitó a la delegación de la India y al primer ministro de ese país, Shri Narendra Modi, por la iniciativa presentada a la Asamblea en septiembre pasado de dedicar una jornada mundial a la promoción del yoga.
http://www.un.org/spanish/News/story.asp?NewsID=31223#.VIqbMTGG90g
http://www.20minutos.es/noticia/2322323/0/onu-21/junio-dia/internacional-yoga/