Would you like to be Rainbow Kids yoga teacher for children and families?
Si te gustan los niños y te gusta el yoga, también te gustará saber que se convoca una nueva Formación de Profesores de Yoga para Niños y Familias Rainbow Kids, en Madrid, del 12 al 14 de diciembre. Lo imparte Cayetana Ródenas.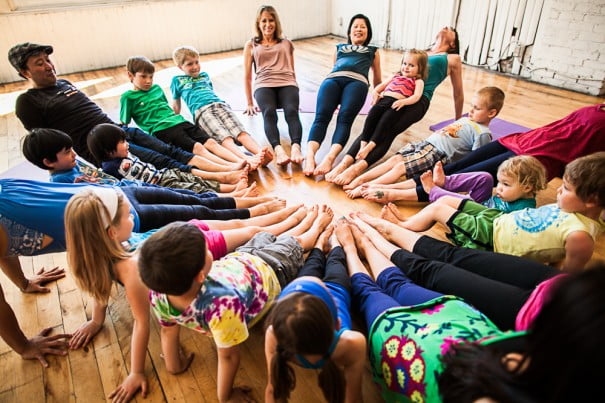 El curso para profesores de tres días de Rainbow Kids Yoga es un curso certificado, intenso y práctico. Prepárate para practicar y aprender a enseñar Yoga mientras te ríes, bailas, juegas y cantas. Esta Formación de Rainbow Kids Yoga es muy completa, con teoría práctica, discusiones y también ¡mucha diversión! Lo más importante es que saldrás con un conocimiento tangible e ideas estupendas que te servirán para crear experiencias originales y divertidas de yoga para niños de todas las edades en el mundo entero.
El curso es para cualquier persona que ama trabajar con niños y ama el yoga. Es para profesores de yoga que se quieran especializar y para educadores que quieran introducir los beneficios del yoga en sus clases. También es estupendo para los padres que quieran compartir una actividad de movimiento sana, divertida y no-competitiva, pues encontrarán nuevas maneras de conectar con sus hijos y familia. También es beneficioso para cualquier persona que quiera expandir su profesión o, ¡aprender una nueva! No necesitas ser profesor de yoga para hacer el curso.
Se trata de poder enseñar en cualquier lugar con este diploma Rainbow Kids Yoga: escuelas, guarderías, centros comunitarios, centros de yoga, fiestas de cumpleaños y de manera privada.
El certificado de Rainbow Kids Yoga es reconocido por la UK Yoga Alliance y sirve para obtener créditos de formación continua por parte la US Yoga Alliance.
Topics:
Estructura de clase por edades, desde infantes (1 a 5) hasta adolescentes (18)

Consejos e ideas de manejo de clase para unir al grupo

Yoga para niños con necesidades especiales

Creando una clase de Yoga Familiar (para padres y niños)

Negocio Iluminado (cómo promover tu actividad de manera yógica y efectiva)

Descubriendo tu estilo de enseñanza…
En el entrenamiento aprenderás:
¡A hacer yoga divertido para todas las edades!

Más de 350 posturas de yoga para niños

Alrededor de un millón de juegos creativos de yoga

Ejercicios y juegos de de Respiración y Meditación para niños

Meditación Guiada y otras técnicas de relajación

Acrobacia en Pareja, Pirámides Humanas, AcroYoga y otras maneras de hacer divertido el yoga

Yoga para Niños y Adolescentes y Yoga Familiar y Comunitario

Masaje Thai y otras maneras para conectar, dar y recibir

Experiencia en docencia
Nuestros entrenamientos están llenos de herramientas prácticas para crear divertidas clases de yoga que cautivarán la atención de niños y los corazones de sus padres. Incluimos muchísima información durante el entrenamiento. Te garantizamos que saldrás de ahí con abundantes conocimientos e ideas creativas.
It teaches: Cayetana Rodenas, profesora de yoga que suma muchos años de experiencia en el método Rainbow Kind, dentro y fuera de España.
Place: Samsara Yoga Wellness. C/Monasterio de Caaveiro 13, Motecarmelo, Madrid Teléfono 620 050 098
Fecha y Hora:
12 – 13 de Diciembre from 10:00 to 19:00

14 de Diciembre from 9:00 to 18:00
More information: http://rainbowkidsyoga.net/trainings/madrid/madrid_training2.html

Did you like this article?
Subscribe to our RSS so you don't miss anything