Book / zen stories. Little stories for awakening
These stories suggested intelligent thoughts, practices, and wise. They are written with the heart to be heard from spirit to spirit. Anthology run by Marta Millà. Includes a CD of tales recited by Japanese flute music. Edits invisible editions. Price: €17,50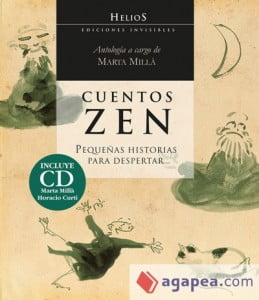 Zen practice helps us to perceive the secret harmony of things and the invisible presence that sustains them. It allows us to discover our inner a silent, peaceful, creative and loving space on which we can rely.
From traditional zen wisdom of old Japan, the stories collected in this book, by its clarity, depth, tenderness and sense of humor, have the power to awaken our minds. Its characters are awfully human: they doubt, let go by the passions, they are wrong. But, as we all have the ability to achieve understanding and released.
These Zen tales tell us about the universal human longings, and they suggest intelligent thoughts, practices, and wise. They are texts written with the heart to be heard with the soul. I shin den shin, as they say the masters: from spirit to spirit.
The architects
Marta mile. Degree in dramatic arts, actress, therapist and practitioner of zen Buddhism from two decades ago. He has worked in theatre, film and television actress and Assistant Director. He also conducted performances of poetry such as Ryokan, Mahabbat and zen tales, with music by Horacio Curti. He currently combines his facet as actress with the therapist.
Horacio Curti. Musician, ethnomusicologist and Professor of the Escuela Superior de Música de Catalunya and the Barcelona Theatre Institute. In 2004 he received the title of master of flute shakuhachi from the hands of Yokoyama Katsuya in Japan.
Two stories
The cup of tea
The Japanese master Nan-in received a University professor who wanted to know what was the zen. Nan-in served tea. He poured the liquid to fill the cup of the visitor and, once full, continued pouring it. The Professor looked stunned how spilled tea until, after a while, and he couldn't hold it more and cried:
-But if it is full up to above! There is no longer even one drop!
-You - said Nan-in - is full of your own opinions and speculations, as this Cup. How can I show you what is zen, if not empty your cup before?
The deception
Shortly before Ninakawa died, visited the master Ikkyu.
-Would like to guide you? - asked Ikkyu.
-I came here only and I'm only - replied Ninakawa. How could you help me?
-If you think that you're really coming and going, you're the victim of a hoax. Lets show you the way in which there is no one-way or return - you answered Ikkyu.
Ikkyu revealed the path so clearly with these words that Ninakawa smiled and expired.
Invisible 93 453 55 00 editions / 617 32 37 08 / invisibles@edicionesinvisibles.com