Book / caste society
The caste society. Religion and politics in the India is the last book of Agustín Pániker. And perhaps the most ambitious as that is the first book in Spanish on an issue burning and essential of Indian society. It occurs on October 28 in the House of the Convalescecia, in Barcelona.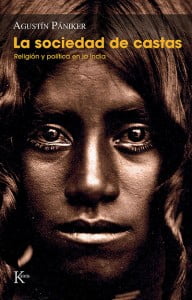 Like all works of Agustín Paniker (more if possible, by the commitment involved in this matter) this book brings together a great academic rigor and an entertaining and educational style and can be read with interest by experts such as legos. Lavishly illustrated, it deals with political, historical, religious, and philosophical aspects. It also delves into issues of gender and discrimination.
Years of research
India is known for having developed a unique system of social stratification: the caste society. There is another aspect on South Asia that opinions and so emotions. But, despite the importance and the controversial topic, there are hardly any texts in Spanish language addressing the issue seriously.
After many years of investigation, Agustín Pániker immerses us in the complex universe that accompanies the breed: his dark origins; your gear in the religion, ritual and the Brahmanic ideology; its links with the political and economic power; the great social transformations over the centuries (including criticism of Buddhism, Hindu devotional groups, Tantrism or B. R. Ambedkar); the existence of the "caste" among no-hindues groups (and even the Roma people); the growing etnicizacion and politicization of the breed (with policies of positive discrimination by caste, linked to caste... political parties); While the issues most agrias topic, i.e., the link of the breed with the patriarquia and the practice of untouchability.
With the rigor that characterizes his writings, Paniker offers us a fascinating picture of a society, at the same time anchored in a prodigious respect for the difference (as shown in his thousands of castes and subcastas), as well as in the resilient power of the hierarchy (is this ritual or) policy).
The caste society is, in short, an enlightening explanatory text (with the non-specialised public in mind) and reflective (where we provide plenty of news to the reader or the reader already familiar with the Indian world). Not to be missed for those who want to delve into the society, religion, politics or the history of South Asia.
The author
Agustín Pániker is an editor and writer. He is a Professor of several masters and postgraduate courses related to the society, religion and the history of the India and South Asia. He collaborates with various media and lectures on a regular basis. His books include Jainism, Indika, the sikhs and Shitala dream.
Presentation: The new book will be presented to the next October 28 at 7 pm in the House of the Convalescecia, street San Antonio Maria Claret 171 of 6 Barcelona. Later the author will make presentations in Spain and Latin America.