Sat Sang with Mooji
Emilio J. Gómez speaks about the experience of attending a Satsang with Mooji, spiritual teacher and guru originally from Jamaica.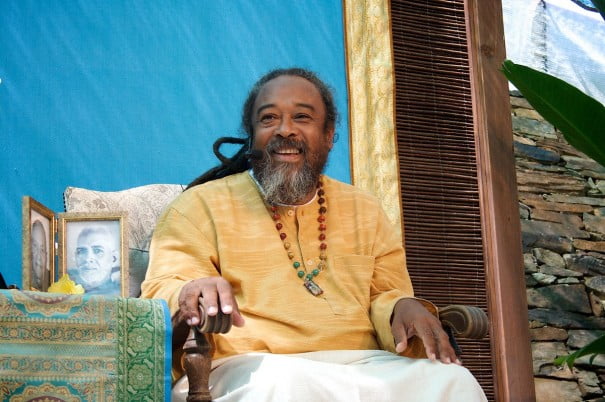 "Satsang reminds us that we are already free constantly pointing to consciousness without the attribute in which the expression appears. For those who are open, this recognition is the SOAP that removes the old soil of ignorance and suffering caused by ID wrong with the Unreal. This leaves us as perfect and happy beings we truly are. Satsang is the invitation to step into the fire of self-discovery. "This fire not to burn, only burn what you aren't". Mooji
It makes a couple of weekend had the opportunity to attend to a Sat Sang (vision of the self) with Mooji. We were a group of yoga teachers to mount Sahaja, in Portugal, place where this be so special is the ashram, and there was where we enjoyed the bright and loving presence of a realized being.
To participate in the Sat Sang was all a gift of life. Reconnect with the consciousness of itself as easily caused by the presence of a being made is to feel blessed. Before he gives the impression that everything is simple and natural, and it is that everything happened there with the spontaneity of the name given to the mountain: Sahaja.
The words and gestures of Mooji flowed naturally from a child, but a big kid full of wisdom and love. Its form... listen to your attention through a direct look at the heart of all those who were there... his full presence rests...
Sri Ramana Maharshi
On a table, and a discreet altar, there were photographs and images of different teachers. One of them was that of Ramana Maharshi. Seeing her I couldn't help devotional emotion towards master who believe, and whose look always have found wisdom, compassion and consolation.
I feel like since the beginning of my spiritual journey he had guided my steps, and through these small winks I perceive how continues still today to do so. So I experimented to see his picture. It is as if, somehow, its presence will continue from the invisible telling me the steps to follow, watching me as if it were a child lost in the middle of the ocean of Samsara.
Amado Maestro, today and always, I bow to you and open my heart to your presence.
... Learn or unlearn
So much to learn... Or perhaps it was more appropriate to say: both by unlearn... It is indifferent, because when you are in the presence a be carried out all is well and everything is suitable. Then, back home, and by extension to everyday life, ensues the work to perform.
Attend an Sat Sang is to allow the ego to take vacation and so to rest, even just for a few hours. It is also take internal references of the State which is always is but that, because of the screening and identification, you have forgotten.
After Sat Sang is the memory of the inner fire lived, called love that we need to keep alive in the midst of everyday life. A Sat Sang is to have the opportunity to perceive the aroma of accomplishment. Later, this aroma is impregnated in the heart to allow the constant updating of the authentic nature that all us unifies.
Emilio J. Gomez

It is the silence inside yoga Association yoga teacher and teaches Hatha & Radja yoga in El Escorial (Madrid).

More information: http://www.silenciointerior.net/