Books / India
Day 12 was presented the book India (850 pages, splendidly invested EUR 35) at the La Central bookshop in Barcelona. The author is a poet, philosopher and essayist Chantal Maillard. Editorial pre-Textos.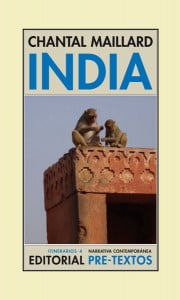 The event was presented by Agustín Pániker, Manuel Ramírez and the author herself.
As it is written in the presentation of the own publishing house Pre-Textos:
The collected texts in India they were written between 1987 and 2012. They cover as a period of twenty-five years, long enough to offer not only the prospect of a personal evolution, but also an imperative and progressive polling by the evolution of a culture that is not recognized in the new globalizing models. They realize a reality undergoing metamorphosis permanent and approached from different angles. The theory of the rasa Indian aesthetics, Eastern strategies before the death, the meaning of the gesture in the traditional dance, Schopenhauer relationship with Indian doctrines, complex immersion of the subcontinent into the globalized capitalism, the arboles-Templo in Varanasi, the subsistence economy matriarchal to the economy of production and unlimited growth, the creation of the observer as a method of knowledge of the different planes of consciousness: all these issues and many others intertwine and merge in the same and underground searching current.
The four types of writing (diary, poetry, essays and criticism) that the reader will find in this book are, in this case, quite complementary. Each one of them responds to a way to dialogue with the realityigniting it, receive it and express it, so bringing together them can offer angles and drifts which may help to imagine the complexity of the world describing.
Chantal Maillard He is poet and philosopher Spanish born in Belgium (Brussels, 1951). After his PhD in philosophy he travelled to India, where he lived long periods. He specialized in philosophies and religions of India at the Banaras Hindu University (Varanasi). Was Professor of aesthetics and theory of the arts at the University of Malaga until the year 2000, driving in his studies of philosophy and aesthetics compared.
With Plato-kill He won the national prize for poetry 2004 and Threads, in 2008, the Andalusia Critics Award and the critics award. Pre-Textos has published besides his essay Against art and other impostures (2009), his tetralogy of newspapers: Philosophy in the critical days (2001), Indian newspapers (2005), Spindles (2006) and Belgium (2011), a commitment to a script on multiple records in which the author makes one's consciousness the subject of reflection. She is the author in addition to Goodbye to the India And now India among other many books.