Teacher training Yoga Studio Barcelona
"Never have been so close to yourself". This phrase summarizes what single Xavier and Pilar Ruberte is the unique gift of deepening into yoga. And is also the motto of the accredited teacher training course of Yoga Studio Barcelona.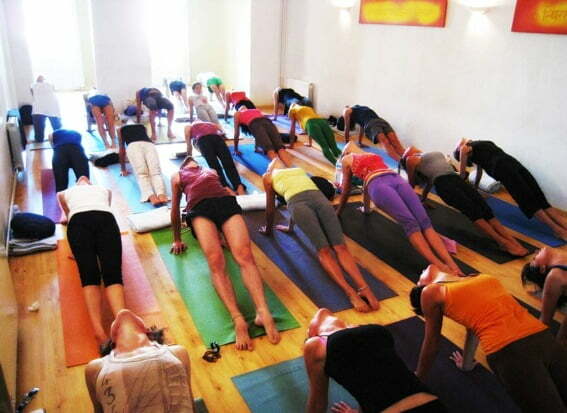 Yoga Studio Barcelona fruit of the concerns of two people, Xavier and Pilar was born naturally. "Since we met yoga, in our early youth, there is another destination for us. '"Study ' and 'Yoga' they are two keywords in our lives, as we live delivered to study and share this ancient science", we discussed.
A team of more than ten qualified teachers with pillar and Xavier share love to the traditional Yoga. So get that yoga practice always translates into greater happiness, energy, vitality and self-awareness.
Single Xavier He is co-founder of Yoga Studio Barcelona, psychologist and search engine... the sense of life. Yoga teacher for more than 20 years, learned and lived with swamis and close disciples of Swami Vishnu Devananda. It was a rewarding time that enjoyed the traditional teaching of yoga.
After teaching in different schools, in 2001, along with Pilar Ruberte they decide to create a space, in the Centre of Barcelona, for those who want to regain peace and contact with one's self through yoga.
Pilar Ruberte He studied auxiliary clinic and Geriatrics. He met yoga at age 19 in Reus, their city home and soon connected with this ancient science. After a few years of practice, he decided to dig deeper and participated in a training course for teachers, which you gave the opportunity of approaching exswamis of organization of Vishnu Devananda, who were a great source of inspiration.
He would later get richer under the influence of other swamis and sincere practitioners. In 2001 together with single Xavier, the most important person in his personal progress on this path of development, they decided to open Yoga Studio Barcelona, as a place for people of the city can approach a major and complete wellness.
Training course for teachers of Yoga 2014-15
This course is aimed especially at two types of yoga students:
People who already have been introduced in the complex world of yoga and who want to deepen it, especially on a practical level, but also in theoretical aspects that support and give meaning and strength to the yogic techniques.
People who have the desire to teach yoga and who want to become as good teachers.
Commitments
It will be a course which will, from the beginning, a change (physical and mental) students. To this end, more traditional yoga techniques will be used.
Will need a commitment to two levels:
Practical: commitment to the daily application of the techniques taught.
Study of the historical and philosophical aspects of yoga. Understanding efforts that give a meaning to the practices.
The course includes the unlimited class attendance in the Center. If you cannot attend them, you must attend another school or discipline to practice at home six days a week.
Duration, modules and methods
The course will be intense and short, to evolve throughout a year. It starts after the summer, October 2014 October 2015 (resting on the summer months) and with two distinct parts:
The firstsix-month, which will be taught the different topics covered in the course. It is a time to set the Sadhana, with unlimited practice in the Center and classes that participants begin to give among them to learn how to teach well.
The second, of five months duration, which will continue with the teaching, but that group classes are incorporated to improve the capacity to yoga classes.
Diplomas and certificates
At the end of the course be able to receive the Diploma of Instructor or Yoga teacher issued by Yoga Studio Barcelona. To obtain, you will have to pass tests, both practical and theoretical, that will show your greater or lesser use of the course.
This certificate will allow you to open your center or take yoga classes throughout the European Community. If you do not pass these tests will receive a certificate of attendance to the course.
With respect to whether the titles that are delivered at the end of the course are official or not, Yoga Studio Barcelona clarifies that today and officially in Spain is regulate by law the Yoga teachers training and as part of his training in Yoga (500 hours), which is complemented by other modules the course of teachers that taught (of 330 hours). This is governed by the criteria and hours of designated teaching in the law (enacted in August 2012), and the degree awarded Yoga Studio Barcelona in their courses will be recognized officially.
It is the greatest recognition that may have a training course in yoga. Which will facilitate to the students to work in gyms and centers or teach at places that depend on public administration.
Preconditions
An interview with the teachers of the course is required before enrolling. Also an advantage that you have a minimum practice and knowledge of postures and basic exercises.
Teachers of the course
This course is organized and managed by Pilar Ruberte and single Xavier, founders of Yoga Studio Barcelona. After more than twenty years learning with outstanding yoga teachers and collaborating in the most serious teacher training courses, taught this course of training, in which
seek the personal change all levels and good yoga teacher training.
Other yoga teachers will collaborate to enrich the course.
Where to enroll
To sign up to the single course you have to call or send us an e-mail to the Center and we will send you the registration form.
The course will be held in: Pl. Universitat, 4, 1º 2ª 08007 Barcelona
Do not hesitate to ask for more details on the course if you are interested in it. 93 451 29 28 info@yogastudio.es t www.yogastudio.es
Course topics
Yoga and yogas. Raya yoga and Hatha yoga.
Men and their different bodies from the point of view of Yoga.
The 7 bhumikas or States of consciousness or evolution.
Underlying philosophy: Yoga, Samkhya and Vedanta (Karma, Dharma, reincarnation, Purusha and Prakriti...)
Main paths of Yoga
Karma Yoga or Yoga of action
-Theory and practice
Bhakti Yoga or Yoga of devotion or love
-Study of hindu mythology and the different deities
-Kirtan
Raja Yoga or Yoga of the mind control
-Study of the Yoga Sutras of Patanjali
Nana Yoga or Yoga of discrimination and wisdom
Psychology and the study of the mind
Structure and functions of the mind from the point of view of Yoga
Study of the mind of the seeker
Different States of mind
Diet
From the point of view of Yoga
According to Western theories
According to most appropriate habits
Diet and mental States
Hatha Yoga or Yoga of the body control
Principles of exercise. Appropriate form of exercise.
Study and practice of the different styles of Hatha Yoga: Sivananda, Iyengar and Ashtanga Vinyasa.
Kriyas or purification exercises
Study and practice of postures and most important techniques
Intelligent and gradual increase of the intensity in practice
As a practice the postures correctly. Technical-external and internal.
Relaxation, energy and personal change.
How teaching make a good Yoga class
-Preliminary issues
- Like design and teach a yoga class: young people, people, prenatal, etc.
Concentration and meditation (theory and practice)
Preliminary significant
For beginners and for advanced techniques
Importance and relationship of Karma Yoga with meditation
Kundalini Yoga
Study of theories about energy or prana, the different bodies and the energy centres
Pranayama
Aim of Pranayama
Study on the different types of energy or Prana
Study and practice of techniques of Pranayama:
-Preparatory techniques
-Basic techniques
Purificatorias techniques
Techniques to awaken and create new more powerful energies for change
How to refine and awakening energies.
Anatomy and Physiology
Study of the different body systems.
Yoga and Physiology
Study of classical texts
Bhagavad Gita
Hatha Yoga Pradipika
Yoga Sutras of Patanjali
Tables of Yoga
Tables for beginners
Tables for intermediate level students
Tables for advanced
More information: www.estudiodeyoga.com