Pablo D'Ors, a silence to share
Pablo Dors, author of the successful test Biography of silence, we spoil you with a formidable meditation seminar on Saturday, June 28 at Padmasana Center Madrid, from 19 to 21 hours. Two hours of meditation and search inside that you will leave footprint.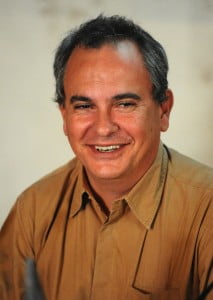 "I started to feel me to meditate in silence and stillness at my own risk, with no one to give me some basic notions or which will accompany me in the process. The simplicity of the method - sit, breathing, silence the thoughts...- and, above all, the simplicity of its claim - reconcile man with what is - I seduced from the beginning. As I am of temperament tenacious, I have maintained faithful during several years to this discipline of, simply, sit is and pick up is; "and immediately I realized that is was of accept with good mood what came, outside what was".
Paul of ' Ors (Madrid, 1963) born in a family of artists and was educated in a German cultural environment. Is priest Catholic, disciple zen and writer. He is also the founder of the spiritual training seminar Search mountain. In search of silence has made the pilgrimage to Compostela walk and has traveled to the Sahara desert, Mount Athos and the Himalayas. Has published the essay Sendino it dies, and the novels The astonishment and the wonder and Lessons of illusion, among others.
After graduating in New York and studied philosophy and theology in Rome, Prague and Vienna - which specializes in German language and literature, is doctor, under the direction of its master Elmar Salmann, with a thesis entitled Theopoetics. Theology of the literary experience. He was ordained a priest in 1991 and is aimed at the Claretian Mission in Honduras, where displays an evangelizing and social work. Back in Spain, he combines his - as coadjutor parish first and as a University chaplain, pastoral work after - with a teaching as Professor of dramaturgy and theological aesthetics in various universities in Spain and Argentina. In 2004, by his posture critical and open, is relieved of their positions in the University.
His career as novelist begins in 2000, resulting finalist of the prize Herralde and inaugurating its unmistakable style, comic and lyrical to a time, spiritual and sensory. Between 2001 and 2007 he reconciles his creative task with the literary criticism in the cultural supplement of the ABC newspaper. His nouvelle Adventures of the printer Zollinger It is adapted to the theatre and staged in 2011 in Italy by the famous actor and director Roberto Abbiati. All his works, mainly related to the literature of Franz Kafka, Hermann Hesse and Milan Kundera, have been very well received by critics. The recognition of the public you comes with its Trilogy of the silence, formed by The friend of the desert (Anagrama, 2009), the acclaimed Biography of silence (Siruela, 2012), who has reached seven editions in little more than one year, and The forgetfulness of itself (Pre-Textos, 2013), a tribute to who considers his father spiritual: Charles de Foucauld.
Currently, in addition to encouraging a spiritual, called training seminar in the open centre of the Foundation Tomillo Search of the mountain, a course of Initiation to the contemplation and a workshop of reading under the title "the wisdom of them tales", Pablo d´Ors attends spiritually to them sick and dying in a hospital of its City native.
I have here another fragment of the famous Biography:
"A year of persistent meditation, or even half, enough to realize that you can live in a different way. The meditation us concentrated, us returns to House, us teaches to live with our be, us cracks the structure of our personality until, of both meditate, the crack is widens and the old personality is breaks and, as a flower, begins to birth a new. Meditation is to attend this tremendous and fascinating process of death and rebirth. "Thanks to the meditation the author has gone discovering that not there I and world, but that world and I are a same and unique thing".
The class master

Time: 19 to 21 hrs
Where: Padmasana Center. Oman Sea, 34 (San Lorenzo Metro, line 4) 28033 Madrid
Phones: 91 382 27 33 / 620 32 50 71
E-mail: info@padmasanacenter.com