The light of being
La antigua instrucción del yoga reza: "Cuando el pensamiento cesa, se revela la luz del ser". De acuerdo con Patanjali, el codificador del yoga, cuando uno logra inhibir los pensamientos, se establece en su naturaleza real. Escribe Ramiro Calle.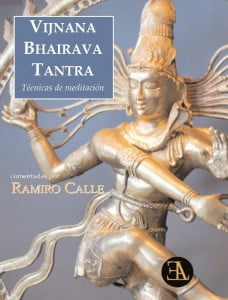 A lo largo de la historia de la sabiduría espiritual de la India, ha sido una constante la insistencia en la detención de los pensamientos para poder experimentar la fuente de los mismos y desarrollar un tipo especial de conocimiento y percepción. Un conocimiento que es suprarracional y que permite un tipo elevado de captación que transforma y coopera en la evolución consciente.
Hay un texto indio, de aproximadamente el siglo XIV, que él solo incluye ciento doce métodos para el control del pensamiento y poder así silenciar la mente y desplazarse al origen de la misma, con lo que se obtiene un estado de plenitud, calma profunda y bienaventuranza. Este texto es el Vijnana Bhairava Tantra, esencial, desde luego, para todo estudioso de la filosofía india, pero asimismo para el practicante de meditación.
Sugerí con entusiasmo a Basilio Tucci (editor de ELA) que lo publicase, acompañado de una introducción mía y las notas que yo considerase necesarias para hacer más asequible el texto al lector en general. Por fortuna, ahora la obra ya está en las librerías y el lector interesado encontrará en ella un valioso manual que contiene esas ciento doce técnicas para poder silenciar la mente y escuchar la voz de su naturaleza esencial.
Muchas de las técnicas que recoge esta obra las vengo impartiendo en mis clases de yoga mental y meditación hace más de cuatro décadas. Escribo en la introducción: "En el vacío de la mente hay un mensaje que se nos escapa. En ese vacío glorioso que se obtiene cuando uno se traslada más allá del pensamiento automático y se escucha la voz del yo real.".
Este texto nos ofrece una "técnica de vida", pues en la medida en que aprendemos a ser más nosotros mísmos, mejor afrontaremos las vicisitudes de la vida cotidiana. En la actualidad, también para la editorial ELA, estoy haciendo la introducción y notas a otro texto de gran relevancia espiritual: Los Shiva Sutras. No cabe duda de que un libro puede también tener mucho de guía y, sobre todo, servirnos de aliento y mantener vivo el fuego de la motivación espiritual.