500 words that every teacher should know to explain
One day, in a class of the international school of Yoga teacher training, Miguel González Esteban realized that he needed a dictionary of yogic terms. And he thought that he could do it. Thus was born the book The 500 words that all teacher of yoga should know explain to their students. We chatted with this new teacher and author.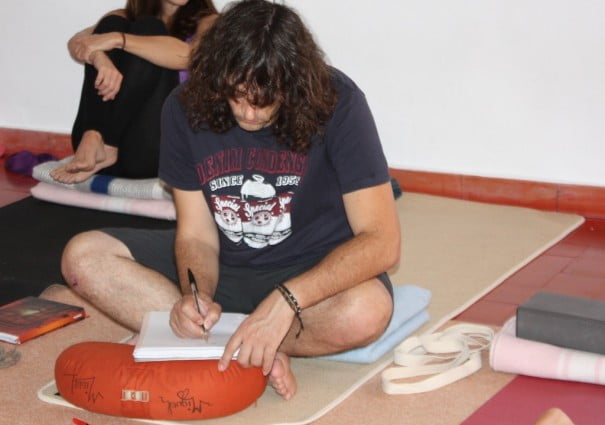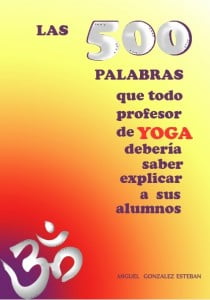 That you moved to write the book?
He began by a thesis that you are required to submit before the end of the third year of training of teachers at the international school of Yoga. From the beginning, I felt that I missed a guide to consult all those words that pointed out during classes and then looked for them on the internet when he came home. And in an of them kinds of philosophy of Swami Khrisnananda said, at the end of an explanation: "and this is a more than the words that must introduce in your small dictionary of yoga what all should have". Then I realized that I could do me the dictionary.
After a year and a half of manuals, internet search queries, thinking on the cover, forms lyrics, drawings, etc., the idea to also add a small "diction-asana" with the most well known positions. And when all this took form, thought in publishing it as thesis, but then I asked: why not publish it as a book? Finally, he was emerging this small but complete Sourcebook, after months enjoying to develop it, study it and think about it.
Do you think that, generally speaking, teachers have a good knowledge of the philosophical basis of yoga?
From my experience in the school international of Yoga, you can ensure that Yes, because is a part very important of the teaching in their courses. It is also a background very expandable to taste of each student, since trainers do not stop advising readings, books, conversations and interviews about the philosophical topic.
Personally, when decided to form I looked for a center that not is focus in a single school or frame philosophical but out more open, as the school international of Yoga, where knew it most of them ideas on the yoga. Now, with my studies finished, I understand and I understand that philosophy is a very important part in our learning, especially to have integrated and understood everything you try to teach your students.
Perhaps teachers are flushed into the practice and are to explain or explain a little?
Maybe Yes; in my particular case is a resounding Yes, despite all attempts of my trainers to do otherwise. It may be that feel like newly come out of the oven, I began to teach the first slightly lost the entire vocabulary so extensive and complex that we want to use. But, like almost everything, it is question of practice, rehearse, try and give priority to the word instead of to the movement, but then everything is a mixture.
Always have thought that a student I mean best showing you the asana that explaining is it, although in the school you show it contrary. You recommend that practice, that you have fun explaining, that look synonym, variants and replies to in them classes know leave airy of them situations that is present.
The best is to have very learned the way to perform the asanas, know its variants, their advantages and disadvantages, their compensation and its contraindications, how to prepare, what muscles use and what if any can damage, all this mixed with the wisdom that gives you a continuous and conscious own practice. Explain it with short sentences and precise that also have to be understandable to the student. As you can see, very easy (laughs).
What knowledge deficits would agree to that they strengthen, in your opinion? What are most important to convey and explain the key?
Only the small deficit that I see, in my modest opinion, is in the hours that is devoted to the pedagogy; I think that they are not enough to not get nervous in the first classes. We are more prepared than we think, with good knowledge, but with little practice on what can really happen in a normal class.
What I say to my new students, those who have not practiced is never, only yoga is the medium with which you begin to know you, with which you finally to be able to discover how you feel, how you are and how to solve these new sensations you will begin to feel the practice. No is no career, no contest; to the end it important is know be with you, know live with you and know enjoy from the moment this... being with you.
The practice is just one way of disciplining oneself; the meditation, a form of hygiene mental that us help to dispose of thoughts that no us help. But, in reality, all what we want to learn already is within us; the yoga only us helps to recognize it and use it.