Yoga as a social tool
Víctor M. Flores tells us about his new adventure in Nicaragua, where he has created the Institute from studies of the Yoga-Nicaragua, with the idea that yoga can serve to take steps against poverty and even social strata, as well as popularizing this practice.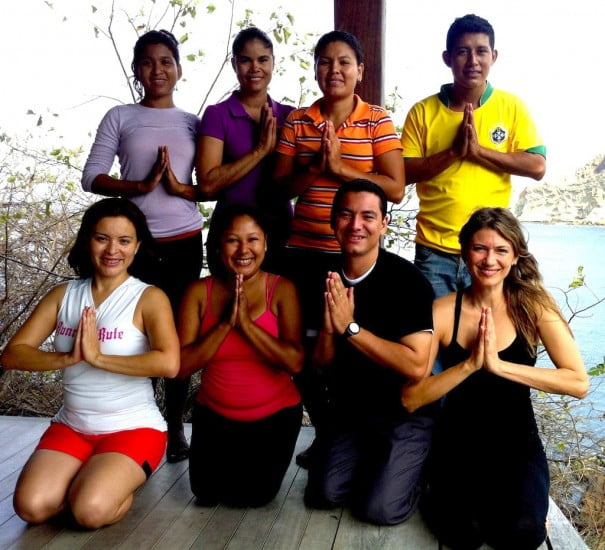 In September of last year I quit my position as a promoter of the Congress of Yoga of the Costa del Sol, after seven calls for this Hall of meeting of this discipline. This Congress has been his lifelong free and has opened its doors to every teacher and school of this country without promoting exclusively to members of the Institute who calls it. In the same way, I gave my job teaching principal at your school, delegating the functions bright people who, no doubt eclipsed that until today has been my career in yoga. My current work is the coordinate and design courses, as well as to represent the interests of my group.
The reason that prompted me to this was to undertake the same project in another country, another continent, another way of speaking, another color of skin, project Ximena Gutierrez, Jivamukti teacher who had been building for years. My destination was their land, Nicaragua, where I currently live. I left my homeland with the books I've published, a suitcase of clothing, a Shiva and a Kali of bronze to start virtually from scratch in this continent one day Cristóbal Colón confused with China.
It is difficult to summarize as it is life on the other side of the sea. I live as Garcia Marquez described the first Spaniards who arrived in America: stunned by the singing of the birds, Dizzy by the purity of odors. Nicaragua has fifty volcanoes, a lake that is almost a third of its territory, its GDP is below the rest of the Central American countries, which makes it in a country with a large population of very humble and a high rate of illiteracy. The average salary is $250 us. Much of its current problems are due to which, since the mid 19th century until the triumph of the sandinista revolution in 1979, the Nicaraguans lived a continuing civil war. Today it is a village with an index crime bass, proud and dignified, with a huge memory resulting in violence.
All this background and the current biography of this country has led me to the concept of yoga as a tool of social intervention that can generate a new niche of workers welfare, concept that even today it did not develop at all despite having in its territory several more beautiful resorts and environmentally sustainable growth, such as Aqua Wellness or Morgan completo Rock.
Work for national teachers
While neighboring Costa Rica monopolizes largely the spiritual tour and Latin America, Nicaragua still yoga retreats did not stand with the role that deserves and that afternoon or early assume due to its geographical and climatic features. To do this, the young team that is still the Institute of studies of the Yoga-Nicaragua and good Karma Yoga has established patterns of intervention which aims to a large population relegated to works of little relevance, due to their lack of access to a complete education, from accessing the labour market such as yoga instructors. Thus it facilitates that the resorts that offer yoga classes are gradually replacing foreign teachers, mostly travelers continuously changing from one to another, by professors, more loyal to the company and the opportunity to do both social and professional ascension possible.
In this way, to the already known triple benefit of yoga (physical, mental and spiritual) are you would add a fourth elementthe social, becoming in a engine of growth within social classes most susceptible to economic, thus enabling changes take steps against poverty and even social strata, as well as popularizing this practice, still a great unknown on the Caribbean side of the planet, given that the spiritual tourist It is not a resident.
Among the many plans of action IEY-N and BKY has convened next Cocoberry Spa a Yoga Congress in the colonial city of Granada, repeating the pattern of their Spanish brethren (coast of the Sun-Marbella and Yoga-Valencia Mediterranean) as a way to give to know the yoga and promote schools already located in the country, giving a 70% fee to teachers of Latin origin and 30% to the angloparlan TES in the country, with the aim that the Congress has a strong Latin flavor, to a segregation.
With the aim of promoting this ambitious project, the Institute of studies of Yoga will start the call of grants for cooperation, integrating volunteers into a curriculum of six months in Nicaragua whose function is to train Latin teachers so that both America and Spain to coincide at a crossroad of destinations in which yoga is a great homeland logo without borders, and - return to García Marquez - designing a navigation chart it channeled the immense creative energy which for centuries has squandered in the looting and violence towards life, and open at the end, a second opportunity on Earth
Victor M. Flores
www.institutodeestudiosdelyoga.com