"We are going to relax I have hurry" and other stories
Noting the wrist watch with the index finger, entered Lady bright room practices, very accurate: "quick, quick, let's relax as soon as possible, please, I have hurry". I stayed with my mouth open, staring, and of course I relaxed myself nothing (some of these days will discuss stress teacher of yoga and relaxation). Joaquín G. Weil writes. Photo Tony Otero.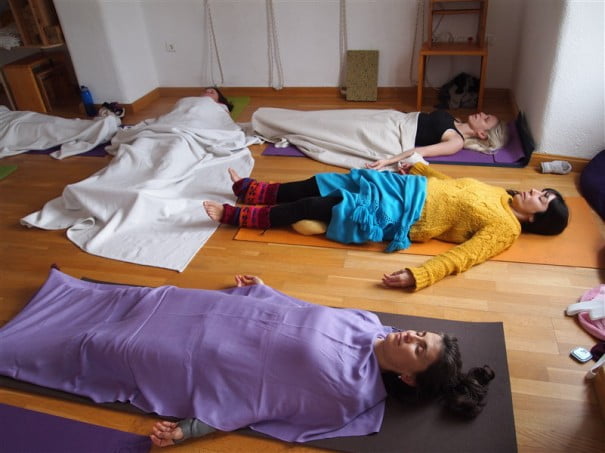 Sometimes the opposite happens: the person who arrives at a yoga Center is very clear that he has come to not move. "I all I want is to relax".
In fact, all we want to simply relax, but sorry, it is not possible. As we often say in our courses, the button that turns on the light is the same that turns it off. He said Swami Rudradev What even sleeping energy is required. So who better to sleep they are children and young people and more costs to those who sleep is, in general, to the elderly. Also all have the experience of lie a day so exhausted that we cannot wink. So teachers of yoga and relaxation, to get relax students, we need to somehow activate and unlock their stagnant energies.
This is something that even the most despistada person suspected, and that is the reason of that to relax go to a center of yoga instead of lie down quietly in sofa of his house. Speaking of this strange device quadruped, rectangular and elongated, harmless in appearance, that lives in our living room, that grandmaster who is for me my own father holds that the sofa has killed a lot of people. You are absolutely right. It seems so soft with its foam and cushions can do us no harm, but in reality it is a real danger that we hosted at the House (and TV, his accomplice). Pull on the couch is sometimes thrown into a bottomless pit, a gap opened towards the abyss, I don't know if I'm exaggerating, that can lead us direct toward some kind of purgatory.
We tend in the hope of raising us energized or electrified like cats after naptime, but we are not cats. Is not the human being no choice but to learn to sail between relaxation and self-reliance, between the legitimate rest, stress, or laziness.
To put it in simple terms, there are two concepts regarding relaxation: the customary in the formerly West and which propose traditional techniques from the East. Here in general is designed relaxation as a disconnection of the mind, a numbness, or through electrical appliances such as television or nowadays computers, tablets, smartphones, etc. Either through drugs or intoxicants that obscure the mind and understanding (excuse me mention examples). This is what is called in the world of yoga "Tamás". For its part the relaxation through yogic techniques and meditative, paradoxically advocate what through the activation of serene relaxation and clarification of mind and body (mostly from their interaction and dialogue). It is what is called in Sanskrit 'satva'. Thus the relaxation licks our physical and emotional wounds. It gives us clarity of thought and energy in the body.
Me has always missed the phenomenon not by used less surprising: that at times people are unable to relax muscles that we can supposedly move at will. It is what we call stress, tension or spasms. The key to the solution is in the Mindfulness, in the intimate connection of the mind with the body. Here the approach clear consciousness dissolves tensions in a similar way to the Sun of winter, dissolving the mists in the fields of the North. Any tension resists the powerful reassuring strength of concentrated and attentive mind.
Stop the Sun in the sky
Indeed, as we said at the beginning, There are things that can not be in a hurry. One of them is to relax and the other is without going any further, breathing or be taught to do it in a natural, comprehensive and free way. That sense has soon finished the exhalation to inhalation or vice versa? Yoga has somewhat longer at the time. Time, as an element, is one of the materials that our practice of yoga is woven. The Tibetan lamas speak of "stopping the Sun in the sky", that is, Lord our moments, padalear every second while meditate or practice conscious relaxation.
Some people felt prisoner of time, others conceive time as an enemy, which is sung in many boleros: "Clock not marques hours..." or "time passes, we are getting old...". To overcome these trends, in the YogaSala Malaga We have put a clock with a large orange Om and the following motto: "Time for us". Because we consider that during the practice time always runs on our behalf, for children and young people, as in its course we will stronger, conscious and free.
Many times I tend to use my time to meditate or practice a restorative asana. With practice, those who have tried it know, it rests more than simple sleep.
To conclude, respect to this of the practice in the relaxation, there are real teachers. There is who starts snoring just tends on the mat. As I said a friend, Antonio Gómez, who attended our courses during a season, while living in Malaga: "those Trikonasanas, Padmasanas, Virabhadras I get only regular. "But what is relaxation lying face... that I get perfect."
Who is

Joaquín García Weil graduated in philosophy, yoga teacher and Yoga room Málaga director. Practice Yoga for 20 years and teaches it since makes eleven. He is a student of Swami Rudradev (leading disciple of Iyengar), with whom he has learned in Yoga Study Center, Rishikesh, India. He has also studied with Dr. Vagish Sastri de Benarés, among other masters.

More information: http://yogasala.blogspot.com Facebook: https://www.facebook.com/yogasala.malaga