Yoga and surfing in Morocco with Susana García Blanco
The idea of these three offers Yoga and surfing in June, August and September arises from the need to share the fullness. The ingredients: a special place of vibrant nature and two practices in the heart able to connect you with your liberty and your power. Writes Susana García Blanco.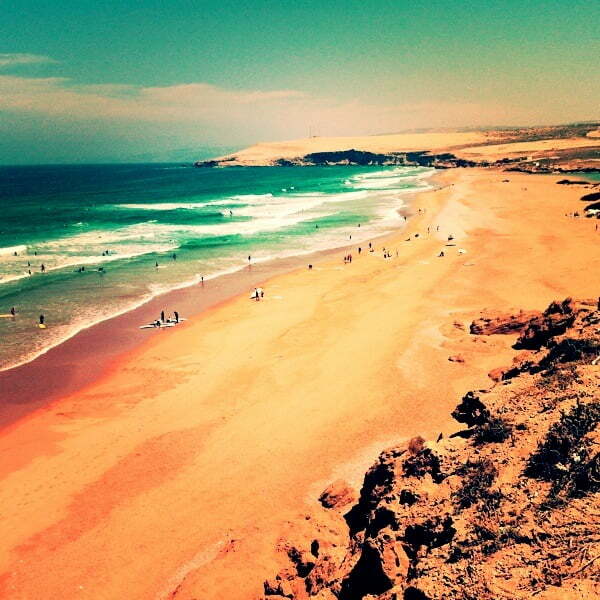 The South coast of Morocco. It is not easy to describe in words the magic. In love with you. And I'm not the only one. Meeting point between the Atlantic Ocean and the foothills terracotta of the Atlas mountains, mottled with argan trees as far as the view reaches. Berber villages where people coexist with surfers from around the world in harmony with the ocean. Pleasant climate throughout the year. Magical sunsets over the sea, which are transformed into a ritual. Under the call to prayer from the local mosque, recalling the permanent presence of the divine to your around.
Yoga: In my more than fifteen years of practice, yoga has never ceased to be a revolution, shaping the body, mind and heart, the way that I feel my life and the universe around. Yoga gives flexibility and strength; connects you with your wisdom, your intuition and helps you live from an inner place of more calm and happiness. With over 11 years of experience as a yoga teacher, I will be your guide to the practice of Anusara yoga, Acroyoga, pranayama, meditation and mantras. In August, María Icaza, Professor of great charisma and integrity, will teach yoga for children and share his love for meditation, yoga and movement.
Surf: An experience of consciousness, delivery to something bigger and, at the same time, in connection with your own power. Surfing provides a deeper relationship with the sea and nature and a greater connection with oneself. Your life brings simplicity, rooting, new challenges that you face your fears and you connect with your humility and your strength. But above all it is super funny: you will feel like a child and will hook you. "Hitch" surfing is due, in large part, to chemical substances that are generated, both in your body and in the waves. You can read about it here http://wordpress.bakio.com/surfing-stoke-es-el-vicio-por-surfear /
This summer there are three choices of very different taste, all adapted to what ever your level of yoga and surf. There is even an option so that you bring the kids, or you can come to do yoga and enjoy the beach if you don't fancy surfing. Download the prospectus of the trip that you are more interested in www.rasalilayoga.com/retiros-retreats/ or contact me at hrdaya.shakti@gmail.com and become our friend on Facebook: Yoga Surf Morocco.

June 17-24 Yogay Surf... on the road.
Seven days along the Moroccan coast, from Essaouria to Sidi Ifni, surfing the best spots and practicing yoga on a daily basis. For adventurous souls, and who travel with ease and without many needs.
August 19-26 Yoga and surfing family holidays
With the collaboration of María Icaza (Yoga for children). Third year in a row. Always a hit! So you can come with the whole family. Discount extended until June 1.
-6-13 September Yoga and Surf holidays
Another classic! A relaxed meeting for those who want to enjoy a holiday surfing, yogueando and Moroccan culture to enjoy.
Treat yourself to a life-changing week, fun in a beautiful place with a different culture. You hope in Morocco!
Who are you
Susana Garcia Blanco. Yogini, surfing, traveling, student of life.
Yoga has been the essence of reliable for more than 15 years. Since 2000, when he met his teacher Sianna Shermann has been a dedicated student Anusara® yoga, philosophy and mythology. It is the first teacher certified Anusara® in Spain (2006). Based in Morocco, intensive teaching, immersions and teacher training in Spain and internationally. He likes to explore other styles of yoga and body therapies and from the end of 2012 is also Professor Certificada de Acroyoga.
Practice the art of the Thai massage who studied with teachers from the Sunshine Network, especially inspired by Krishnatakis and Kaline. His life, his practice and his way of teaching are deeply inspired by the Tantric philosophy, receiving his masters, Douglas Brooks, Sally Kempton, Carlos Pomeda and Paul Muller-Ortega. His love for philosophy, mythology and also yoga therapeutic possibilities are very present in their classes.
In love with the sea, is a connection and freedom deep through the surf, and often offers retreats that combine these two practices of the soul. "I feel rooted in the simplicity of my new life in Africa. Yoga is for me the adventure of life when you live it from the highest". www.rasalilayoga.com hrdaya.shakti@gmail.com
Maria Icaza. Teacher of yoga and meditation.
Much of his life dedicated to the world of dance and dramatic art. Attracted by the human condition, he studied a master's degree in clinical psychology. But it is in 1999 when he feels a profound transformation after his first trip to India.
In 2006 get completo Teacher Training Course of Yoga at the Sivananda school certificate. In 2008 he met Swami Digambarananda (Danilo Hernández). Two years studying the technique of Kriya yoga, receives a diploma. He returned to India and carried out an intensive course of Pranayama in Uttar Kashi, in Himalayas. In 2010 is certified as a teacher of Yoga for kids with Christine McArdle. That same year began the immersion of Anusara yoga with Gisela Vázquez in Madrid and continues with the training of teachers in this so inspiring practice, where your actions flow from the heart.
Very connected with Buddhism, practised Vipassana meditation years. Continuous traveling to India often. She currently teaches yoga classes and workshops in the Vishnu in Madrid Centre. vishnupriya.om@gmail.com