Gurmukh, the Queen of the Kundalini Yoga in Barcelona
Gurmukh, 70, the founder of Golden Bridge, the main centre of reference of the Kundalini Yoga that left Yogi Bhajan, with hubs in Los Angeles, Santa Monica and New York, visit first Barcelona to offer two workshops in Yoga with grace. 6 and 7 May.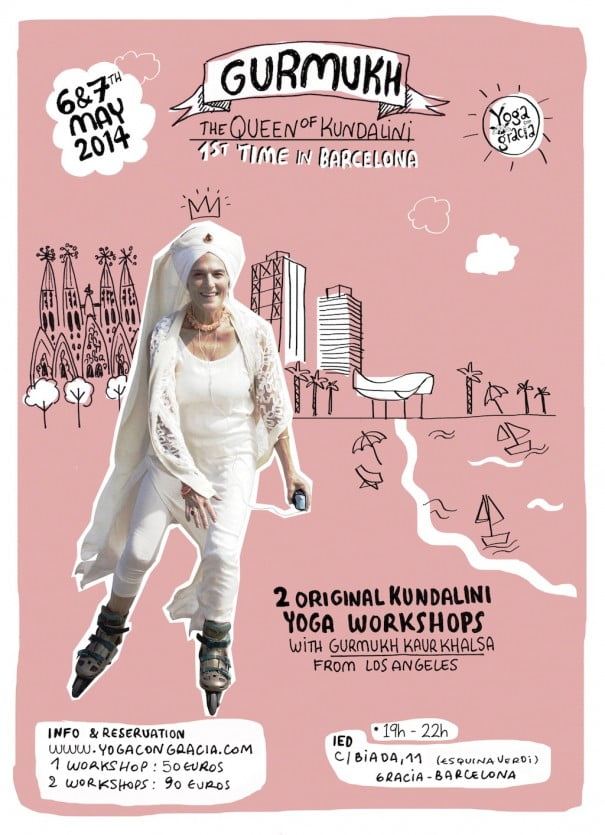 Workshop/master class in English, with a basic translation for those who do not understand nothing of that language, tells us will be Juliette Allard, student of Gurmukh and responsible for the study Yoga with grace, in Barcelona. "It's a great woman, and to offer two workshops with it I feel that I make a gift to practitioners of Kundalini, because I always had to travel either to attend their classes... Had invited her for ten years so finally come is for me an immense joy! "."
The spiritual name of Gurmukh means "which helps people across the oceans of the world", and this radiant woman who received it 43 years ago has dedicated his life to the fulfillment of this task. As a leading teacher of Kundalini Yoga in the world, she and her husband Gurushabd travellers to all parts (USA, Mexico, Europe, Russia, India and South Africa) leading teaching and teacher training programs. She is also the creator and introducer of the Khalsa Way Prenatal teacher training program and Postnatal, which now celebrates 30 years.
Yoga network interviewed Gurmukh Kaur Khalsa
Who you would recommend especially practicing Kundalini Yoga?
All alike. Kundalini Yoga is a yoga around the world can do, regardless of age, physical fitness or if it has been athlete or not. Kundalini Yoga is for people that want to live closer to his spirit and simply have a happier life.
What are the difference of Kundalini Yoga with respect to Hatha Yoga?
It is said that Kundalini Yoga is a path fast towards the health and happiness because it works immediately. Some say that Kundalini Yoga is the yoga more spiritual and "more soul".
You define it in some circles as "the Queen" and the "world leader" of Kundalini Yoga. What do you think?
I am honored to say that. I've been teaching for 45 years. Maybe that gives me an advantage.
Many years ago, he founded Golden Bridge, today with hubs in Los Angeles, Santa Monica and New York. How to make compatible fame and prosperity with spirituality?
Our master Yogi Bhajan said is important to reconcile high and low and find prosperity and abundance in every aspect of our lives; and that the most important thing is to share.
Which messages you can give us to better cope with the crisis, which in Spain is still very hard for many people?
When the financial situation is difficult, the answer and the solution is to give more. Give more smiles, more prayers, more food, more hugs and more spirit. You only get when you give. When you are happy, all prosperity attend you.
The workshops

Two workshops to experience the gratitude and the joy of being who you are:

on May 6. Thanks, greatness, happiness (3 hrs) 19:00 to 22:00 hrs
Only you can live the truth yourself, inside of you and by you; No one else can do it for you. These ancient teachings of Kundalini Yoga will remember who you are, how big you are and that you cannot grow without being thankful for you.
on May 7. An encounter (3 hrs) 19:00 to 22:00 hrs
The purpose of life is observed and experiment, enjoy every moment and live in environments that calm, tranquility, fluidity, to just be.

For more information on the workshops Click here.

To see an interview with Gumurkh in English: https://www.youtube.com/watch?v=L6zlf3319lA