The experience of Tantra Yoga white
One of the most captivating experiences in the yogic path is white Yoga Tantra. Is something that, in a principle, you full of curiosity; You can generate expectations of a u another nature and in many cases, already from the beginning or, perhaps from a certain deepening, passes to be an event expected, desired and liberating.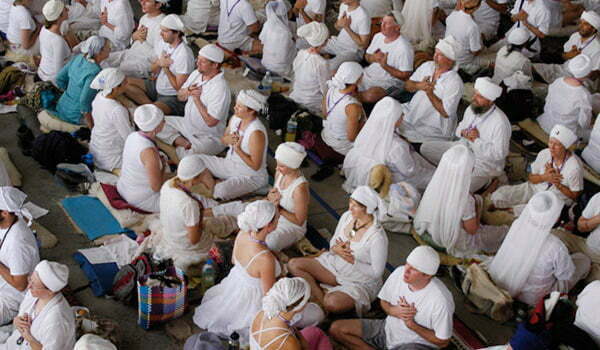 The operation of the Tantra Yoga white It is not easy to explain with words. Us move in the field of it unconscious, that that constitutes and determines our minds individual and collective, that that from it unnoticed us conditions to all the levels of our life.
In the experience meditation group of the Tantra Yoga white is left to a side, largely, those egos individual. He is conducive to a mental "connection" driven and supported by the Group and by the subtle guide that funnels and supports the experience of all who participate.
The universe realigns itself completely after the powerful mental 'cleaning' that occurs. Who here is carried out Tantric meditation generates an effect that can overcome overwhelmingly to strictly personal meditation experience. When one comes out of this experience it is no longer the same person, something has changed and new opportunities will flow. In some cases they will be identified more or less quickly in time. In others they manifest themselves temporarily more extensive way or simply pass unnoticed through the thinking mind of the person. In many cases will be difficult or impossible to explain feelings and effects.
And, even better, even if your disposal is not suitable or your involvement is not optimal, the benefits also will come you because you are not alone in this experience. The Aura of group you rise and will work with you to get closer to the awakening of your sleeping energy, your auto-sensorial, your connection with unconditional love.
The white Yoga Tantra is knitting the male and female energies
Tantra Yoga white® is made in meditation group by couples. You sit opposite your partner and follow the given instructions for meditation given via video by Mahan Tantric, Yogi Bhajan. A representative of the Mahan Tantric is present as a facilitator of Tantra Yoga white®. The authentic facilitators were chosen personally by Yogi Bhajan and members of his team. With the approval of the members of the Committee of Sciences of Humanologia and health and low the address of the Tantra Yoga white is has used the purpose that has created for choose new facilitators. Today, all the facilitators of the white Yoga Tantra were direct students of Yogi Bhajan. One of the responsibilities of the facilitator is sure that the method given by Yogi Bhajan is fulfilled and help participants maximize their experience. Each workshop consists of between six and eight kriyas. A kriya is a meditation that includes:
• yoga posture (asana)
• posture of hands (mudra)
• technique of breathing (pranayama)
• mental concentration
• or a mantra
Some times the kriyas are accompanying music. These kriyas range in time from 31 to 62 minutes. There are breaks between each kriya. There is a environment moving from peace, love, and support. It serves food vegetarian.
The Tantra Yoga white® not should confuse is with the tantra black or red. These forms of yoga also transform energy, but in different ways and for different purposes. Black tantra directs energy to manipulate someone else and Red tantra directs energy only for sexual purposes.
How works?
Our mind creates 1500 thoughts per second; some of these are lost in the unconscious, and some are trapped in the subconscious affecting the conscious mind. These thoughts become feelings, emotions, desires, fantasies or multifaceted. Instead of controlling our minds, very often our thoughts we control, which cause decisions compulsive, a communication poor and a stress auto imposing.
The Tantra Yoga white you allows penetrate through these barriers of the subconscious for to enjoy of a better life. In record time, you can get rid of too much weight you carry in your mind. When you see and act at all times with clarity, you will gain a deeper understanding of yourself and a change in your life. Your mind, body and soul work together as one. This is the way to liberate and awaken your being, and will bring you more success in every moment of your life.
Wrap the energy of the universe of parallel and perpendicular form of nature, like a woven fabric. As the fabric becomes stronger when stretched diagonally, as well energy ' Z´ or diagonal of the Tantra Yoga white® also it makes more strong. When this energy is directed by Mahan Tantric, cut across the boundaries of the subconscious mind.
To the use the power diagonal, Yogi Bhajan, the Mahan Tantric, connects your body subtle to them bodies subtle of them participating through the facilitator present. This works in the same way as a telephone network around the world that depends on satellite and electromagnetic energy to connect two people.
Reflections about the Tantric
I visited a Museum in a small station of mountain in the North of India. There was a complete collection of small figures in several traditional yoga postures and hundreds of small sadhus (Yogis) doing tapasya. This is an old practice of form with your body a posture of yoga and keep it in States of deep and continuous meditation more beyond of it capacity human normal of resistance (speak of years). The results of this practice, according to mythological stories, were that the gods would be so moved by the dedication and devotion that appear to the practitioner and would offer him any favor or desired blessing.
Often I think about him Tantric of this way. We sat for large periods of time, maintaining awkward postures and resist. Represents a test to our limitations on what is possible and about what can be overcome. We sat like statues of bright gold and leave the world and its dramas are crowding around us as weather patterns. Leave that our mind overactive and the whirlwind of thoughts float towards it away as the fog that is cleared by the wind. All our attentions and concerns are filtered in the soil under our mats of meditation and is fading. Perhaps even finally reaching a State of suspension of all notion of time, which exceed anything, where the view stretches to eons of back and forth.
This is our own chance of tapasya. And also this we offer a blessing. Brings us the gift of perspective. Us about the gift of recognizing our own capacity, of be capable of penetrate to our strengths deep and our sources of energy. US leads to the well deep of "keep you and will be maintained".
If you enable the fire and during cooking turn off it, the dish would not cook completely. Tantra is like a pot to pressure. Much heat creates much vapor, creates too much pressure and cooks food in a fraction of the time. Of the same way, many saints sitting together with intentions powerful, much white for expand the scope, meditation intense, great concentration, breathing intense or singing, angles strong for activate the system nervous, mudras fortified and great resistance, create a force that can break them locks and trauma of the last. Something as well as a powerful washer that can peel the layers of dirt after years of accumulation. This energy can be washed subconscious collections of cobwebs, shadows and fears. All the things we have collected falsely in our psyche that do not serve our true being. All the heavy baggage extra that we carry with us. This unnecessary burden that pulls us and we stopped.
All under the protection of the Mahan Tántrico, Yogi Bhajan, whose subtle body guide the power with each instance of white Yoga Tantra. Its presence, in the time and in the space specific and the presence of all them participating, with the guidelines given as well as the specific routine of kriyas by he defined, us allows this unique opportunity, this acceleration of spirit.
This opportunity of strengthening is better and more quickly.
Source: Parmatma (Spanish Association of Kundalini Yoga)
Sumpuran Kaur (Facilitadora of Tantra Yoga white)