To grow and enjoy weekend
As we are going deeper in the year, the Agenda is goes filling of events enriching, creative, magical. For this weekend we suggest a course of Sensory Awareness, a seminar of gentle Yoga with the great Olivia Cáttedra, a retreat of Yoga Sivananda, a masterclass of inverted postures and balance, a delightful recital of piano, a very special concert of Sunyata, a satsang of Vedanta, Bhakti workshop, other flavors of cuisine Ayurvedic... who gives more creativity and growth of yoga?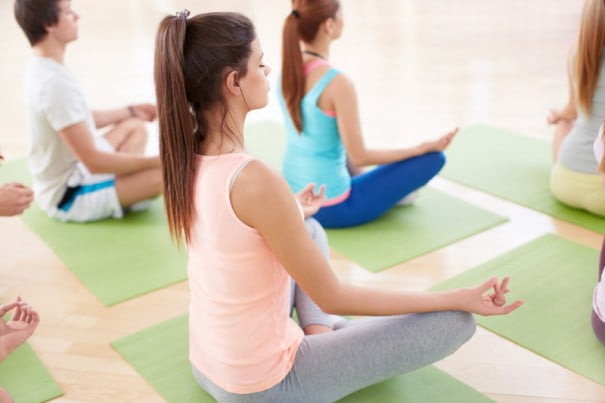 Friday 21 of February
Course Sensory Awareness
Days 21, 22 and 23 of February. Sensory Awareness work is a deeply respectful practice for body and mind, and invites us to take a break to explore how each time opens the door to a new possibility. Aware spaces, offering us an opportunity to discover the habits that prevent our nature to speak with fluency.
Experiences that us allow be honest with us themselves, accepting what we are in each moment, allowing them changes that want to arise and enabling new life in all what do.
It teaches: Enric Bruguera. Member of the Sensory Awareness Leaders Guild and disciple of Krista Sattler (Austria) and Lee Klinger Lesser (USA), both direct disciples of Charlotte Selver, which shared teachings for more than 30 years.
Schedules: Friday 21 February 2014, from 19:00 to 21:00 Saturday 22 February 2014, 10:00 to 13:00 and 15:00 to 18:00 Sunday February 23, 2014, from 10:00 to 13:00.
Where: School international of Yoga.
Address: C / Fuencarral 134. Entry for Alburquerque. Madrid
More information: http://escueladeyoga.com/Sensory-Awareness.html
Master Class techniques of balance and asanas reversed
Learning techniques of balance in order to establish asanas balance comfortable, correct and aligned. All under a meditative view of presence, stillness and silence as ways of primordial to integrate these techniques in a profound way. Down in photos some positions that will work in the workshop as the Scorpion with help of the wall. Two and a half hours of incredible work on mind and body.
We will work visualizations and meditations of anchorage and rooting of the area planted and correct postural alignment, awareness of the importance of changes in weight, effects of asanas practiced... Everything from a methodology fully practical, experiential, and deep.
It teaches: David Berges De Miguel, Professor of hatha Yoga and meditation. Trained in different disciplines of circus acrobatics, balance, body expression. Formed in therapy of the sound: bowls of Quartz White, vocals, didgeridoo. Professor of Pilates.
Price: €20
Where: Padmasana Center. c / sea of Oman, 34.Madrid
More information: http://www.padmasanacenter.com/
Sivananda Yoga winter retreat
Of the 21 to the 23 of February, the center of Yoga Sivananda celebrates its removal of winter in the Hospedería of the silence, in the Sierra of Gredos, with Swami Atmaramanda and Gopala. You're still in time to register, but there are few places! It is a very good experience for beginners.
The removal of yoga you recharge the body, mind and soul with new energy, positivity and peace inside. Relax your body and your mind with classes in yoga, meditation and strolls. Be inspired by lectures on health, nutrition, meditation and philosophy. In a friendly relaxing is more easy of developing new habits, such as a diet more saludabley more easy of Digest. Nature allows us to enter and immerse us in silence.
A place ideal for the growing personal and the interiorization, an environment idyllic of mountains and forests.
Enjoy a full weekend to practice: meditation, mantras, lectures, classes of asanas and pranayama.
Where: Hospedería de silence. Sierra de Gredos.
Yoga participation: €70 (€60 partners, unemployed and students)
Accommodation and food: 98€. The accommodation shall be paid directly in the Hospedería del Silencio, in cash, upon arrival.
Reservations: T 91 361 51 50 • address: Eraso 4, Madrid (Metro Diego de León)
More information: http://www.sivananda.org/madrid/pdf/retiro_febrero_2014.pdf
The power of sound
The workshop will last two hours in which will be given an introduction to the Naad, Yoga, we connect with our inner sound, and we will feel the power of the mantra as connection and tuning tool.
It teaches: Quim Altes.
Contact: lasaibizi@Hotmail.com; TFN 629252812
Where: School of Yoga Lasai Bizi. Basauri (Bizkaia)
Theoretical-practical workshop of meditation
"Learning to meditate is the best gift that you can do you in this life", dijoSogyal Rinponche. Meditation is an ancient practice used since the beginning of time by different traditions and schools of thought. It is not based on no dogma, faith or ritual. As well as the science is of reveal them secrets of the nature, the meditation is of discover the true nature of the man. Their tools, instead of microscopes, are her concentration and her intuition. In this workshop you will learn the main walking paths and meditation techniques. Practice pranayama e will start that great adventure inside.
It teaches: Lola Cerdá, the international school of Yoga yoga teacher
Price: 30 € registration: by phone to the 965 446 674 or by mail to info@espigol.es
Where: Room Espígol in Elche (Alicante)
More information: http://espigol.es/curso-taller-meditacion-elche-alicante.html
Sátsang Vedanta: the knowledge of the absolute
Satsang with Javier Ruiz Calderón. The advaita vedanta is an of the traditions spiritual and of thought more important of the India. Many contemporary spiritual teachers, such as Rámana Maharshi, Swami Shivananda or Amma, are identified with it. The vedanta teaches that our true nature (atman) is the Brahman, the reality absolute, and that can get to perceive it directly by means of the yoga of the knowledge (jnana yoga), reaching of that mode it freedom and the happiness full. At this meeting the teaching of vedanta will be exposed and will be some practice related to that tradition.
Program:
External history of vedanta
Ideological background: slavery and Liberation
The four requirements of the applicant
Related: body rough, subtle, and causal; three States of consciousness
The absolute (Brahman): the Realidad-Conciencia - happiness
Spiritual practice and release
The attitude of witness
Meditation on "I am the Brahman"
Meditation on "all this is the Brahman"
Practice combined with other yogas
Bibliography selected in Spanish
It is a free, essential activity request information and RSVP at: Info@espaciokaivalya.es.
Where: Space Kaivalya
Address: C / Zabaleta, 9. 28002 Madrid
More information: http://www.espaciokaivalya.es/
Saturday, February 22
Gentle Yoga with Olivia Cáttedra
Seminar on Saturday and Sunday. Definition, reaches, limitations, indications and contraindications of the Hatha Yoga.
Vasistha has said: "the world is the movement of the mind." The mind moves for two reasons: prana and vasana. By regulating the prana, quiets the mind". We were inspired by the teachings of this Sage, referred at the beginning of the Hatha Yoga Pradipika to formulate what you gave us joy called "Gentle Yoga" (it is not light; it is only soft in the sense of suitable for all audiences).
The prestigious Olivia Cáttedra says: "after 38 years of HY (breath, Asana, concentration, relaxation and reading of sacred texts), learned that not everyone can make all the asanas and less the ' asanas modern ' as controversial." But we can all breathe and through breathing and relaxation to modulate our mental conditioning, which are other more Western name for one of the functions of the karma of drag."
The four indications specific of the
Yoga
Vasistha
they are:
Bonding Prana–Manas and the consequent impairment of the vasana.
Reading of books sacred
Wise men and loved company.
Do not get angry is.
It teaches: Olvia Cáttedra, PhD in philosophy specializing in studies Oriental
Opening hours: Saturday from 10 to 14 and from 16 to 20. Sunday from 10 to 14
Where:
School of Yoga of the tables. C/ Isabel Colbrand 10-12 (Las Tablas) 5th floor, local 131.
Madrid
Contact:
T 810101082
.
Piano concert with Marta Cascales
Marta Cascales Alimbau is a young pianist and composer to which you love composing their own music and put music to the image. I have composed soundtracks for various audiovisual and live performances. It is impossible to say anything about it. You have to listen to it and your music says it all. Don't miss it is an opportunity to realize the young talents we have closely. A wonder!
Price: €10
Where: Yoga Anadamaya
Address: C/Alcalá, 68. Madrid
More information: www.retiroanandamaya.com
In concert Sunyata
Sunyata It is a musical project that was born in the spring of 2013, based on the fusion of the experiences and capabilities: Nantha Kumar: master of the table internationally.
Table, Kanjira, voice. Eva Espeita left: Swamini, master of Yoga Integral, singing Dhrupad and sing traditional Indian, music India. Vocals, harmonium. Victor G. Cruz (Aporia): Nada Yoga, singing Dhrupad, minimalism, music India. Vocals, guitar, fretless, Harmonic singing bass. Jorge Lozano: Percussion, World Folklore specialist. Table, Pakawach, Kanjira, Moarsing, Oud, Kargyraa singing.
"Inspired by a diversity of traditions of Mystic sound (Vedic chant, Tantra, Bhakti, Kirtan, Bhajan, Dhrupad, Icaros, shamanic), we try to connect with this ancient tradition repeat hypnotic to reinvent it and generate, from music, collective events of circular loop that lead us to experience States of deep relaxation, mental silence, intense concentration, trance, and ultimately transcendence of the dual plane."
Price: volunteer
Where: Aushadhi
Address: Paseo de las Delicias, 47-51 passage. Madrid
More information: http://www.aushadhiyoga.com/
Taller anti-stress and relaxation
Workshop anti-stress and of relaxation of two hours that uses various tools of the yoga and of others running to dissolve the stress. It is intended as a playful experience of self-knowledge and relaxation that also improves in the way of managing the stress in the future. Adequate workshop for those who want to enjoy a relaxed and happy weekend.
Price: €15 (necessary to book space)
Contact: 622 339 881 T. info@espacioimpulso.es
Where: Momentum space. Cardedeu (Barcelona)
More information: http://www.espacioimpulso.es/es/area-salud/taller-antiestres.html
Yoga therapy training: Module III
Saturday 22 of February: dorsal and shoulder: study of the anatomy of shoulders and spine dorsal. How to integrate the articulation of the shoulder in case of injury, asanas special and adaptations, creation of specific sequences.
Sunday 23 of February: wrists and neck: study of the anatomy of the wrist. We will address how to treat injuries. Syndrome of the tunnel carpal, strengthen and stretch the articulation of the wrist as sequencing protecting and reinforcing the doll. Anatomy and injuries of neck.
Where: Sangha Yoga. Calle Ginesta, 14. Castelldefels (Barcelona)
Price: 160 €
More information: http://www.sanghayoga.es/
Bhakti Yoga
Bid, kirtan, and epics of India mother full of wisdom. Want to share with you a way of practicing yoga (a form of join, of create synergy and harmony) based in the love... We will receive to the divine in the home of our hearts with a bid; ceremony devotional recommended by Sankaracharya (Godfather of the philosophy Vedanta and founder of the order of the swamis) as the form offering more satvica (pure).
Summarize the Mahabharata or the Ramayana, epics that are lost in the mists of time, full of love, you jealousies, noble beings and other not so much... the life... Each detail has symbolism and a message for the human being to listen to. Steeped in the history you'll melody. Sing with passion, do sprout as a practice more love of the more deep the Anahata Chakra (Energy Center of love)... and dissolve us in the silence of the universe... while life still dancing. We will learn to grow as forms of Bhakti Yoga:
Kirtanam: sing to the magic of life, the divine
Smaranam: I remember continuous of Divinity in all its forms
Padashevanam: Guru or made on behalf of the divine service
Archanam: ritual worship and offerings
Bandanam: mental worship of everything that surrounds us (yobjetos people) as manifested forms of divinity
ATMA-nivedanam: attitude of total surrender to the divine will
Sakhyam: Divinity is your confidant and friend
Suadhiaya: study of the Scriptures
In this workshop, very interesting for yoga teachers, we will explain the process of transformation of Bhakti Yoga to meet the needs of the human being know see and recognize the divine from the Satya Yuga to the Kali Yuga (present tense of insufficient awareness and sensitivity). Bring an offering of flowers, fruits or sweet pure. Bring your personal items to load magic... and bring your heart. Fall in love with the life - Re-descubre your heart.
Opening hours: 18.30 to 21 h.
Price: 25 € (previous entry).
Where: Yoga Art Studio. San Lorenzo de El Escorial (Madrid)
More information: http://www.yogaartstudio.com/
Intensive Yoga "Expansion of the heart"
Positions of extension towards back and opening of shoulders. Level generates.
Price: €30
It teaches: Igor's grace. Igordegrc@yahoo.es
Where: Akasayoga. C / Espoz and Mina, 3. Madrid
More information: http://akasayoga.com/
Workshop "Rasas game" (flavours)
Game of scoops (flavors): Chutney, dance of taste in the mouth! The spices are real medicines in our kitchen. In the workshop "Rasas game" we will use them to take advantage of all its benefits in the development of chutneys, a kind of jam jam, widely used in India, all an explosion of flavor, accompanying different dishes. Will create choreographies of aromas, colors and flavors thanks to the turmeric, the ginger, the mustard, the fennel, the cumin, the cilantro, the cardamom, the cinnamon, the chilli, them peppers... would not is you makes already water it mouth?
In the workshop will understand the great importance of the presence of them shallow (flavors) and them gunas (qualities, attributes) of them foods that eat daily, how us help to maintain or recover the strengthening of our body. The six flavors have to be present in the food of all them days according to the Ayurveda. They favor the equilibrium of the doshas. The spices Ayurvedic are a great treasure, created a dance of colors exotic and scents intoxicating in your food. A feast for the senses of sight, smell and taste. Book now your place because they are limited and fly!
Opening hours: from 15:30 to 20:30 h
Contact: Susana Fumis. T 91 57 43 780-630 84 66 71 sukhaayurveda@gmail.com
Where: Sukha Center Ayurveda c / Ibiza - area retreat/Salamanca. Madrid
More webmaster: http://sukhacentroayurveda.com/
Yoga Nidra
Workshop taught by Juan Pelaez. Conscious sleep allows us to find resources to carry out the changes we need.
Price: €10
Where: Siddhartha Yoga. Avda liberty, 75. Elche (Alicante)
More information: www.sidhartayoga.com
Sunday, February 23
Meeting with the Cape of Gata
You invite you to discover the Park Natural Cape of Gata from another perspective. A protected space which keeps sites highly energetic. We will have a proposal to the month, from December to June. Becomes our third route. Of them black to the cala de San Pedro. A path and a space for a wonderful beauty, where you can recharge and connect with our heart. With different proposals throughout the day, to raise our vibration and our Joie de vivre. Meditations, sounds aware, mantras and chants sacred, works with the Earth...
Contribution: €18. (unemployed: 15). Children do not pay. We will share car to go and eaten take-out. What to bring:
Beach towel and a pad to sit.
Comfortable clothing and shelter.
Food.
Desire's share, enjoy and pass it well.
There will be two meeting points, one to 9 in the Palm Grove, in Almeria capital, and another at 10 o'clock in the commercial centre of the village of Las Negras. It is necessary to confirm your reservation. You can do it to our email, indicating your name and surname, if you have a car-sharing and the meeting point where you'll be.
It organizes: Association Merkhaba. info@merkhaba.com. Tel: 606 506 540.
More information: http://merkhaba.com/es/
Training in Yoga dynamic with José Luis Cabezas
Based on the method of Godfrey Devereux, José Luis Cabezas, only one of the two teachers senior method training Yoga dynamic who teaches in Spanish and gives courses and training around the world, writing books and articles on Yoga network. This course is suitable and preferred for all the levels, from total beginners to teachers of all the styles. Adapted to the individual, all are profound benefits.
Each day includes eight hours of training with a rest. This training course is 200 hours, certified method training Yoga dynamic Yoga Register e IYN agencies and international guarantees. He make the course full (sept-jul) satisfactorily you gives the possibility of register you in the Yoga Register and count with certification endorsed and supported legally internationally.
Where: Center of natural therapies and development staff aquamarine
Address: C / Luzarra, 18-2 º Bilbao / Deusto
Facebook: Aguamarinabilbao / tWitter @aguamarinabilbo / phone Nums. 944759164 699 32 23 20
More information: http://aguamarinabilbao.blogspot.com.es/
Workshop for Vinyasa and Yin Yoga
Three hours of practical yogic workshop to tune with the psychophysical aspects of the winter season. We will work to invigorate the dense qualities and increase the flow of energy to the meridians of kidney, Vinyasa and Yin Yoga. The practice is complete with aspects of contemplation, mudras and pranayama. Open to practitioners and teachers of all the styles and experiences.
Price: € 30 booking: 682 742 922 diananaya@hotmail.com.
Where: Center of Yoga Arati (C / Martin de Vargas 26, Metro ambassadors) Madrid
More information: http://www.samyamayoga.es/
Yoga Workshop for rest and sleep
Sequences, postures, breathing, and notions for closer to the physiology of relaxation from science and restorative Yoga, and thus further the quality and repair intelligence of the organism.
Opening hours: from 17:00 to 19:30
Where: Center of Yoga Arati. C/Martin de Vargas 26, Metro ambassadors. Madrid
Price: €25
Reservations: diananaya@hotmail.com 682 742 922
More information: http://www.samyamayoga.es/