Stories to share: A month teaching at the India
For me, yoga is the noble art of the self-knowledge that opens towards the universe. Science is the noble art of the knowledge of the world that surrounds us. Both are passions that move my life. Apparently they are remote, but in reality are interconnected by the research. Writes Sara Cogliati.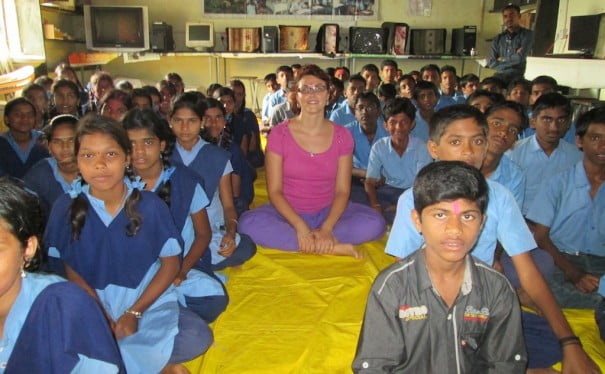 With this strong motivation I returned to India, after two years. I have spent two months special and intense. Thanks to my two passions I have lived an unforgettable experience. This is the story of the first part of my trip.
Bhaje Malavli, Poynad, Bal Asha Ghar, Bhambarde, Shel-Pimpal Gaon. On the map are the names of villages in Maharashtra. For many children and Indian guys are the place to live a safe and happy life where they develop their own future. On these sites you will find some of the centers Samparc (www.samparc-india.org), an Indian Association that 20 years dealing with orphaned children or coming from families affected by alcoholism and prostitution, providing its support, training and giving them affection and love like in a real family. Children can sponsor and go directly to the India meeting.
"We started without money and without anyone who will work with us, but we are confident that our idea became a reality," he told me Amit Banerjee, founder of the Association Samparc. Initiated so the road that has led from a House of adobe with seven children until today, with 600 girls and boys between them 4 and 17 years, ten centers, a center of training professional, a school and a hospital. The first children now arriving are young adults, with their diplomas, its works and some you have already created their own family. The Samparc already have grandchildren!
A course in applied science
I met this Association two years ago, during my first trip to the India, and I was fascinated by the eyes of the children, by his joy and beautiful work of these centers. So I decided to go back and give my small contribution: a course of Science School of the Centre Samparc de Bambharde, a tribal area of mountains.
This school has a unique history: one day Amit Banerjee was found, during a tour 16 years ago, with a couple who was trying to get to a hospital because his son had contracted a serious infection. The child had an injury treated with urine of cow, popular tradition. Small died before reaching the hospital before the eyes of Banerjee, who decided to build a school to prevent other tragedies due to lack of information. By a curious coincidence of destiny, it was in that place where di science course to teach children the important thing is to wash your hands to prevent infection.
After the theoretical classes, did an experiment that consisted of touching a plate with a substance suitable for bacterial culture before and after washing your hands with water and SOAP at the end of the day. Children participated in the experiment with great interest. Those results, obvious to me, for they were exciting! Indeed, after washing hands, bacterial growth decreased dramatically, proving the important health of this simple habit. Them results them caused an impression so positive that I made many questions.
I don't know if this will really introduce a major change in habits or if everyone will do it. But perhaps Yes provide greater awareness among children for the prevention of serious problems such as infections. Perhaps that consciousness carry home or to their future children. Perhaps it is only a seed to the wind that one day will bear their fruit.
I'll take the memory of curiosity and surprise on their faces: the best reward.
After a month spent with children from Samparc, my trip continued to Rishikesh, the ashram of Swami Rama, of the tradition of Himalayas, for an intense journey inward.
Sara Cogliati He was born in Milan and now works in Madrid as a biologist at the national centre of cardiovascular research. Live yoga as a constant inspiration. With this momentum was two months in the India to teach science to children of an NGO and make a sadhana in the ashram of Swami Rama of the Himalayan tradition.