Kirtan and singing Vedic in the next appointment of the AEPY
Would you like to discover the mystery of kirtan and the sacredness of the Vedic chant? There are two powerful reasons for you, don't miss the weekend of the 22, 23 and 24 November in Llíria, Valencia, the national meeting of AEPY devoted to "Alternative of transformation".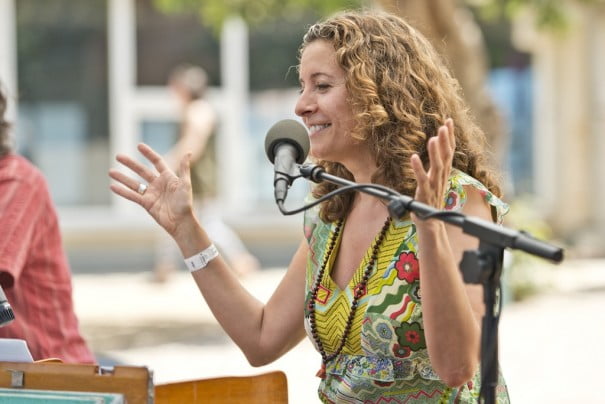 This will be a meeting full of interest, as we reported in a previous article (read it here). But the opportunity to hear the songs of Carme slope and Nuria Vinyals they make it an experience that can be profoundly joyful and even transformative. We offer a preview, in the words of Núria and Carme.
Carme slope explains the mystery of the Kirtan
"We want it to catch with" our mind and free fly with sound waves. We want to sing and explain the meaning of mantras, and what surprises us. It is so easy, so nice to plunge into collective singing, the vibration of the choir, that amazes us each time that we participate.
Sometimes we reach the State of assimilation (Pratiahara), sometimes the body asked to dance, to balance, to get rid of suffering, sometimes immersed in the sound vibration, it seems that we are not, we are not "me" single are "all together singing", a larger than us, OOOmmmm huge and powerful, which embraces us as a mother and us acuna in his lap of peace.
If you have ever had the pleasure of singing in a Kirtan, you have perhaps already experienced it, you know it, you have exceeded the initial suspicion of the unknown technique. But how to explain it with words? The difficult thing is to pass it on to others, how to recommend it, how to apply it in our classes if they focus on the asana. Because the Kirtan is probably the technique of yoga awakening more misgivings at first and is more associated to the "I have come to do a yoga class, has not sing this to not be mean and that sounds to me like sect".
Why you would say that simply you open your heart and to get... It is even likely that in your first Kirtan you don't deliver, that you're watching, because it's embarrassed to sing, so without knowing master voice, without the knowledge of the letters, without knowing the melodies, without relying. Try it, sing we all have, over the array of mantras participates in the feast of bhakti yoga, yoga easier and more difficult to achieve because it requires delivery of heart. You will not do or badly or well, because it is not measured by that standard, no one will not judge because we are all together without soloists or mirrors.
You can come to find out in Valencia - Lliria, at the national meeting of AEPY to be held on 22, 23 and 24 November 2013. It will be a special moment to meet different teachers and techniques. "Transformation alternatives" is the title and the Kirtan, the Naad, yoga is one of them. There are going to be together enjoying a space of time to celebrate that the groups have more than ever valid, as the unit is a goal in our daily life and yoga.
Many years ago, when I still didn't know that my song was going to be delivered to yoga, in the Palau de la Música I saw one of the last concerts of Camarón de la Isla. Overwhelmed by the weight of the modernist sculptures, began the concert with a premonitory and simple phrase: "Let's see if we are lucky".
Well, let's see if we are lucky to get that the Goblin, to more jondo, which the magic BREW at an important party. If this is the case, we will not have much merit, really. Because what happens is beyond self, of us, what you sing, the mantra, and that is the great mystery."
Carme Nalini (Carme slope) is singer mantras and kirtan www.carmenalini.com https://www.facebook.com/carme.nalini
Yoga teacher, Director of the Centre Narayana. Graduate in modern music, Professor of singing (superior Conservatory of the Liceu), actress (Dagoll Dagom) www.carmecuesta.com
Núria Vinyals puts us in contact with the Vedic chant
"In the" Yoga-Sutra Patanjali's we can find some ideas that are indispensable. In fact, they are not ideas, they are conceptions. They are real achievements of human consciousness in their progress and their desire to evolve toward a State of beauty, goodness and light.
One of these concepts express the following fundamental principle: 'Through prolonged contact with the object of meditation come to acquire its qualities '. We could spend much time trying to understand the complexity and wealth that are in this sentence. We'll stay here with one of their possible developments:
There is a deep yearning for change in the practitioner.
This person who want to evolve, means that you can do it by itself.
This person establishes a link with another person, or an entity, and keeps it.
Through this link will be something new that will enable the person to change.
Namely, there is the possibility of establishing a stable, powerful and highly positive link with something that has the ability to transform us. This is the essence of the Vedic chant, the singing of sacred mantras that was born in the India more than 2000 years ago and which remains alive, intact.
Its name comes from Veda, which means knowledge. In some old time and no definable some sages, the rshi, were able to establish a special link with something still more special. They went into a deep state of meditation and from that single State reached a full understanding that also included a boost: the need to transmit it.
The knowledge that originated the Vedas and keeps them alive has two orientations: one is that of the applicant who receives, the other is the master who gives. They are inseparable and occur spontaneously in the context of education, which is always a transmission.
When we recite Vedic mantras we create a link, not exactly with those early scholars, but with his extraordinary ability to listen. That listening to the rshi, which becomes intelligible through the Sung Word, expresses an original, creative, and high-purity. Is this what you connect when we chant mantras in the right way; It is this prolonged contact with something highly positive which will result in the person who recites a substantial change.
All the mantras are concentrated in one, that mantra give birth to all of them. The first syllable is identical to the divine principle from which emerged the creation considered. That mantra has only two letters and It vibrates in the center of everything that exists. The teacher who teaches it and student who repeats it enter a space that is not a space, a time which is not time. Maybe only for a moment, but it's an experience repeatable that surely will come to trace.
Nuria Vinyals It is a yoga teacher formed by Montserrat Serra and recognized by the AEPY and by the Krishnamacharya Yoga Mandiram (KYM). Vedic chant teacher formed by the KYM. Seven years ago that is dedicated to the teaching of yoga and Vedic chant. He regularly travels to Belgium and the India to continue their training. nuriavinyals@telefonica.net