Interview with Harmony Hannigan: "partner yoga allows sensory communication"
In partner yoga provides an opportunity for each person to define itself, at the same time that allows you to connect with other people. We explore a deep communication based on conscious touch, listening, respect and the search for the union. Yoga online interview with couple Harmony Hannigan yoga specialist.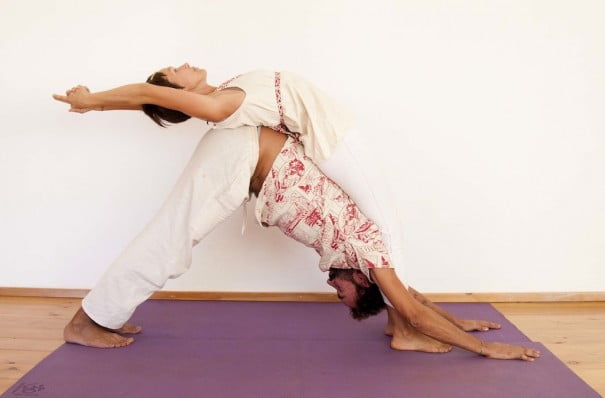 "The greatest benefit for our growth and consciousness comes from our
desire to see ourselves in the honest reflection of others"
Elysabeth Williamson
In its proposal of partner yoga, Harmony Hannigan "samana bhavana", highlights the State or attitude of the Center balancing, where, since the inner connection, one can express and move this State to the relationship with the partner. The work is very revealing - ensures Harmony - insofar as it allows us to explore the relationship between parents and children, lovers, coworkers and brothers without distinction.
What level of practice is advisable to obtain the benefits of yoga in couple?
Couples yoga you can practice without prior Yoga experience, since there are postures and simple techniques that also convey the essence of the practice and bring immediate benefits to physical and subtle level.
What those benefits stand out, yoga as a couple?
He works at all levels. As yoga is a total exploration of the self from the physical to the subtle, this approach also makes it. What sets apart it from a practiced single is the potential which has a physical level expand strength and flexibility. It also allows the individual to work much more to mental and emotional, since it explores trust, listening, respect and communication with each other. Working with privacy, opens an analysis of where us is more difficult, limitations or fears appear where and with whom. The fact of change of partner also allows us to observe our behavior with different people.
Do I have to attend your workshops as a couple?
It is not essential to come with a companion. In each workshop, there is a chance to work with each person who attends, to be able to explore the work with participants of different height, weight and individual characteristics. And then, in another practice, we focus on work with a single person, to explore the intimacy. This intimacy is something that we can experiment with another individual, regardless of our relationship with him or her. In yoga as a couple we can practice with your partner, or with a friend, also a son or a father. Achieved intimacy then allows a communication from another place, which is beneficial in all relationships.
How explores a relationship doing yoga as a couple?
At the physical level, partner yoga offers us an opportunity to a sensory communication in everyday life we do not allow, and this on a level of confidence encouraged by a common purpose. Touch and gaze are two key elements that allows practitioners to connect and communicate more deeply.
Are difficult or potentially exercises?
There is any position that may be more demanding for anyone, but for the purpose that each individual communicate and work from its possibilities. The couple will adjust itself posture (with the direction of the teachers) so the work appropriate to their needs. In the case of a couple physically very different is required greater communication and adjustment. The person who has more flexibility can work less at some point, but will on the other hand sharpen listening and respect for the needs of the other, which is a very important value.
What can bring me know yoga partner if I have no partner?
We are individuals who live in society, which means that maintain relationships with many people. Those relationships are not always harmonious and straightforward, because many elements of our shadow as fear, insecurity, etc., and therefore appear conflicts and difficulties in communication. Partner yoga includes observation of self in the spontaneous another reflex, and the dialog window that appears through the safe opening which we establish in the mat is important matter for reflection and action in daily life.
Partner in City Yoga Yoga Workshop

Taught by: Audrey Fiorini and Harmony Hannigan

Date: November 9

Opening hours: 10-14 h

Price: €40 individuals / couples €70

Audrey and Harmony they met at Rishikesh in 2000, studying with Swami Vivekananda Saraswati. Their careers have taken them through different paths and teachers but collaborate regularly giving courses in France and Spain.

Audrey has its school of yoga, in Britain. It is also healing, highlighting their formations Jin Shin Jyutsu, which also includes in its yoga classes and therapist. The couple work is the result of his own experience and has also studied with Daniel Scott.

Harmony offers formations of Yoga and personal development in the Sierra de Gredos. She holds a degree in psychology and his experience in different forms of massage, especially Thai massage, along with its participation in courses of Tantra. They have also contributed to the exploration of the field of yoga as a couple.