Premiere: Monday is born 'Yoga inside', guided video practices
'YOGA AT HOME' is a channel of practice guided video arising from the collaboration between the magazine Yoga network and channel online Aomm.tv yoga classes. The desire that drives this project is to show how to bring the benefits of yoga everyday, in order to increase the well-being of each person. On Monday, the first practice!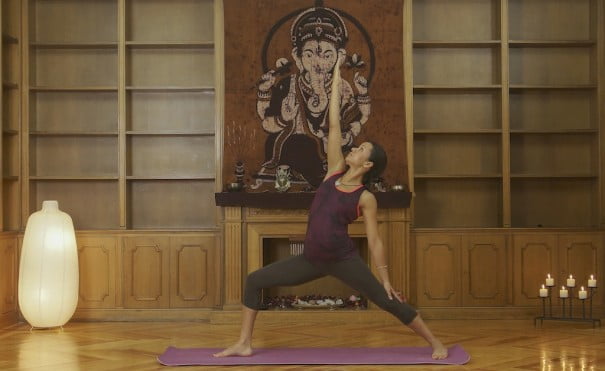 'YOGA INSIDE' There are classes to improve our practice of yoga; they are yoga practices to improve our lives. The videos aim to teach us to apply the rich tools of yoga to our specific needs or everyday problems, with the aim of achieving a higher level of well-being.
How to prevent colds? Which exercises improve my back discomfort? What breathing should get rid of stress? How to handle my uncertainties and concerns? What asanas that suit me to sleep better? How to open I more love and trust? What practices I benefit in autumn?
Yoga has valuable answers for a large part of the problems and dilemmas of our daily lives. And that's what 'YOGA at home' wants to show to you, practitioner of any level, in the privacy of your home.
To achieve its objective, 'YOGA at home' production will be with the collaboration of excellent teachers and specialists they will create and guide you each practice, adding all its experience, knowledge and populariser enthusiasm to this project.
Next guided practices
On Monday, November 11 will make the joint launch of 'YOGA at home' by Aomm.TV and Yoga network, with the publication of the first video: "Flows with your breath", specially designed and guided practice by Elizabeth Ward. Founder and Director of the Center Anandamaya yoga, Isabel has 12 years giving yoga class. Diaz, Danilo Hernández, Jorge Carballal and Lula gray, was formed with José Manuel Vázquez, friendly among others.
The realization of the videos has been in charge of the production company Iconik (www.iconik.es).
This first video that we will be launching and reporting will happen you every two weeks, both the Aomm.tv channel in the online magazine Yoga network and their respective social networks.
Here is a preview of the following three:
Practice for the fall: prevent colds and decay.
Breathing for a perfect relaxation.
Cared for and relax your spine.
A production-sharing
'YOGA at home' is a co-production in video born of cooperation between channel online Aomm.tv yoga classes and the magazine Yoga network, two channels of dissemination of yoga which celebrated eagerly, with this joint project, its first year of life.
—AOMM. TV It is a platform that offers classes and practices guided Yoga online of different durations, styles, levels and goals can be practiced when and where you want.
—YOGA NETWORK It is a magazine of yoga independent online, with almost thousand published articles, which has become the most frequented means of communication and broadcasting in its sector: nearly 25,000 visits and more than 45,000 page views each month.