Interview with Susana García Blanco: "There is no learning without full confidence in the teacher"
It is defined as the "Yogini, surfing, traveling, student of life". Yoga has been the essence of his life for more than 15 years. It is the first certified teacher of Anusara in Spain. Interview Yoga network.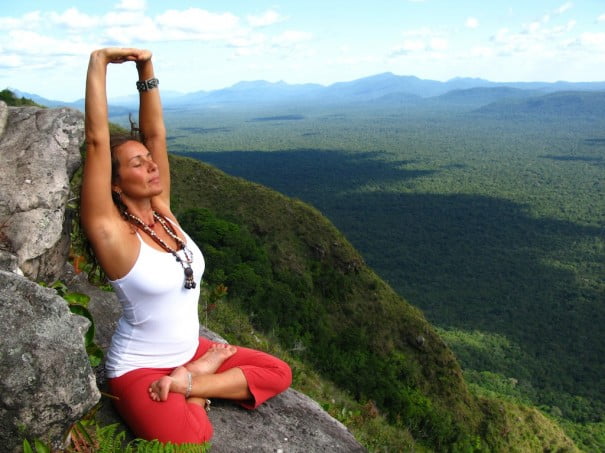 In love of the sea, is a connection and freedom deep through the surf, and often organizes retreats that combine these two practices. With base in Morocco, Susana says: "I feel rooted in the simplicity of my new life in Africa." Yoga is for me the adventure of life when you live it from the highest".
Susana teaches intensive of Anusara, immersions and teacher training in Spain and internationally. "But I like explore other styles of yoga and therapies body and since end of 2012 am also Professor certified of Acroyoga." I practice the art of Thai massage, who studied with teachers from the Sunshine Network, especially inspired by Krishnatakis and Kaline".
On 5 and 6 October Susana García Blanco will be in City Yoga of Madrid. More about it: www.rasalilayoga.com
What contributions of Anusara Yoga you find on other schools of yoga or yoga in general?
There are several contributions important. An of them is that us about to which for me is the philosophy of the yoga that more is adapted to the times in which live: it philosophy Tantric. He Tantra has been in the culture hindu a philosophy say alternative, not something of them large masses as have been more the Vedanta or the running of the Bhakti, and has remained pretty hidden.
On the one hand, John Friend had the ability of convey this philosophy super evolved of a form completely affordable for all. Also have had the fortune of count with Yogis academic incredible, with which I had the privilege of study very directly, as Douglas Brooks, Sally Kempton, Bill Mahoney, Carlos Pomeda, Paul Muller-Ortega, that have worked hard for many of them texts and teachings Tantric is have translated to the English and is are transmitting of a form direct, precise, refined creating a true revolution in our practices and our lives.
On the other hand, Anusara yoga offers a particular alignment that provides great benefits. We use five principles that we call universal principles of alignment. These can be used therapeutically (making that your yoga is a form of healing) but also to advance in your practice of postures more advanced. In addition, lI principles allow freeing the mind of instructions complex, Since the same principles are applied in all the situations.
Finally Anusara yoga places great emphasis on the Kula, the community of the heart. I think this is also important at this time in the we felt so clearly that everything and everyone are so interrelated.
How resumirías the main values of the Anusara in the different dimensions of the person: physical, emotional, mental, spiritual?
One of the main premises of the Tantric philosophy is that everything in the universe is a unique energy at different frequencies of manifestation. Your body, your mind, your emotions, your experiences spiritual more subtle, all them, are the power divine in different States of condensation, of the same form that the water is water already is in form of steam, liquid or ice or although take the form of an ocean, a lake in calm or a shower of summer.
This has big implications in our yoga practice: takes us to honor the body as something divine and make our practice look no further subjugate him but align it in the most harmonious way and in line with the possible nature. The same is true with the mind, desires, emotions... It is not avoid them, delete them, but learn to see in them the dance of Supreme consciousness.
What do you think they go looking for students when they arrive to your classes?
To my classes comes all sorts of people. Beginners come very well without knowing what they will find. Come in too many students and teachers of yoga with many hours of practice and search who want to find more clarity for your asanas, inspiration for his sadhana and his personal life and a refinement of his understanding of yoga philosophy.
Also come to Anusara with injury people looking for the therapeutic value of the principles of universal alignment.
Anusara is a 'modern' yoga. What distinguishes it from other styles that emerge in the West and seeking more fun than the cultivation of the spirit or the awakening of the consciousness and the physical challenge?
I don't like so much talk of differences between the various yoga but their contributions. Yoga is so broad that there can be a style that it covers everything. It would indeed be impossible because there are roads that are even opposite and contradictory in yoga.
Something that characterizes Anusara yoga is that, on the one hand, there is great emphasis in physical practice, both the alignment and intensity, but at the same time there is also a large devotional component. It is important to remember that as Yogis, we are at the service of the Shakti, the manifestadora energy of this universe.
The three are always present in a kind of Anusara marl (roads) of yoga that Krishna teaches Arjuna in the Bhagavad Gita.
Karma yoga, the yoga of action, found in the pursuit of the action balanced in our asanas through the alignment and also in the implementation in practice of the Tantric philosophy in community, in society, in our lives.
Bhakti yoga, the yoga of devotion, is already present in the first principle of Alineaminento that we call "Open to grace". There is an element of trust in something larger, offering, deep delivery. In each class there is an intention, a dedication of the practice that gives a meaning far beyond the merely physical.
The Jnana yoga, the yoga of knowledge, is manifested in the precision of the alignment and the study of the sacred texts and philosophy that are included as subjects in classes.
How do you conceive from Anusara, spirituality and practice?
The word Anusara It means "flow with the universal energy" or "flow with the currents of the heart". The practice of yoga begins with listening (to which I referred also as the Prime principle of alignment). Us are going doing more sensitive to that energy universal (would have thousand forms of call it) and gradually we align with she of the best way possible.
In moments of great alignment achieved two major goals of yoga that are CIT (self-awareness, the memory of who we are in reality, that it is not another thing that Supreme consciousness taking shape) and Ananda (the absolute Bliss which is intrinsic to this universe and experience each time that we realize that it is our own nature).
Tantra says that you as divine beings that we are, we are co-creators in this universe. The beginning of the creation of the universe say already the Vedas that is Kama, the wish. How to learn to use the desire as the power behind every creation process and how to choose desires lead us to a greater alignment, that is yoga.
There is a word in Sanskrit Iccha Shakti, representing the divine will, divine desire. The process of yoga is doing (raga) limited wishes that bring contraction and suffering to take step to the true wishes of the heart, from which everything that is manifested is abundance, beauty, expansion.
I'd like to add something briefly that it would give to an entire interview but I don't want to mention. For me, currently, spirituality is closely related to the cult to the goddess, the feminine in all its forms. This permeates my internship, my life and my way of teaching.
One of the values of Anusara is the eyes of the individual have returned to the community of human beings and to solidarity, as means and end of growth. What do you think of the social sense of the yoga?
Never as now the human being has felt so interconnected forming part of the same ¨red". I use that word on purpose, since we are all immersed in social networks and the inner life of people participating in the same second that things happen. Up to your magazine is called Yoga network. But it goes beyond.
Sorry for the interconnection, how our practices affect our environment. The time of ascetics retreating to a cave or forest to do yoga became. My master Douglas Brooks says that "the lighting is a process collective". No can do it alone. We should not do it alone. Many of them moments of lighting come of a share with beings that, like us, are in the road of it experimentation aware of your be. Of course, this not us relieves of our own responsibility and discipline, but even gives a responsibility extra at the time of practice our yoga. Not only our evolution but the collective depends on of us.
What the present time of the Anusara community, after going left behind personal errors of its founder?
It has been a very hard time in which all have grown. I see it as a passage from adolescence to adulthood. Each of us has had to question every practice, every teaching and that has made us evolve. The wounds have closed and right now we are operating as Anusara School of Hatha Yoga, an organization created and carried out by teachers in Anusara yoga to transmit these teachings that we consider valuable.
Despite his mistakes, we should be grateful to John for having created this system of yoga that is helping so many people. Teachings are alive, do not belong to one person in particular and shows it the growing interest in Anusara.
How do you resumirías to what is yoga for you, how you want to live it?
I can not conceive my life without yoga. When you're a Yogi, everything is yoga. Not only your meditation of it tomorrow and your practice everyday, but every interaction, every project, every contemplation, each experience.
Yoga is to enter to participate consciously in this game of consciousness that is the universe. Her life is full of meaning, is made more magical because you see the movement of the Shakti in all them things.
In recent years there is another practice that is part of my life: the surf. In reality there is no difference. It is a great yoga. Contact with the ocean constantly reminds me of the magnificence of this universe, is a test of my physical and mental strength, give me hard challenges as well as moments of indescribable ecstasy. It is an experience of the Supreme from the more subtle to the more dense.
How do I want to live my yoga? Like this. From the inside out, diving into the depths of my being to go at all times, connecting with my wishes and my dharma and participating from there; and feeding me from the outside inward, making things that inspire me and like me, surrounding me nature and beautiful beings, that remind me how wonderful this incarnation.
What say you to a person who is trying to decide what style or yoga school choose to begin practicing?
Try different styles and be guided by a balanced mix of intuition and reason when choosing. There are moments in which one simply feels it is in the place with the right people. Whenever I found a teacher I have felt it in my first encounter, as if an ancient light thread connecting us.
A style of yoga that connect is important but so is the personal connection with the maestro. It is important to be with someone who inspires you really practice and get better. But it is also important to know what the lineage that is, what is your background, to let us give ourselves to learning. There is no possible learning without full confidence in the master.
Another thing that has led me to follow a practice is to see the effects of that practice in particular. What the people who practice this? How is your life, your power? They seem happy, compassionate? Is his shiny look?
What is an immersion of Anusara yoga and what is its objective?
The immersion of Anusara yoga is an intensive course of 108 hours in which is practised to be a student of yoga. It is a time of deepening, not only in the practice of Anusara and his particular style of alignment, but in the philosophy of yoga, Anatomy, pranayama, meditation. The idea of immersion comes to fill the gap for those who want to delve into yoga but don't want to go through the experience of a teacher training which in theory should learn to teach yoga. Dip is also a prerequisite to the formation of teachers of Anusara yoga.
Tell us how are formations of Anusara Yoga.
The entire process of formation of Anusara yoga includes dip, then the own teacher training. Both are beautiful courses. In the dive you are a student with the possibility of drinking from the source of the teachings of yoga; in the part of teacher training, didactic tools that let you teach a class weaving instructions biomechanical with philosophical issues and qualities of the heart, adjustments are effective, to therapeutically to help the students we teach. My experience is that people enjoy much of the formations and the tools you receive to serve not only for your yoga classes but to your personal growth and anything else you wish to teach.