Book: Quiet and attentive like a frog
Today's kids tend to be restless and scattered. Costs some asleep, others are even stressed. How to help them to calm down and relax? How to achieve that she focus on what they do? Meditation is a simple and effective tool. This book explains it.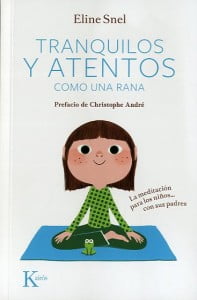 Quiet and attentive like a frog (editorial Kairos) offers stories and brief and simple exercises that children can practice on a daily basis. It is aimed at children from 5 to 12 years and their parents, who may accompany them in their practice. It includes a CD with guided meditations.
The author, Eline Snel, has based their techniques in mindfulness developed method by Jon Kabat-Zinn. The results have shown that children who practice these exercises sleep better, are more concentrated and serene and feel more secure.
Eline Snel is a Dutch therapist who has developed a specific method of meditation for children. Founder of the Dutch Academy for the teaching of the full attention, provides training courses for teachers, psychologists, parents and children. The advantages of the method that has been implemented are such that the Ministry of education of the Netherlands has decided to offer this training to all teachers who wish to do so.
"The effects are visible: children feel more secure, they sleep better, they are more friendly." Teachers, who also say they feel better, find a calmer atmosphere in class, more concentration and a greater opening.», said the newspaper Le Monde.
«The mildfuness is the ability of the mind to pay attention to what is, here and now, being fully aware of every moment that we live.» It represents the basis of numerous meditative approaches, in which we learn to protect it, develop it and strengthen it. Recent scientific studies have highlighted its effectiveness, and it is most widely used in medicine and psychotherapy,"he says. Christophe André in the preface to the book.
Quiet and attentive like a frog has it been translated into several languages and the French Edition has sold 30,000 copies.
Acts in parallel
Upcoming events that will have on the occasion of the publication of the book with the presence of the author:
-26 September at 19:00: Presentation at the House of el Llibre
Place: Rambla Catalunya, 37, Barcelona presented A. Torrijos and Agustí Pániker, editor.
-27 17:35 to 19:30 September: Mindfulness workshop for children
Place: Jonqueres, 8, esc to low - 1, Barcelona for professional education and children's health.