VII Congress of Yoga of the Costa del Sol
Of the 20 to the 22 of September is celebrates in Marbella, in the Palace of fairs and congresses, the seventh edition of the Congress of Yoga of the coast of the Sun, with the participation of the Professor international of yoga Ximena Gutierrez.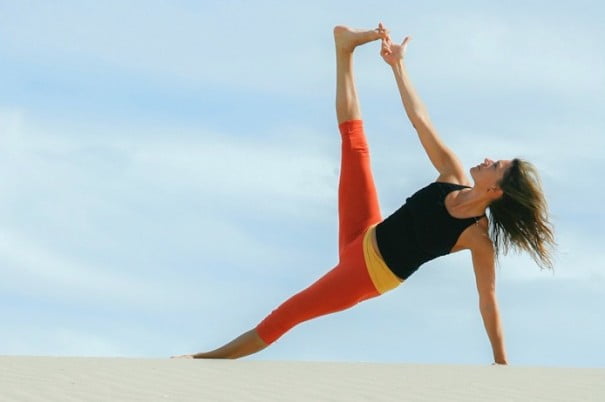 Coinciding with the end of the summer, the town Malaga is converted again in the greater point of find to level European of practitioners, professional and lovers of this form of understand the life with 40 centuries of antiquity that is the yoga.
His original promoter, Victor M. Flores (alter ego of) Senge Dorje) and creator of the Institute of studies of Yoga, Centre for the dissemination of this discipline, gathers in this call to more than 40 teachers, artists, musicians and intellectuals of this "movement towards liberation and consciousness".
The Congress is free (e) independent lineages, schools or federations.
As usual, will count with the presence of Calle Ramiroauthor of more than 200 works and whose collaboration with flowers has culminated in the issue of Where to meditate the trees, recently published by ARC Press book.
Also in this edition will be the presence of the yoga teacher Ximena Gutierrez, Nicaraguan world and teacher of yoga certified by Jivanmukti lineage and the Khalsa Way method of prenatal techniques, that it will give two workshops.
There will be two rooms for those who are approaching yoga for the first time, and spaces will also be enabled to provide more delicate as rehabilitation, yoga or yoga workshops for children. In other rooms, the most regular and most experienced practitioner will also find your space to enjoy different lineages and schools, teachers sharing one root that unites what spreading the branch. They are the two multi-level rooms.
En la sala de Meditación habrá un encuentro con el yoga de la mente, así como conferencias y mesas redondas.
El salón de actos será el protagonista de un encuentro con la música, el espectáculo, la danza, la poesía y donde Ramiro Calle clausurará el Congreso del año 2013
The program
Sala 1: Master
Viernes 20
17.00- 18.00 Chris Lavalle, Argentina (meditación creativa risoterapéutica)
18.00-19.00 Sylvia Shazadi, España (Taller de danza del vientre)
19.00-20.00 Christine Mc Ardle Oquendo, USA (Om Shree Om)
Sábado 21
10.30-12.00 Carola Polo, España (Método Iyengar)
12.00-14.00 Ximena Gutierrez, centro Buen Karma-Nicaragua (Jivamukti yoga: el camino del guerrero espiritual)
16.00-17.30 Javier Castro, España (Vinyasa Flow avanzado)
17.45-19.15 Victor M. Flores, Institute of studies of the Yoga-Spain (design of asanas and choreography in the sadhana)
19.15 20.30 Ramiro Calle, Spain (awareness, self-development and meditation)
Sunday 22
10.30-12.00 Lori Sjollema, Spain (Hatha yoga inspired by Anusara Yoga) * English, simultaneous translation
12.15-13.45 petra Lindros (Vinyasa flow)
Room 2: Multilevel to
Viernes 20
12.30-13.30 Antonio Damián Requena (muscle chains stretch)
17.00-18.00 Kirsty Wells (Yoga bugs) * in English
18.15 - 19.30 YoyYoga (Kundalini Yoga)
Sábado 21
10.30-11.30 Patricia Sanagu (Anusara Inspired)
11.30-12.30 esperanza Fernández Lago (Yoga of the meridians)
12.30-14.00 Jacqueline Girardin (Shakti Sadhana)
17.00-18.30 Miriam Aguilar Marin (balancing the five vayus)
18.30-20.00 Jose Gelices (Ashtanga Yoga)
Sunday 22
10.30-11.30 Lucas Benet (Anusara Yoga)
12.00-13.30 Ximena Gutierrez (Al vuelo)
Sala 3: Multinivel B
Viernes 20
12.30-13.30 Marta Rubio Castejon (Taller de hatha yoga)
17.00-18.00 David de la Calle Gebele (Yoga de la Calle)
18.15- 19.30 Merlyn Mantilla (Kundalini Yoga)
Sabado 21
10.00-11.00 Sergio Aragón Aranda (Yoga Profundo)
11.00-12.30 Noelia Gomez (Rehabilitación del suelo pélvico femenino)
12.30-14.00 Anand Rudra (Antiguo Tantra Kriya Yoga)
17.00-18.00 Belinda Christensen (Yoga&Music)
18.15- 19.30 Alicia Sanchez (Evolución y Esencia)
Sunday 22
10.00-11.00 Cayetana Rodenas (Rainbow Kids Yoga)
11.10-12.30 Escuela Sivananda Internacional (Asanas, pranayama)
12.30-13.30 Silvia Jaen (Shiva Yoga)
Sala 4: Meditación y conferencias
Viernes 20
18.00-19.30 Sat Tek Kaur (Mujer, yoga y estres)
Sabado 21
10.15-12.00 Amma (108 names of Amma meditation) meditation group
12.30-14.00 miguel Angel Cueto (emotional decoding)
17.00-18.00 Chris Lavalle (WaterYoga)
18.15 - 19.30 Marcel Pierlet (returning home: our vedantic mind)
Sunday 22
11.00-12.30 Dhanya Ruiz (bioenergetics: the soft-bodied as road)
12.45 – 14.15 Caitayacandra Das (Bhakti yoga)
Auditorium
Sabado 21
11:30-13:00 the Congress within the Congress. Round table: Pedagogy and yoga, Christine Mc Ardle Oquendo
13.45-14.30 Kinnara (Concierto in mantras)
18.30-19.15 Javier Molero (Sangita Yoga)
Sunday 22
11.15-12.15 Association Ecologico-cultural "jnana" (Hatha yoga and flamenco music)
12.30-13.15 Ad-Dunia (belly dance)
15.00-18.00 closing: Amayama concert and Conference Ramiro Calle, Ximena Gutiérrez and M. Vicctor
More information: