Tantric Hatha Yoga Workshop
¿Quieres tener la oportunidad de experimentar la profunda interrelación entre Hatha y Tantra? No te pierdas este curso especialmente recomendado a instructores y profesores de yoga, impartido por Michael J. Stewart. Días 27, 28 y 29 de septiembre. ¡Ultimas plazas!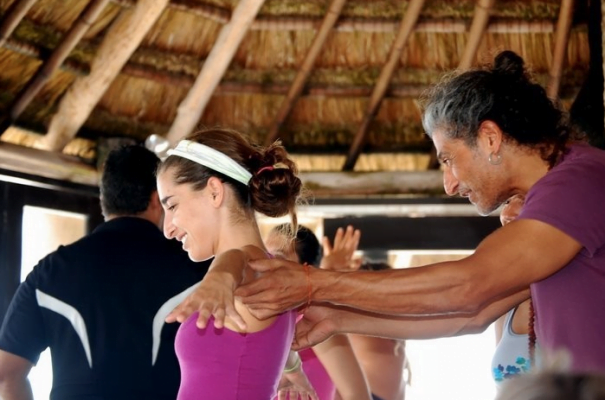 Tantra y Hatha Yoga están profundamente unidos entre sí por sus raíces. Hatha es una práctica poderosa que nos permite unir dos energías opuestas en una relación simbiótica de claridad y transformación. La palabra Tantra procede del sáncrito y su raíz significa "expansión".
He program is develops as a practice integrative of them different elements that make up the practice of the Hatha Yoga focusing is, above all, in the view Tantric.
La experiencia del Tantra busca la conexión entre lo trascendente o divino y nosotros mismos. Este taller está enfocado hacia la percepción sutil que nos permite dicha reconexión. Está dirigido a practicantes con cierto grado de conocimiento de Asana y Pranayama, y especialmente recomendado a Instructores y Profesores de Yoga.
Biomechanics of asana
Dentro de esta propuesta tendrá lugar una secuencia dinámica de asanas con instrucciones específicas de alineación para proporcionar la fluidez; es una práctica integrativa que brinda la oportunidad de experimentar la profunda interrelación entre Hatha y Tantra. El contenido del taller abarca la "Biomecánica del asana": una profunda indagación sobre el alineamiento y los ajustes del Asana por parte de cada practicante.
Además, el programa profundiza en la práctica de Pranayama, Mantras, Mudras y Dharana.
Open kirtan
Este gran workshop que Michael J. Stewart ofrece por primera vez en España (Madrid) terminará con un Kirtan abierto a todo aquel que esté interesado aunque no haya participado en el taller. Pretende ser una experiencia vivencial, enriquecedora y compartida. Participarán en este espacio: Mayte Criado (directora de la Escuela Internacional de Yoga) y Swami Krishnananda. Este es un evento único de música y misticismo. Michael combina su formación musical africana con los amplios conocimientos de mantras tradicionales adquiridos durante muchos años y dotando a esta práctica devocional la cualidad del Bhakti.
Place: International School of Yoga
Fechas y Horarios:
Viernes 27 septiembre 2013 de 17:00 a 20:00
Sábado 28 septiembre 2013 de 10:00 a 14:00 y de 16:00 a 19:00
Domingo 29 septiembre 2013 de 10:00 a 14:00
Price: 195 euros; 180 euros para alumnos de la Formación de Profesores de Yoga de la Escuela
Registration: Escuela Internacional de Yoga. ¡Últimas plazas!
c/Fuencarral 134, entrada por Alburquerque, Madrid.
Teléfono: 91 416 6881
More information: http://www.escueladeyoga.com/Taller-Tantric-Hatha-Yoga.html
Kirtan Especial abierto a todo el público: domingo 29 septiembre a las 17,00.
El experto: Michael J. Stewart

Es profesor de Hatha y Tantra Yoga, y ha integrado en sus propuestas diferentes y variadas disciplinas.

El viaje de Michael en el entorno del Yoga le ha llevado desde el centro de Jivamukti en Nueva York hasta el aprendizaje y la práctica con los maestros de Yoga Iyengar: Sharat Rajiv Arora y Chenchani en la India. También ha estudiado con Sri Dharma Mittra, y actualmente profundiza en el Rajanaka Yoga con el Dr. Douglas Brooks.

Le conmueve profundamente la práctica de mantras y kirtan. Esto le da la oportunidad de combinar su amor por la música africana y su conexión con los tradicionales mantras sánscritos.

Su enseñanza se inspira en la espiritualidad de Swami Sivananda y en un profundo conocimiento de Patanjali. Es conocido internacionalmente como gran facilitador del Movimiento, maestro de tambores africanos, coreógrafo y director de teatro.

Headquarters:
Calle de Fuencarral, 134
(input by * Albuquerque *)-28010 Madrid
Tel.: 914 16 68 81 - 648 07 88 64
www.escueladeyoga.com

www.escueladeyogaonline.com

Madrid - Marbella - Elche - Mallorca - Santiago - Cadiz - Latin America