Yoga Holiday Guide for everyone (updated)
We present you several attractive proposals for travel, retreats and courses for this summer.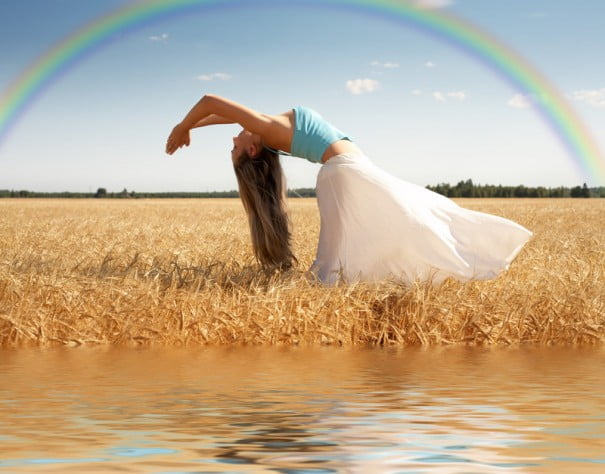 You have already made the plans of summer? Would you like to include in them the practice of yoga and much more? You will see that we suggest here a good number of proposals for more attractive.
Sivananda teacher training in Madrid, Zaragoza
Dates: From August 15 to September 11
Where: In La Casa Toya, Madrid (Zaragoza)
The aim is to train skilled and inspired teachers who are able to maintain their own practice and personal discipline, and transmit this experience to others. Yoga teachers are trained not only in asanas, an important part of the classical Hatha Yoga, but also values ethical (yamas and niyamas), pranayama (breathing exercises) and meditation.
It is an intensive course that offers students a balanced program, combining theory and practice for integral development, so much physical as mental, emotional and spiritual level. Personally taught by Yoga Acharyas (spiritual teacher), formed by Swami Vishnudevananda, as well as other experienced swamis and yoga teachers. They regularly participate in training programmes in India to expand their knowledge and deepen your yoga practice.
The course is based on the traditional system of teaching of India, called Gurukula, where, thanks to the daily contact with the teacher, every day becomes a comprehensive learning experience.
Price; Living room bedroom (4-8 beds) with bath: €2.595; Shared room (3-4 beds) with bathroom: €2.703; Room double with bathroom shared: 2.703 €. Includes lodging and meals
More information: http://www.sivananda.es/ttc/index.htm
The way of the facilitator summer residential workshop
Dates: From 19 to 23 August 2013
Place: Hotel Eden Roc. Costa Brava (Girona)
Developing your skills. With Nienke Merbis, Sitara Blasco and Juanjo Segura.
It organizes: Juanjo Segura, Holotropic Spain
More information: + 34 607 302 727 T info@holotropica.org
Yoga and meditation, astronomy and meteorology, hiking
Dates: From 20 to 25 August
Where: Solórzano (Cantabria)
? Hiking: The magnificent natural environments allow us to integrate meteorological observation in the morning hiking and yoga.
Astronomy:
Observation of the sky
The telescope
Planisphere and constellations
Light pollution
Meteor showers
It teaches: Lula Reed (trainer of teachers of Aepy) - Carlos Santos (physical).
In the province of Cáceres - Jaraiz de la Vera
Info: (Lula): 91-5280912 - 652244814 - csantosb@aemet.es
More information at this link: http://amanecerenverano.wix.com/amenve
Iyengar Yoga in nature
Dates: From 23 to 29 August
Where: The flat, between Manresa and Vic
For all levels of practice, initiation and advanced. Workshops of yoga and games for the children of those participating.
Manager: Modest Martínez, Sabadell Salut, and Jordi Esteban ADIYA, teachers with teaching experience, certified Yoga Iyengar® Ramamani Iyengar Memorial Yoga Institute in Pune (India)
Price full course: €585, full Board and classes.
Organized by: Sabadell Salut (yogainfo@sbd.net) 617-517-454 t and ADITYA, friends of Yoga (info@aditya.cat) 666 38 38 61 T
More information: www.sbdsalut.net and www.aditya.cat
The paradigm Holotropico summer residential workshop
Dates: From 25 to 30 August 2013
Place: Hotel Eden Roc. Costa Brava (Girona)
It integrates philosophy, the principles and strategy of Holotropic breathwork. With Tav Sparks, Diana Medina and the team of Grof Transpersonal Training.
It organizes: Juanjo Segura, Holotropic Spain
More information: T + 34 607 302 727 info@holotropica.org
Spiritual journey to India
Place: Auroville and Tiruvananmalai (India)
Date: From August 26 to September 7
More information: www.merkhaba.com
This year we return to India, this time to the South of India, with a trip to the discovery and reconnection with oneself.
Since we arrived until the 31st stayed at Auroville (Pondicherry), a community dedicated to the progress and the evolution of humanity from a perspective humanist and spiritual, open to all beliefs and opinions. The Matrimandir is located there.
The Matrimandir is not a temple in the conventional sense of the word, is not a place of worship, is not associated with any religion. It is a place for silent concentration, a place where he found with oneself, where experiences are very deep, a very different place to other places of meditation in the world, and that generates the sensation of being on another planet.
Of Auroville, we'll go to Tiruvannamalai, where dwells the mountain Arunachala, one of the holiest places in the India. It is without doubt a magical place that attracts pilgrims not only from all the India but around the world. Leaves no one indifferent power that emanates from the mountain, and may feel to the go acercándo is to it.
It is a magical place that has attracted and attracts teachers, wise pilgrims, not only across India, but the whole world. An essential place in the search inside. do not miss this fantastic opportunity to get closer to the mystical India!. The price is €885 yet less included flight and visa.
Organization: Association Merkhaba
Information and reservations: info@merkhaba.com / 606 506 540 / 677 416 503
Removal of Yoga and Mindfulness in La Vera
Date: From August 29 to September 2
Proposal: Removed a few days to devote ourselves to the practice of yoga and meditation, observing silence for a few days, allowing a mindfulness of mind, body and emotions. A space to connect with nature, and truly relax. Simple food prepared in the spirit of karma yoga, with love and respect for the individual and collective process. Complete the experience with laughter, movement, ceremony and celebration.
For who? The original proposal is intended for persons who have completed at least level 1 of the formation of any Center of Agama yoga, since practice follows closely the contents of this course. However if any other person that has made yoga of this style or with a practice solid in another style wants to participate is welcome but must communicate is with us.
The place: The withdrawal will take place in ripe fruit - Losar de La Vera. You can see the facilities on the website: www.frutamadura.es
Silence: We respect MOUNA (silence) from Friday, 30 in the morning until the 1 Sunday afternoon.
Food: The food will be simple and reduced to support energy and subtle process. The proposal is breakfast fruit, eat salad and dinner Kitcheri (recommended dish in Auyrveda medicine based on rice and mung). If there are particular needs with respect to diet, you should communicate this previously.
What to bring and not to bring:
If: mat, cushion, shawl, swimsuit, sunscreen, pen and notebook, comfortable clothes, footwear suitable for walking in the field.
No: books or other stimuli not programmed into the course.
I recommend that you turn off the mobile during the days of silence to experience the fruits of the here and now...
Price: €280 per person. You must confirm your place with the entry of €100 as soon as possible indicating when you think to arrive. This year there is a free place for someone who wants to help with the organization. You must have driver's license.
For more information, do not hesitate to call me 647824770
More information: http://nayanayoga.blogspot.com.es/
Trip to India and Nepal
Dates: Of the 31 of August to the 17 of September.
Where: Delhi, Agra, Jaipur, Varanasi, Kathmandu...
All the magic of the India and Nepal, visiting places more sacred in Hinduism, cities and monuments that are the heritage of humanity by Unesco, accommodation in palaces and living an unforgettable experience in two countries of ancient cultures and wonderful landscapes.
India: Delhi - Samode-Jaipur-Amber-Fatehpur Sikri-Agra-Gwalior-Orchha-Khajuraho-Varanasi-Allahabad.
Nepal: Kathmandu Valley: Dhulikhel-Pasupatinath-Nagarkot-Patan – Kathmandu.
Price in double room: 2,880 € stay for 15 nights on halfboard supplement (desayuno+cena) in individual h.: €495.
It organizes: Paquita Melgar, yogapaquita@gmail.com T 913529037
More information: http://www.paquitamelgar.com/
Yoga, sea and inspiration in Formentera
When: from 3 to 7 September.
The place: The intensive will take place in the town of San Francisco de Formentera in a beautiful room with hardwood floors and large windows, within the Antoni Blanc Sports Centre.
Price: €150 per person (discounts for residents), that includes all kinds of yoga. Possibility of release for 35 €/ session class. Lodging, plane tickets and meals are not included.
Information and reservation: yogaymar@yahoo.com
For those who live in cities, connect with nature is a fairly complicated to accomplish task. Now we have a very special occasion to enjoy a place full of magic genuine in one of the most beautiful islands of the world: Formentera.
Formentera is one of those sites full of energy conducive to healing, to the development of intuition and the search for self, that we are actually... To devote hours to our daily practice there is a wonderful opportunity, because our sadhana in that environment connected naturally with the heart and brings us to share what we have experienced, what we found and what we seek, with practitioners who feel this call.
We suggest you five days of sadhana inspired by the devotional practice daily and honest. Each day we will rise early in the morning. With the mind calm, at that point where the thoughts still not have settled, delving on the vibration of the song to open us to conscious breathing and, little by little, the positions. We will practice stretching, sun salutations, asanas to develop strength, flexibility, attention, delivery, patience, laughter, and cooperation.
Guided by precise and devout settings of Maite Garbizu and Emma grace, We will pass progressively physical practice to self-observation, up relaxation of every part of the body to lose awareness of this, a State in which meditation will be more affordable for everyone.
As well, more open to the understanding of ourselves, in the inner silence, attentive to the present in the observation, emerging natural happiness, well-being, and healing.
Himalayas and Yoga travel
Dates: From September 17 to October 2
Where: Rishikesh and mountains of Nepal
A dream trip that combines yoga, culture, hiking, art, nature and beauty in a State of purity. 2013. the opportunity you were waiting for, tailored to your wishes.
Among its many attractions, we will quote:
Yoga and meditation in Rishikesh, world capital of yoga, in the Utaranchal mountains and on the banks of the Ganges, with renowned maestros such as Surinder Singh and Yogi Kamal among others. They will address different routes as the Asthanga, Hatha, the Radja yoga, Mantra yoga Nidra, through meetings with endearing and wise Yogis in the area.
Interview and satsang private with an of the yoginis more authentic that still live in Risihikesh, Santosh Baarti Ji in the Ved Niketan ashram.
Travel Josimath (1890 m). The path leads to the rugged region of Garhwal along the Alaknanda River, passing by the confluences of different sacred rivers.
Visit all national park of the Nanda Devi, the second highest mountain in India with nearly 8,000 meters. It will be how to live the bothiya, tribe indotibetana inhabiting this and other neighbouring villages.
The Park is world heritage by the Unesco.
Travel to Badrinath (3,415 m), considered place sacred by the Hindus. It is the most important of the four sites that are part of the Char Dham Hindu pilgrimage route.
Drive to Auli (2 750 m) to contemplate the Nanda Devi, one of the most sacred mountains of India and the second highest, surpassing the 7,850 m. Begins a trek of about three or four hours through the forests of rhododendrons to Gorson meadows, with first magnificent views of the peaks.
View of the chain of peaks of the Chaukhamba, Nilkanth (6.596 m) and Narayan Parbat (5.965 m), Mana (7,272 m), Kamet (7.756 m) and Abi Gamin (7.355 m) be extends to the border Tibetan. View of the main chain of the Himalaya in the vicinity of the Valley Bhyundar and Kund Hem includes Nilgiri Parbat (6.474 m), Rataban (6.166 m), Ghori Parbat (6,708 m) and Hathi Parbat (6.727 m). Dunagairi (7.066 m) dominates the peaks North of the Nanda Devi sanctuary.
March until the passage of Kuari, hovering around the 4,000 m, iconic between steep and surrounded by snow-capped sacred valleys.
Organized by: Violeta Arribas. Padmasana Center.
Total price: €2.350 includes flight, insurance travel, full Board and all meals except the route with the bus (they are only four meals, and often cost 3 or €4 for food), accommodation in single standard Guest House of Rishikesh, and shared at the Guest House of Josimath mountain, Room 4 nights tents during trekking, all movements, all tours classes and activities of yoga, most exclusive for the group.
More information detailed and interview selection to go to violet Arribas in your mail: violeta@padmasanacenter.com, www.padmasanacenter.com