Training / Yogaterapia, tools to manage health
More than most of the people who now come to yoga do motivated by something related to your health. Hence the importance that has for a yoga teacher to enhance and strengthen their knowledge of Yogaterapia.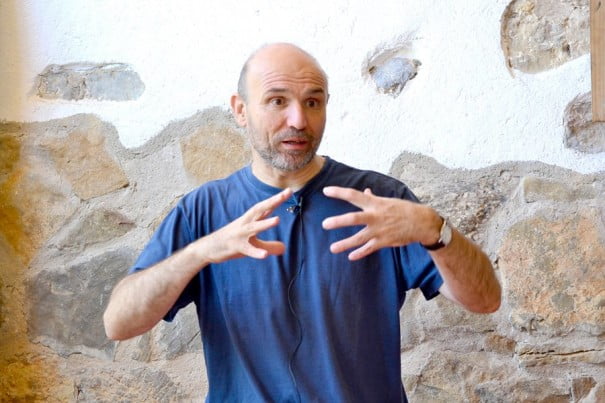 It is often forgotten that the first objective of the practice of yoga is to improve conditions for the person to which it is directed. It is said that the practice should take into account the need of the person. The person and needs? To know it is essential the listening.
The Yogaterapia that teaches Victor Morera It is based on that key. 'Basically is listening. The ability to listen is the result of self knowledge through training of the development of care and sincerity. A yoga teacher cultivates the presence, the awareness of the soul in all things. If I see you as a soul, if I hear you like soul, my hands and my words speak yourself as soul, what we do together will have that quality that transcends us and create relationships that we heal."
Victor Mulberry is one of the more veteran and prominent trainers in our country Yogaterapia. Osteopath and expert in manual medicine, was Professor trainer Yoga Sadhana school since 1996 and since 2000 also teaches therapeutic Yoga teachers. The and Grazia Suffriti, yogaterapeuta by the tradition of Krishnamacharya and specialist in the Yoga Sutra of Patanjali, are the main trainers of the school of Yogaterapia Pranamasyoga.
"Any therapeutic Act - explains Victor Morera - is that helps you to understand and learn from what happens to us. The understanding in this sense is health, as this understanding gives meaning to your life. Once, after several treatments a patient told me: 'it hurts, but I care less, this process is helping me change certain things that hurt me over and had numb' "."
And is that training in Yoga therapy of Pramasyoga has as main objective to teach to individualize the practice of yoga listening to body with sensitivity and respect, for revealing the significance of what happens to the patient, and he can be part of their own health. Therefore used some tools of yoga (Asana, pranayama, visualizations, samkalpas, mudras and mantras...), as pedagogy directed to a healthier life, to promote healing and vital energy of the body.
I.e., therapeutic Yoga uses practices, individualized and adapted to each person according to their demands and conditions.
Victor Morera highlights something that should be understood: "is the work of yoga teachers teach that" health is a State of being, harmony with life, a State of peace and inner opening. Otherwise, we will find people that has no apparent physical symptoms and that is sick, as well as people with physical illnesses that is healthy, have peace and joy that radiates".
Pranamasyoga-therapeutic Yoga
The postformacion in Yoga therapy of Pranamasyoga school is aimed at yoga teachers who are motivated to deepen and develop the therapeutic aspects of yoga as an education to know how to live with harmony, and a science of life. "We are trying to provide tools of" self-management of health", says Victor Mulberry."
"We teach individualized therapeutic yoga practice using different tools that offers yoga." In each seminar is made two or three experiential sessions, focused on students; This allows that everyone can learn the process of creating and designing a practice and its further development and evolution, based on the experience and the results that the student has achieved with the same.
"The objective is that all participants at the end of the training have been experience "East process, and do it in such a way that it is an experience that gives the necessary knowledge to be able to use them for the benefit of others", say those responsible for Pranamasyoga.
Practices that are developed are a coherent combination of biomechanical, physiological aspects, energy and psychic.
Development and learning is designed for both beginners and veteran students it apply. "We are especially the accent needs more frequent in type and age of students attending yoga classes, such as women of middle age, people with stress and back problems...".
General programme
1st phase
Reading body, axles and resonances.

Stances test.

Physiology of posture and locomotor system.

Breathing reading keys.

The holistic view of health. Human, system, and the organ system.

The dynamics of the relaxation and visualization and its effects on physiology.
2nd phase
The study of the human energy map and its management in the practice of yoga.

Subtle yoga tools: mudras, mantras, sankalpas, displays...

Energy concepts: prana vayus.

Key to the rhythms in the practices.

Progression of breathing and pranayama.

Meditative approaches.

All practices and series are supported by the theoretical part about the compression of health and symptoms.
Working method
In each seminar are made:
2 or 3 interviews with his energy, and bodily readings to develop and experience personal practice. A practice is performed by the group for its educational and general interest.

The explanatory process of the elaboration of the proposed practices.

A practice of "somatic exercises", as a means to experience and understand the physiology of posture and its management.

Revisions to the personal practices and its possible adaptations.

A practice of "conscious organic movement", method of the school teaching as a means of meditation / healing.

Meditations guided in order to get acquainted and learn how to handle the human energy system.
During all training is an experiential theoretical program of texts and classical methods of the tradition of Krishnamacharya.
So that this program is effective and students have adequate support, Pranamasyoga has a team of collaborators, all of them teachers of yoga, that have been formed in yoga therapy, which have the function maintain close contact with the students to help them in their practices and the concerns that arise during the training.
Each seminar will be taxed at MP3 and posted on the web, together with drawings of the individualized practices and the explanatory material support. In addition, each meeting will have a theoretical and practical test, whose objectives are the study stimulating and active discussion among students through the Forum that is enabled in the web.
Structure of the training
Consists of eight weekend seminars: from Friday afternoon to Sunday noon.
Training is fully residential. In Valencia, in the More than Noguera, farmhouse located in the mountains in the province of Castellón. In Madrid is carried out in Chestnut treeslocated in the town of Cercedilla. These spaces meet the right conditions to generate a profound and enriching experience based on the interrelation of the participants and the intensity of practices in each encounter.
For that these objectives are fully possible and that we ensure the individualized attention and the highest quality, the groups are reduced.
When
In Valencia: October 18-20. November 15-17. January 17-19. February 14-16. March 28-30. May 2-4. I may 30-June 1. June 27-29.
In Madrid: October 4-6. 29 November 1 December. January 10-12. January 31 February 1-2. February 28 March 1-2. April 4-6. May 16-18. June 13-15.
Schedules
Arrival on Friday afternoon. The activities begin at 19:00 h until Sunday at 2 pm.
Cost and registration
Each seminar is: €175. Full accommodation: in the more than Noguera €82; in the chestnut €100
For registration and more information in Valencia, please contact: Carmen Marti carmen62ml@gmail.com T 687325965
For registration and more information in Madrid: Grazia Suffriti grazia@pranamanasyoga.com
Veteran recycling: If you've done the formation of Yogaterapia, you can continue to attend courses (as long as there is availability) paying the outstanding price of €100. It is an opportunity to keep in touch with the teaching, practice and professionally recycled. It will be essential to advise and confirm the square at Grazia.
http://www.pranamanasyoga.es/formacion/formacion-en-yoga-terapeutico/
A few testimonials from students
"This training has transformed subtly my look and my feelings towards each other, and specifically in my work to people that I am dealing with Ayurvedic medicine. (Geelu Cabale, Ayurvedic therapist).
"A way to heal us and to heal others... A few encounters with large dose of humanity and wisdom by the teachers. "Lots of information and interesting but transmitted in much detail, with so much love, in a way very human and full of 'honesty' that we catch and there already enters the group with all the wisdom that each have given me". (Aurora Rustarazo Professor of yoga and pilates).
"The yoga therapy empowers the person, lets us know that we have many tools within us, and this information gives us more security and therefore freedom, and this is a great treasure which this year, listening to me, I've learned at your side." (Carmen María Pons, Professor of Yoga and midwife).
"I have to integrate muuucho!, but in the best of my ability, I try to transmit what they learned in my classes and the truth is that I have noticed a change and that change has reinforced my confidence both personally and professionally." (María José Serrat, yoga teacher).
"The training has allowed me to get to know me more, through breathing, body reading, personal practice and through the group, recognize me in attitudes that are common to all, in order to better understand my way of moving through life and to improve. All this knowledge has led me to be more motivated to give classes and by observing my students, learn from them". (Mercè Mayer, yoga teacher)