Interview with Victoria Cadarso: "kids need Mindfulness"
Many people have a part of us that could not express such which is in the infancy and still has hope that they listen to it and provided that did not at the time: the unconditional love we all need to grow and develop. It is our inner child. How to reconcile us with the psychologist Victoria Cadarso speaks to us.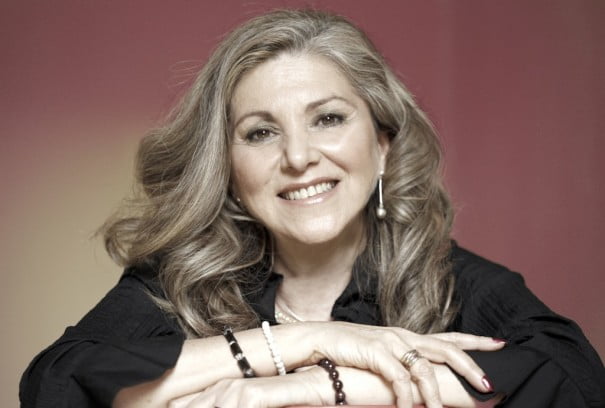 Victoria Cadarso is a psychologist and psychotherapist, specialist in psychology energy and founder of Central Victoria Cadarso Team in Madrid. He has written Emotions are slim or fat?, uncover your pot stress, first-aid kit for a broken heart and, the last one just presented, Embrace your inner child: never too late to heal your children.
Who is our inner child?
Our inner child represents three parts of our being: our authentic selves, our inner child injured that they protects showing a false be, and the archetype of everything that we can to become or our inner child divine. These three parts live inside us as distinct and unconnected parts and the process of becoming mature is because we embrace these three parts and can merge into one, leaving behind the pain and the limitations of not having been able to manifest as we really are.
So stupid we are giving love when we are parents?
Parents need to know that children need Mindfulness (mindfulness), although it is a little a day, than that then the internalized and carry it inside as a support even though they are not all the time in interaction with you. They need to feel accepted, valued, they say we want them and that they are important to us. I don't want to blame anyone, but we need to know the needs of our children, and not only from material care. Because solve a psychological problem or trauma of major is much more difficult.
And children have emotional needs?
You have to give them unconditional love. It is to pay attention to them, show them appreciation, affection, listening to them (children have things to say and not nonsense), touch them, regulate them...
Regulate them?
Young children don't know self-regulate, and when they have accumulated many emotions, the poor do not know what to do with them. The body has a mechanism to suppress or to dissociate that can not assimilate. If it is repressed, it is a trauma that remains as a capsule that is activated in such moments.
If the child does not have next to an adult who tell you to "tell me what's wrong," you speak to you, to help you to self-regulate, this accumulation of emotions will act as if it were a bottle of champagne when you shake it: pop up in the most unexpected time. Why children sometimes have these tantrums or that uncontrolled hyperactivity.
When a child is superactivado, you can not concentrate in class. And the background of all that are emotions, which are causing a sense of helplessness, of not control. You don't know how to remove it, the only thing fancy is hit, jump, scream... Many people believed that children have no stress, and yet have more stress than adults because they have fewer regulatory mechanisms. Among other things because it has not developed them central neocortex, which is that helps to regulate emotions.
Daniel Siegal explains it very well the psychiatrist: when we are relaxed, breathing, body contact, are great. But when we are with tensions, disconnects the central neocortex and we operate as animals: emocion-reaccion, emocion-reaccion. We can not reflect when we are superactivados. And it is that in the central neocortex reside attention, concentration, retention and memory. When you say someone who has memory of fish it is because you are stressed.
The cognitive fails...
That's it. There are psychologists who say that thoughts regulate emotions, and it is a mistake. That happens when you're relaxed, but when the stress level is very high, the emotions dominate thoughts because we are in survival mode, and the cognitive disconnect. Even if the stress level is still high, you faint.
A doctor specializing in trauma, Dr. Van der Kolk, is doing some very important studies on PTSD in children and how affect them development. He says that the bases of the personality are formed before the age of seven, as a result of the experiences that we have that they generate emotions, and that these emotions have them to explain in some way. But we must bear in mind that her brain is not fully developed until age 12. You can not be ordered that a 5-year-old child can reason what is happening. The self-reflexive thought and abstraction starting from age 12.
Si no estamos ayudando a los niños a autoregularse, a que se sientan seguros e importantes para nosotros, estamos creando una sociedad en la que los niños se han aprendido a relacionarse con las consolas y los ordenadores pero no socialmente, porque no han tenido contacto personal casi ni con sus padres.
¿Así se desarrolla el niño interior herido?
Yes, my authentic being is without express themselves to adapt to the society in which I have had to be born and family environment I feel that I have to leave to be me to be what others want it to be. And my true inner self is left behind. Then arises a wounded inner child enduring all the pain of not be able to show its authenticity. By adapting does what it can, but will be swallowing emotions, disappointments, fears, sadness, anger. All that is which forms a breeding ground that is substantive and that translates into anxiety and stress.
Hay otro niño interior que es el arquetipo, el que está en todas las religiones: Jesús, Moisés, ese niño interior divino que todos tenemos dentro y que está conectado con la Fuente y viene a dar esperanza, generosidad, amor.
¿Qué propones en tu libro Abraza a tu niño interior para sanar ese proceso?
Cuando tenemos una crisis nos cuestionamos: ¿cómo he llegado yo hasta aquí?, ¿qué he hecho yo con mi vida? Entonces ese es el momento de volver atrás y entender qué ha sucedido con tu niño interior y aceptarlo (en vez de juzgarlo y criticarlo), para poder reconciliarte, perdonar, asimilar, hacer el duelo, y soltar todo el dolor que se ha quedado ahí dentro. Perdonar es aceptar que te ha pasado lo que te ha pasado y desapegarte de la idea de que las cosas tienen que ser como tú quieres.
Las cualidades del amor son: atención, aceptación, aprecio, apego, afecto, amistad, ánimo, admiración, respeto… Son todas cualidades que tú hubieras necesitado tener en relación con los otros, y si has carecido de alguna tienes una falta en las necesidades relacionales. Estas necesidades son tan importantes como comer y beber porque los humanos somos seres en relación. En mi libro invito a los lectores a preguntarse en qué grado han contado con esas cualidades, porque eso va a determinar qué estructura defensiva o coraza se han construido para lidiar con lo que les ha faltado.
¿Y cómo se superan esas carencias?
Después de entender ese proceso y de aceptarlo, llega la tercera fase, que es la de transformación. ¿No te han dado el amor que necesitabas? Pues no vayas implorándolo por ahí porque te volverás codependiente. Créate un adulto amoroso tú mismo que sabe qué le faltó y dáselo tú a tu niño interior. Así autoregularás tus emociones imaginando que tienes un niño interior que expresa lo que tu ser adulto no puede expresar. Y propongo unas meditaciones (que están el libro y en la web) para volver a conectar con ese niño interior y sanarlo.
Finalmente, la vida es un camino de autoconocimiento…
Sí, es volver a conectar con la Fuente, con esa chispa divina que te conecta a su vez con el Todo, como dice el yoga. Y la Fuente no está ahí fuera; está dentro de uno mismo. Así que cuando empiezas a conocerte a ti mismo, a aceptarte, terminas aceptando a todo el mundo. Nos comportamos hacia fuera como nos vivimos hacia dentro. Si tú eres amable, amoroso y aceptador de ti, vas a poder serlo con los de fuera.
¿Crees que el yoga puede ayudar también a sanar a nuestro niño interior herido?
Los nuevos estudios sobre el trauma están teniendo en cuenta el cuerpo, algo que los psicólogos han olvidado durante mucho tiempo. Por fin se empieza a considerar el yoga como herramienta para regular el sistema nervioso y el ponerse en contacto con el cuerpo, porque es en él donde está la memoria traumática. Y también se está utilizando el yoga como elemento de autoregulación en terapias para procesar el trauma porque es un modo de regular las emociones y el organismo.
Ahora se habla de procesamiento de cuerpo hacia arriba, no de cabeza hacia abajo, que era el sentido de todas las terapias anteriores, pensamiento, pensamiento, pensamiento. No señor: la memoria emocional está en el cuerpo, y hay que moverla desde el cuerpo, y no solo desde la cabeza. Llevo diciéndolo años: en psicología también hay que integra lo mental y lo corporal.
Taller Abraza a tu niño interior

Residencial verano, del 12 al 16 de julio

Impartido por Victoria Cadarso

More information: http://www.victoriacadarso.com/ and http://www.itiee.org/