Book / the tradition of Yoga
It is one of the most ambitious works published to date on yoga in Spanish-speaking: The tradition of Yoga. History, literature, philosophy and practice, of the most Georg Feuerstein. It is a work of reference in studies on this matter. Publisher: Herder.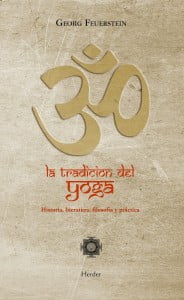 Feuerstein, one of the greatest world authorities of yoga, offers a broad view of what is in fact yoga: a phenomenon of Indian spirituality with many and various sheds.
This work allows, therefore, capture and appreciate not only the amazing complexity of the yoga, but also his relationship with the culture of the India. Through its more than 800 pages, The tradition of yoga deals with both the philosophical, literary, psychological and practical historical origins of the many paths of yoga: the beginnings of Indian civilization, the Upanishads older, Jainism, Buddhism, epic literature (including the) Bhagavad Gita), the Upanishads late, the Yoga-sutras Patanjali and the various forms of yoga in the Postclassic period, as well as tantra and hatha yoga.
The work is complemented by translations of original sources in Sanskrit, a timeline, a glossary and a biography that is specially prepared for the Spanish Edition. It is, therefore, a full reference material both for teachers and for students and practitioners of this discipline.
This edition of The tradition of yoga not only is an important contribution to the development of the indologicos in the Spanish-speaking world, but it will be very useful as reference material for the specialists in history of religion, theology, philosophy and the psychological study of consciousness.
The author
Georg Feuerstein (Wurzbuch, 1947-2012) is one of the world's great scholars of yoga, who died last summer. He had a great knowledge of texts and Sanskrit language, and a genuine desire for spiritual quest. Your contribution could compare to the scholars like Mircea Eliade and S. Dasgupta. He dedicated his whole life to the study of the spiritual paths of the East, from the intellectual rigor but also trying to understand them in their own spiritual experience. Embodied in his person the possibility of the East-West dialogue, tradicion-modernidad. He wrote some 30 books of which this is his most ambitious and important work.
The translation is of LAIA Villegas Torras (Barcelona, 1977) graduated in Humanities and indologa.