Interview with Manuel José Vázquez: "yoga I ranks in one asana and in life"
He speaks in his own voice, from sincerity. For him, yoga is a fascinating tool that is not exhausted. "The fascination is that try to pass on to my students, not so much as a network of concepts, philosophy, traditions that belong to another time and culture, but as a passion."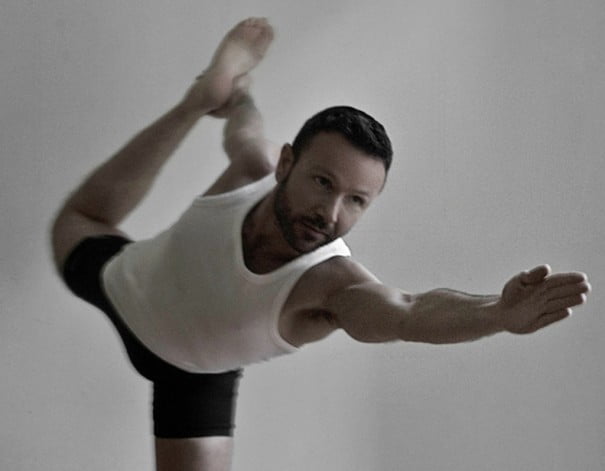 He is 42 years old, and confesses that excess of mysticism and gravity in the yoga wearies you a bit. "The yoga has last already in this country by many stages, from them 60, them hippies, Ramiro Street, them Indian, the American..." Yoga comes to me on the other hand, in a more practical way, more in touch with what is today lives."
He created his school, Yoga organic, makes 12 years, where da classes and directs its school of teachers of yoga. He is President of the Shiva-Shakti Association of Integral Yoga, teacher certified by Yoga Alliance and the Spanish Association of Yoga practitioners (AEPY). He has written a book, Integral to Western yoga manual (Alliance). And is that is in its nature live the things to your mode.
According to read in your web, tried a list amazing of things before the yoga...
What I passed was that when discovered the yoga, this put words to things that I was experiencing on the other hand, doing meditation Buddhist, dance, shamanism or any other technical of self-knowledge. Not me seems so easy that happens to the reverse, or access to the yoga through all the paraphernalia, of all the tradition, of the part bhakti or religious...
Went to courses all them end of week because had much hunger of learn things, but with them years saw that needed stop to see where I placed I. And started to investigate in all what they had collected. And yoga not only put me in a position, but my mind, my emotions, my profession.
Rode a center of yoga because felt the need of find me I and of having a center of operations, a laboratory. But didn't I have the responsibility of a school...
How did your master of inside?
I believe that the master external is a reflection of the master internal. You, what admire in the other is because of some way it are evoking, looking for and needing work within you. If I admire your strength, your independence, your safety, your kindness, to it better is because are qualities that are within me and not know very well how work them. I went with Danilo Hernandez, with Miguel Fraile, that I gave many patterns of work personal. But I wanted to know where I was I within the yoga. It is what we try to do in school with students in training, that they look and that they make.
I not can be another person, not can be a guru of the India, nor Ramiro Street, or Danilo. Each person is different, and each must find his own conviction, its own language, its own way of transmitting information. To me is what I has cost more.
But what was what you decided to by the yoga, after having tried so many other roads?
I come from the world of the art; from small pinto, I compose music, I dance. What I fed by inside is the creation. But yoga took me. I do not want to work the yoga, I resisted... I offered give class, started to make it to level basic, with some caution, and that ran from the first class. People was very satisfied working with me and then I thought that why not continue with that...
You started to give classes without know yoga?
Not exactly. I started to teach things that I don't them called yoga. For example, worked another type of meditations, others exercises physical of conscience body that I not defined with the concepts of the yoga. And when I found with the yoga, saw that had things that I was doing five years and that the yoga was name and it connected all. All that for me was dispersal became concentration. Yoga was a melting pot where I could put everything that had been making and learning.
With the yoga I ordered all the material creative and expressive that there was in me that was a bit chaotic. To me the yoga I ordered first personally and then professionally. At the end the yoga is has tax and I'm happy. And that creative part have integrated it within yoga: I have written a book, I have done a dvd, music, but always in relation to yoga. Somehow the yoga I chose me, and not the reverse.
Go best gift, then.
The yoga I da given order and clarity. I understood things. I was in a place in which not had State. With yoga you can work it all... the body, emotions, mind, relationships... Is that there is a place within the yoga for all. That I has led to work a yoga integral, because going knowing styles and thinking: not is my site, not is my site. And to the end the rebound me driving always to the same place. Until I said, well, I organize my school and I structure my system.
There are many people who have not just come to yoga because they have an image of it that don't connect. And is difficult to make them see that the yoga has the answers that need...
In some time have to find to someone that you speaks of any way or something that you do click by inside. The information by itself it always is a little empty; It is our experience that translates. My book is made for that type of people that les passes what me passed to me, that I noticed with the requirement of meter me in something that me came a little of outside to inside, as by obligation, that requirement of do an asana or determined technical traditional of this way, with this mudra and with this mantra... What overwhelmed, so many things in a way so specific. I always have been a little rebellious and not, not...
Much conditioning for a way of liberation?
Exact. To me me cost. Because mount my school and mark out me a little else was like a leap into the void, without external support, without power figures that give me security to start my work... Took 12 years with my school, and some of them have State without knowing if it was doing well or poorly. All it have gone building little by little based on my experience with my students; are they that I have been taught to do well my work. And every day it ranged, it questioned, it put to test, because if not, I get bored. Is a feedback continued with the work, with the students. Is in relation to them that my yoga is develops and evolves, more than a need to mine personal.
To it better also there are vocation of service in your case.
Is that those words I sound too great. Have a connotation as of that I'm terrific, geat, supersabio and you am doing a favor giving you classes. Sorry but no. I contact with you from my experience, of my shoot, and you say what to me me suggests what you me accounts. I think that there is a part of the yoga that you can serve. Why not try this, this, and this, to see how it works?
Knowledge feeds from contact with others?
The knowledge always be generated in contact with something. He yoga ascetic that speaks much of the consciousness, of the deconditioning total respect to what us surrounds, think that to the end is returns sterile because not generates nothing, only consciousness of yes same, but not da fruits if not is applied to the life everyday. So we must get there to receive the part Tantric that reminds you that the world exists and that you return things. A karma there is yoga that is inevitable by the fact of existing. I the service it connect more with find your place, do it it best that you can, accept your mistakes and make reading of them...
And give...
I believe that giving is inevitable, because share what you are. For my part there is a need of communication without which I I die; for me everything is insulation is disease. The knowledge, the health and the welfare in my case have that be in relation to the other. In that sense there is a need for, but almost out of selfishness, if I hurry.
In that sense I am much the professionalism of the yoga. Yoga now has validity and its own identity in the West because it meets a necessary social function, because there are people who need what yoga is giving him. And in that sense the teachers of yoga do a role social, as the dentist or as the mechanical. That is why we have to frame and defend.
I believe much in the specialization of the yoga. Already not just with be monitor as before; you are Professor but specialized in a certain topic: for third age, for people young, therapeutic, more dynamic, more meditative, of self-knowledge. I think that the society is demanding that will cover certain plots. From West the yoga has many resources.
Then, not too much variety and offer?
You can be making a type of yoga and then go you to another site to make another type of things. The different schools and opinions not have that fight between itself, but is can create synergies very interesting, each one responsible is of the quality of what has chosen within the yoga. I am more than adding that's subtraction. Anything goes if it is placed in its place, although not everything served in any way.
There is room for so many yoga teachers?
Each one is responsible for what he does. I think that the market is self-regulating; If open shops of whatever it is, in the end are four, which are those that give good service. With the yoga happens that has been much people that has thought that this was an output professional in the crisis. But many are here to stay on the road because this is much harder than it seems, it is not a life of fantasy, light and colors. My day to day as Professor of yoga is very hard, that sometimes me levanto to the 7.30 of it tomorrow and came to House to the 11.
I don't have a large training school, but small, almost all of my students. I understand this as a natural evolution of my work. I know each student inside, outside, up and down; We appreciation and mutual admiration, there is a personal link. What there are schools with 200 students of training? It is not my way of understanding it, but I am not going to criticize it because that is easier. I think that we have all contributed to things happen. Then will evolve in a direction and have that go making the adaptations according to what go emerging.
Manual de Yoga Integral to Western

This book exposes the origins and the evolution of the yoga, and explains of way simple them technical basic and its purpose to who begin to guide is in the intricate world of styles and schools yogic.

Is a text in which is has lent special attention to the balance between tradition and modernity. For those urbanites restless, the yoga is a mode of being in form, physical and mentally, but certainly the best mode of find calm and recover energy and lucidity, and also an excellent tool of reflection and takes of conscience of use daily.

You can see the presentation of the book and the workshop on silence and everyday life in its channel of YouTube.

More information: http://www.yogaorganico.org/la-escuela/