Interview with Swamini Yoga-Mudra-Ananda: "Discover your inner strength and improve your life"
For 30 years, Swamini Yoga-Mudra-Ananda, daughter and granddaughter of Brahmins, living in Europe, where he teaches his teachings, frequently between France and Italy. It is an interview of Pilar Luna.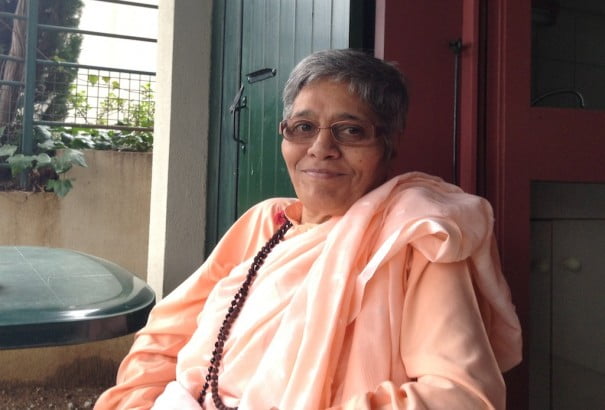 During the international Yoga Congress held in April in Vogue, France, organized by Boris Tatzky, S. Yoga-Mudra-Ananda gave a lecture on Bhakti yoga. Also had opportunity of interviewing her for Yoga network.
Mataji, is yoga during the current crisis, in which people must address fundamental things useful?
The wisdom of yoga uses techniques and a philosophy that makes it useful at all times. Yoga is the India contribution to humanity. Although its origin is the India, does not belong to you; It is their contribution to a world best, an evolution of man.
Swami Shivananda of Rishikesh thought that in our days it was necessary to disclose the yoga to live better in everyday life. In a present day yoga arising in Europe is useful in day to day, because it is based on one deep relaxation both physical and mental and spiritual. With respect to the current global crisis, yoga helps us to adapt more easily to new forms of life and to find new solutions. The crisis we face is the result of our way of life, but if every human being discovers inner strength, can improve their quality of life and decrease towards future fears.
All the times they have struggled, and current globalization globalization also concerns.
How yoga techniques help us?
The inner wisdom helps, and have to have confidence and seek time for this absolute necessity are solved with practice. The tensions live in body and asana practices help us to relax them, infuse us confidence within ourselves to overcome the difficulties.
The India children are taught to look for satisfaction. Satisfaction is the permanent joy and to develop it.
We can calm the mind and body through pranayama. Only five minutes watching the breath we can get calm and overcome the fear. This helps us even when others help us missing or fail us.
At the beginning of my stay in Europe, he observed many resistances, for different reasons, to the singing of mantras, this is changing. Make 21 Om helps us to overcome the fear, stabilizing the mind. Why people are protected of happiness you can have? These resistances block happiness.
What can Europe contribute to yoga?
It should not be cut off the roots when you want to get fruit. Invent or add new sauces shall not alter the yoga. Changes that sometimes "adorn" to yoga are more due to fears of the unknown from other cultures, but yoga is meant to overcome "that unknown".
Westerners have a great determination, and when they propose will become until the end. In the India things live more calmly. The introduction of yoga in USA seems more simple because its roots are still forming.
Yoga schools and religions should act in the same way: joint effort, rather than falling into battles of egos (or religions).
What will advise us on the personal practice of yoga teachers?
The tradition is to convey, that it is not the same as teaching. Teaching needs to be true to oneself. But if we forget that we are one in the path of yoga, they begin the errors. We can share our experience, but when we forget our practice and our way, we convert the yoga in a profession, not a transmission.
We must continue with the daily practice, at least ten minutes of asanas, ten of pranayama and five meditation. At noon and at the end of the day: some relaxing pranayama.
Requires discipline, as in all workouts. And of course Singing mantras.
We must also "be aware", living day to day with mindfulness, bringing attention to every thing that we carry out. Without focus (that only effort blocked our energies). We must not concentrate not up to global awareness. There is that arrive to install is in that consciousness global for them problems not us lead to a vision negative and depressive.
(Mataji, accompanies his teachings of a smile and a sweetness that it flooded everything. When we said goodbye to tells me: "I know that Spain passed difficult moments, I'm willing to go to help them overcome this situation, if that can alleviate or improve". Send us your smile, his energy and his teachings simple and clear, full of humility and peace").
Bhakti yoga and the man who sang kirtans

Swamini which means life in your yoga origin explains. It provides human beings something to really end up being human beings. Yoga is for everyone who understands its value and not only Hindus or who know the tradition.

Bhakti is a word difficult of translate. It is frequently translated as devotion, but rather mean develop. All religions are based on faith, but Bhakti yoga means "development of that in what I believe, what I want to achieve". In short: provide the means to develop this belief I have.

This requires above all confidence in oneself and perseverance, to continue our way. This is Bhakti: determine, with confidence, to develop our being and our path and not fail in the effort. Something quite different to this passive conception of "God will save me, does not require me to do anything", with which it is frequently confused.

Bhakti uses media such as texts, the kirtans or keep in mind an image of "God", but that God is not something external, but it is an image that can help us reach, by ourselves, the soul purified all we have and are. Prayer is to be present, see the unit, Supreme consciousness, without any particular theism.

Each of us are a small part of the whole. Do something for others is to contribute to the whole; serve to the other is to serve all. Serve means delete the ego, get rid of all our chains, not only with words but with action. Bhakti is to live simply. The technical of the Bhakti are very simple and are to the reach of all, us transform without need of understanding, as them kirtans.

Once a man eager to reach the unit sang kirtans along the River, but was an uneducated man and hardly pronounced well. Approached a brahman and rebuked him: "So you will never achieve anything, it is necessary that you try pronouncing well". The Brahmin again forced him to repeat the correct pronunciation. He then took the boat to cross the river. Being in the middle of the stream saw the simple man, who did not stop singing, approaching walking upon the waters to reach his side with perseverance. The simple man said: "I think that I've forgotten the correct pronunciation". Then the brahman realized.