The teat of the universe
El prana es el aire, la energía del mundo y, además, la respiración: nuestro afán de absorber esa energía para ganar vitalidad y vigor. Es como en la lactancia, que es en parte entrega materna y, por otro lado, el empeño del bebé por absorber su alimento. Escribe: Joaquín G. Weil. Foto: Victoriano Moreno.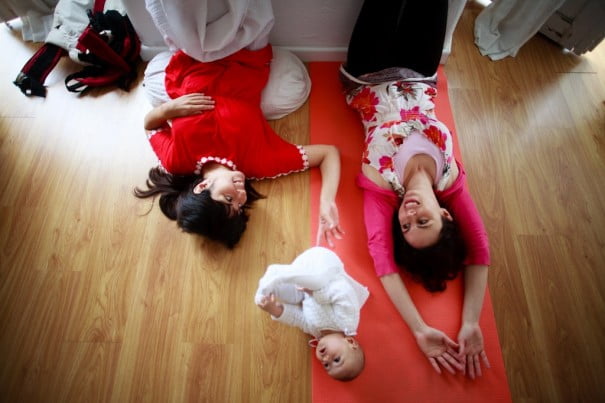 Casi al final del libro Baba Om, de Tom Heckel, cuando el protagonista y autor del libro está famélico, enfermo y exhausto, en mitad de sus meditaciones y austeridades en una remota y gélida cueva de los Himalayas rodeado de bestias feroces y alimañas ponzoñosas, tiene una aparición luminosa que le dice (cito de memoria):
-Mañana es tu día.
-¿De mi iluminación?
-No. De tu muerte.
Tom Heckel se queda abatido y consternado, pues no podía aceptar que todos sus afanes y aventuras espirituales pudieran acabar de un modo tan calamitoso y miserable. La curiosidad le puede y pregunta al aparecido:
-Y tú ¿quién eres?
-Soy la parte de ti que quiere vivir.
Finalmente el protagonista camina hasta una cabaña a la puerta de la cual se desmaya, y donde una campesina le socorre y cuida durante tres meses hasta que consigue volver a tenerse en pie. Después leí en una entrevista que le preguntaban a este vidente, telépata o "canalizador" cómo era su vida cotidiana. Y respondía que él, como todos, lo que quería era ser feliz.
Este episodio nos muestra de modo extremo la polaridad que en ocasiones existe entre la esfera espiritual y el sencillo afán de vivir. Algunos consideran que la manera de respirar de una persona, en cierto modo la define. Hay personas que respiran sólo un poquito, como si no tuvieran derecho a más, como si con cumplir el expediente o tener lo indispensable bastara.
Dice un dicho taoísta que la persona sabia es la que respira hondo "hasta los talones". Y no es una manera de hablar, sino que la energía de una inspiración amplia, mismamente nace desde los talones.
Oportunidad única de evolución
El filósofo español Gracián afirmaba que "sólo soplan buenos vientos para quien sabe hacia qué puerto se dirige". En ocasiones las personas practicamos o enseñamos yoga sin tener muy claros los objetivos que buscamos. Considero que uno de esos objetivos de la práctica del yoga consiste precisamente en alcanzar una inhalación amplia y libre que nos permita absorber plenamente la energía que el universo nos brinda. Esto es una metáfora de la vida misma. Nos podemos conformar con una respiración mínima, con la estricta supervivencia, pero también podemos aspirar a más, a una vida llena de vigor, que se manifieste en nuestra creatividad, nuestras acciones y las relaciones plenas con otras personas. Una inhalación amplia y una exhalación profunda que nos permitan renovar, vaciar y llenar por completo los pulmones.
No podemos conformarnos con un concepto romo y hasta tétrico de lo espiritual, sino que es preciso comprender que la vida es una oportunidad única de evolución, y que, suponiendo que tal cosa como el espíritu exista, su tarea en este mundo consiste en vivir con plenitud, comenzando por conocer el propio cuerpo, cosa que el yoga permite. Es precisa la fidelidad a la vida y a la tierra, que diría Nietzsche. Es signo de salud. A propósito de lo cual conviene recordar que energía pránica es claridad mental, salud y fuerza.
Who is

Joaquín García Weil graduated in philosophy, yoga teacher and Yoga room Málaga director. Practice Yoga for 20 years and teaches it since makes eleven. He is a student of Swami Rudradev (leading disciple of Iyengar), with whom he has learned in Yoga Study Center, Rishikesh, India. He has also studied with Dr. Vagish Sastri de Benarés, among other masters.